Big Beefy Wet Burritos
We had a silly thought of going out to dinner for Mexican food. Why ever would we do that when we do it so much more to our taste! Using our Zaycon Fresh ground beef we knew we'd make the best extra lean, meaty, top quality big beefy burritos. Filled with all the goodies we love including the carne asada seasoning of Cattleman's Grill Seasoning and topped with enchilada sauce and lots of cheese. Unlike our local taco shop: no shoes=no problem.
We used Lumberjacks new "Mexican Heat" wood pellets. Mexican Heat is a wood pellet that has Red pepper chili powder mixed right in it. The red pepper chili powder is a pungent, hot chili powder with a strong bite and the flavor intensifies as it is cooked. I love the Southwestern flair it adds to all of your grilling.
Big Beefy Wet Burritos
A Pellet Grill Recipe
Prep Time: 20 minutes
Cook Time: 40 minutes at 350 degrees (177c)
Grill: Green Mountain Wood Pellet Grill/Smoker
Pellets: Lumberjack Mexican Heat
Ingredients: Big Beefy Wet Burritos
2lbs. Zaycon Fresh ground beef

1 10oz. can diced tomatoes with green chilies, drained

1 ½ cups hot fresh salsa, drained

2 cups sweet peppers, chopped

1 large red onion, chopped

3 Tablespoons fresh minced garlic

1 Tablespoon Cattleman's Grill Carne Asada Seasoning

6 cups shredded sharp cheddar cheese, divided

28oz. can red enchilada sauce

Burrito size tortillas



Big Beefy Wet Burritos
A Pellet Grill Recipe
Directions: Big Beefy Wet Burritos

Cook ground beef, garlic, onions and peppers in large cast iron skillet until meat is no longer pink. In large bowl combine beef mixture with ½ the cheese and remaining ingredients except for enchilada sauce and tortillas. Divide filling to fill six tortillas. Fill and wrap. Place seam side down in a oiled 13×9 baking dish. Pour sauce over burritos and top with cheese.

Place in the grill for 40 minutes at 350 degrees (177c).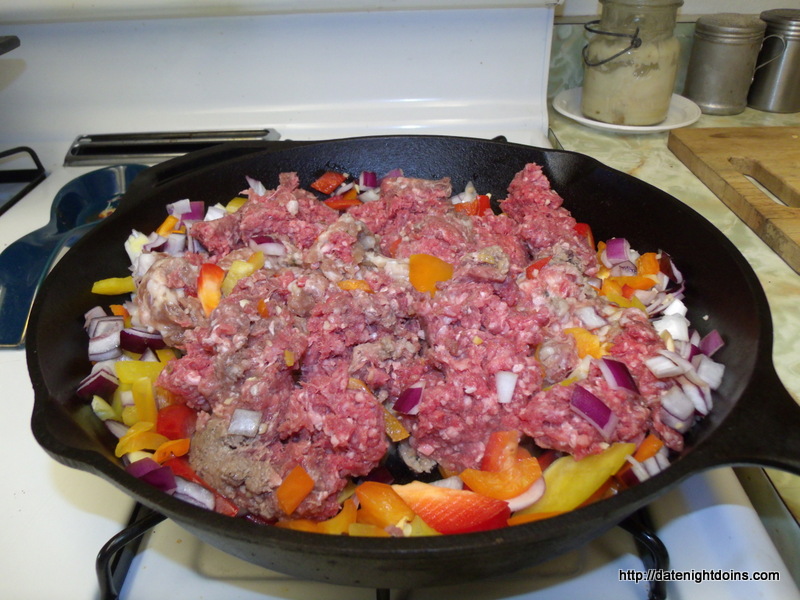 In Large Cast Iron Skillet Cook Ground Beef, Garlic, Onions and Peppers
In Large Bowl Combine Beef Mixture with ½ the Cheese
Ready For The Grill
Lookin Good
Let's Eat!!!
Note: I get a lot of questions about the kind of pellets you can use with a recipe. Keep in mind that a recipe is just an outline. Some you need to follow closely like when you are making bread, but most you can do anything you can dream, our favorite way to cook. Feel free to mix and match the pellets until you find a combination you really like. Also you are only smoking at temps less than 250 degrees (122c), anything higher is cooking and there will not be much if any smoke so it does not matter what kind of pellet you are using.

Big Beefy Wet Burritos
A Pellet Grill Recipe

Cooking In the Oven:
We have been getting requests for recipe conversions for the Pacific Living Outdoor Oven. I tell folks all the time that cooking on a Wood Pellet Grill/Smoker is just as easy as cooking in your oven. Just about anyone can do it and do it well. Think about it. You set your control knob to the temp you want, put your meat in and leave it for a set time.
It is the same thing, time and temperature is what it is all about. The Green Mountain grill is just like your oven except it uses wood pellets and has wheels.
Do 40 minutes here at 350 (174c).
Note: The Pacific Living Outdoor Oven also has a smoke box.
Big Beefy Wet Burritos
A Pellet Grill Recipe

About our Recipes
We do our recipes on our patio where we have a lineup of grills, including Louisiana, Green Mountain, Royall, Memphis, Traeger pellet grills, Char-Griller, Saber, Charmglow, Char-Broil, The Big Easy, Pacific Living Outdoor Oven, Lodge Sportsman's, Brinkman and Weber. I call it our "Wall of Grill". Our grilling styles are healthy and low fat and will fit pelletheads, gas, natural wood and even charcoal purists. Almost any of our recipes can be done on any kind of good BBQ.
The important thing to keep in mind is TIME & TEMPERATURE. You can even do some of them in the oven or crock pot, but, then you lose all the flavors you get from cooking outdoors. But sometimes it does rain.
Remember that a recipe is simply an outline; it is not written in stone. Don't be afraid to make changes to suit your taste. Take it and run with it….
Live your Passion,
Ken & Patti

Our Thanks To:
Green Mountain Grills LLC
1 800 603 3398
Email: info@greenmountaingrills.com
http://greenmountaingrills.com/contact/
Wood Pellet Products
http://woodpelletproducts.com/