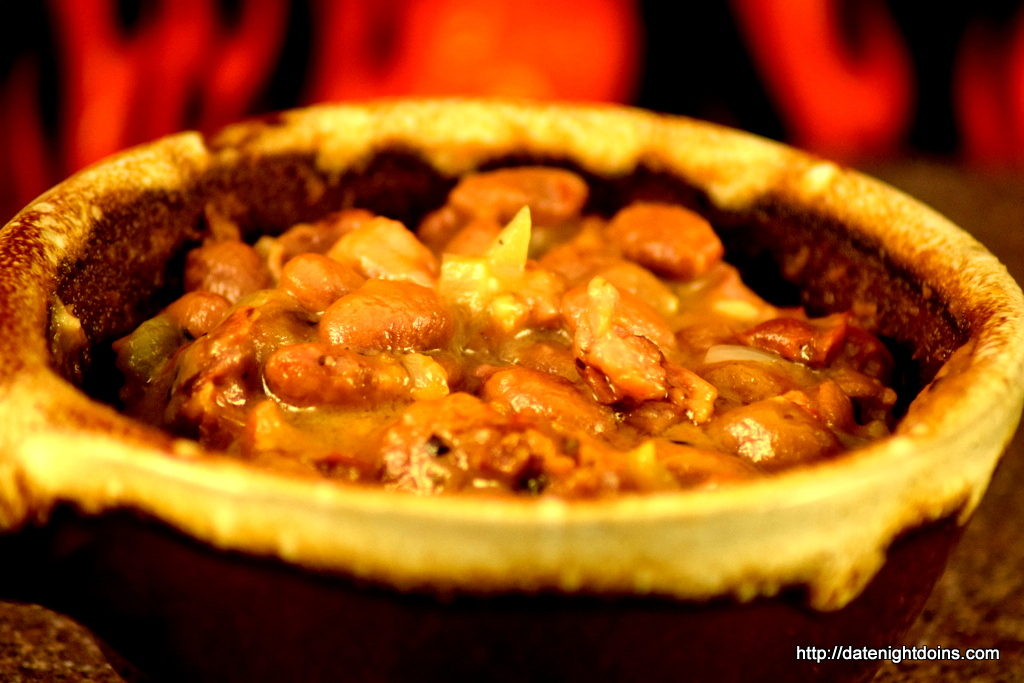 Prairie Fire Redux, I have worked on this recipe for over 35 years, (hard to believe that I'm that old) and have fine tuned it to a religious experience. These are great for tailgating and Super Bowl parties and just great eats. These are creamy, tender beans with a thick, rich smoked cheddar cheese sauce and a bit of zip to them.
I have experienced much debate from my friends as how to serve this. Whether I should serve it either as a dip with chips, or to roll it up in tortillas, or just spoon it into a bowl.  So, to keep the peace when we serve this dish now we set it up for whatever may be desired.  My favorite is to roll it up into burritos; Patti prefers a bowl and spoon. I never have any complaints and very little leftovers. So grab the Tabasco and set to…
Patti and I have set one night a week just for us. It's our date night. We usually put something special on our Green Mountain Wood Pellet Grill/Smoker but sometimes we cook inside. We always eat outside on our patio where it is very comfortable with a rainforest theme.  Wood Pellet Patio Heater, little lights, candles, lanterns and surround sound. We enjoy a little wine, or strawberry margaritas using frozen strawberries for ice, good food, music and sometimes a dance or two…
Prairie Fire Redux
A Date Night Doins Recipe
Prep Time: 20 minutes
Cook Time: 3 hours
Ingredients: Prairie Fire Redux
Note: I always double this.
1 lb. pinto beans

1 lb. pork sausage

1 lb. sharp cheddar cheese, cubed or shredded (We used our smoked cheese)


2 large ham hocks

2 large sweet onions

2 small cans diced green chilies

3 beef bouillon cubes                  

1 lb. butter

2 Tbs. ground garlic

2 Tbs. ground cumin

3 Tbs. red pepper flakes

2 Tbs. Chef of the Future Cajun Seasoning, or to taste
Link for smoking cheese: http://datenightdoins.com/cold-smoked-cheese-in-the-pacific-living-outdoor-oven/
Prairie Fire Redux
A Date Night Doins Recipe
Cooking Directions: Prairie Fire Redux
Cook beans in a large pot as you would do any beans. Add ham hock/hocks, bouillon, red pepper and cumin. Simmer about 2 hours adding water as needed. Fry sausage and drain the grease. Add the sausage to the beans along with the garlic.
Continue cooking until the beans are tender and the soup is reduced and thick. You don't want a lot of soup here; you may need to drain some off near the end. Pull the hocks out, remove bone and string the meat, then returning them to pot.
When the beans are tender with just enough sauce that the beans are not dry, add the cubed or shredded cheese and butter. Dice the onions and add to pot with the green chilies.  Keeping low heat, melt cheese and butter into a nice, thick sauce.
Serve in bowls with chips and tortillas on the side along with lots of cold beer (Patti likes a well chilled Chablis, I guess you can take the girl out of the city, but…) and Tabasco sauce.
Prairie Fire Redux
A Date Night Doins Recipe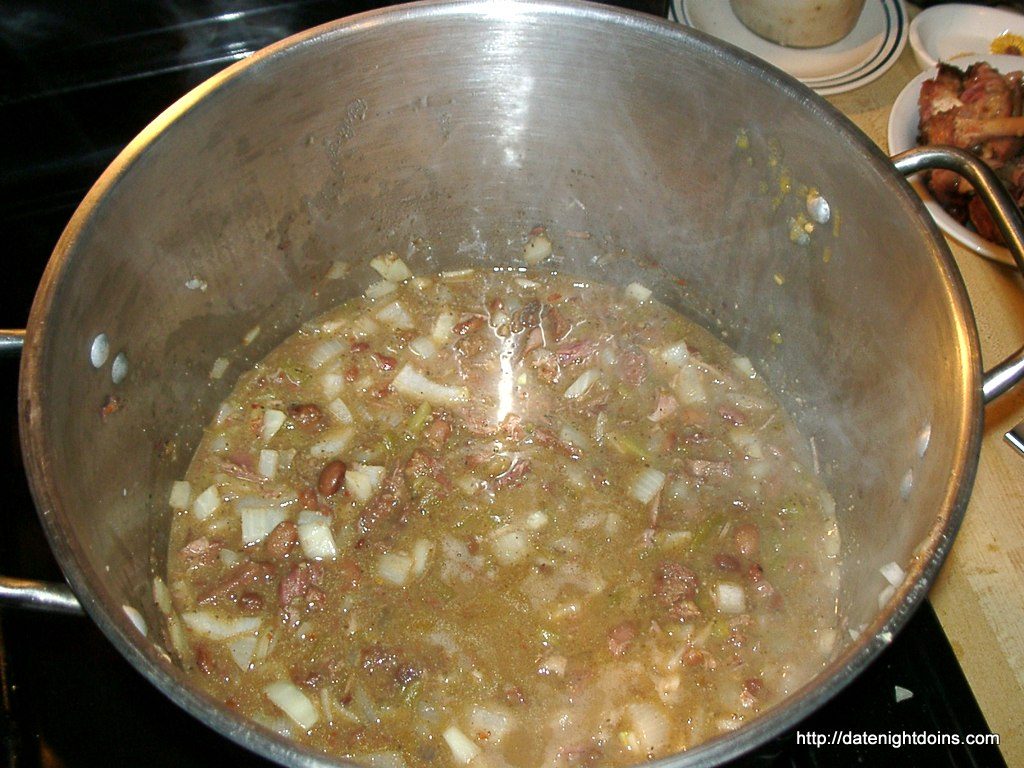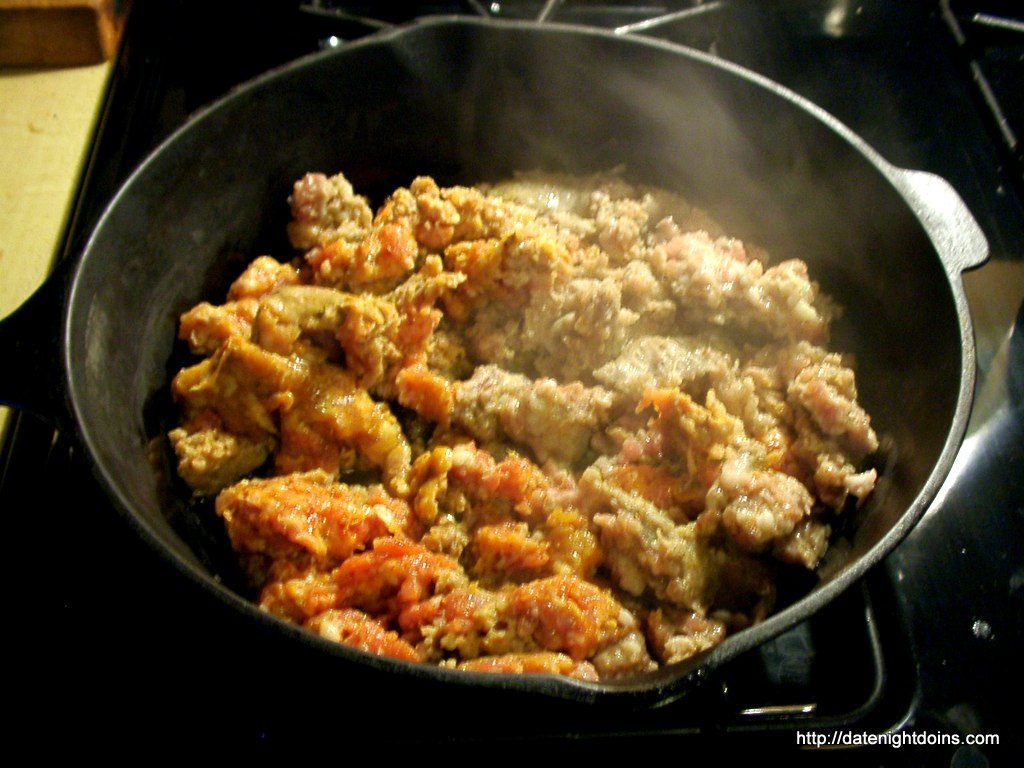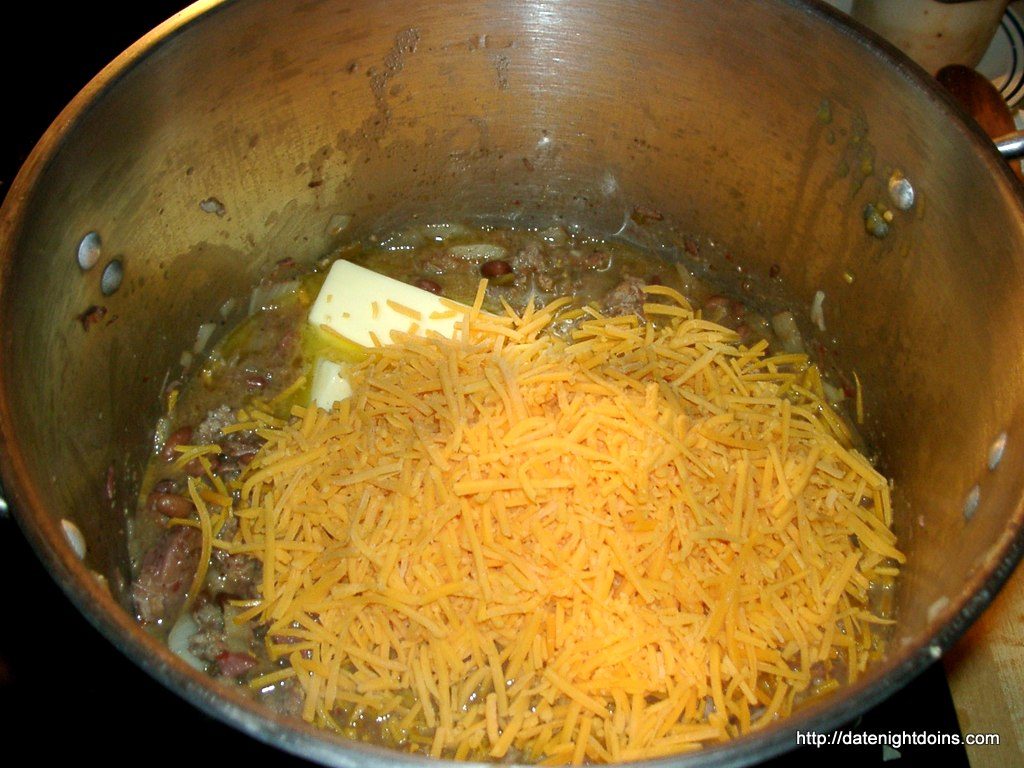 Prairie Fire Redux
A Date Night Doins Recipe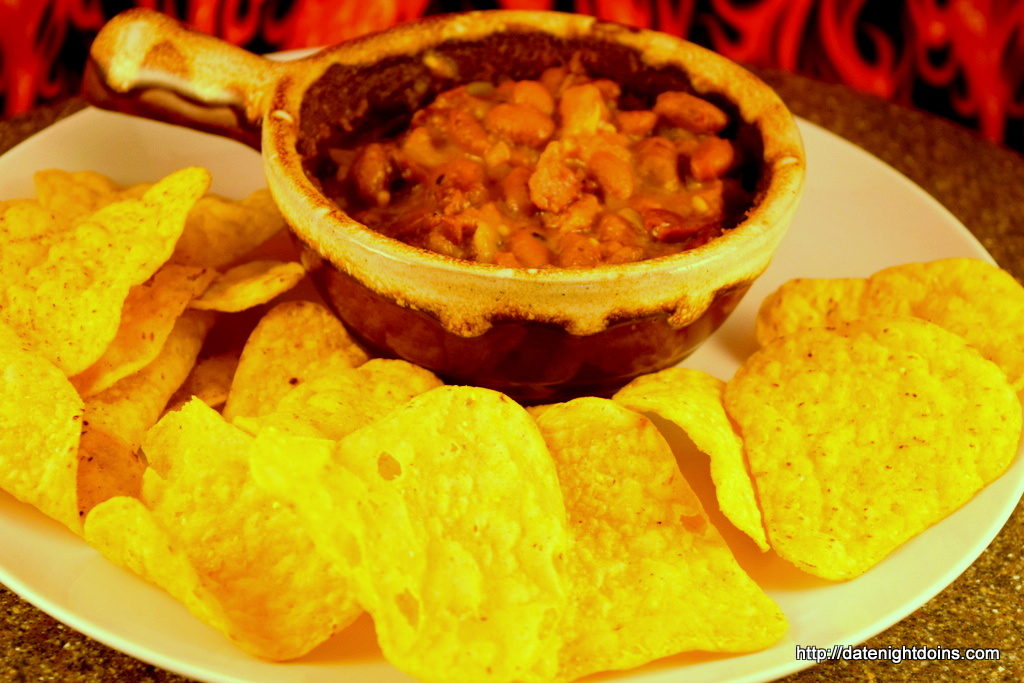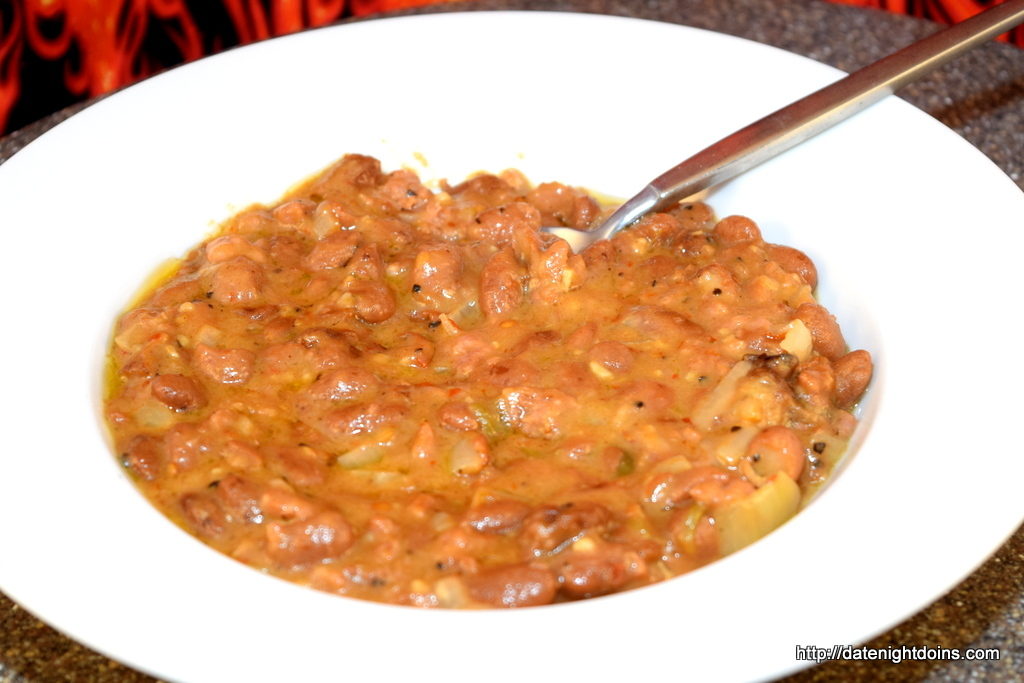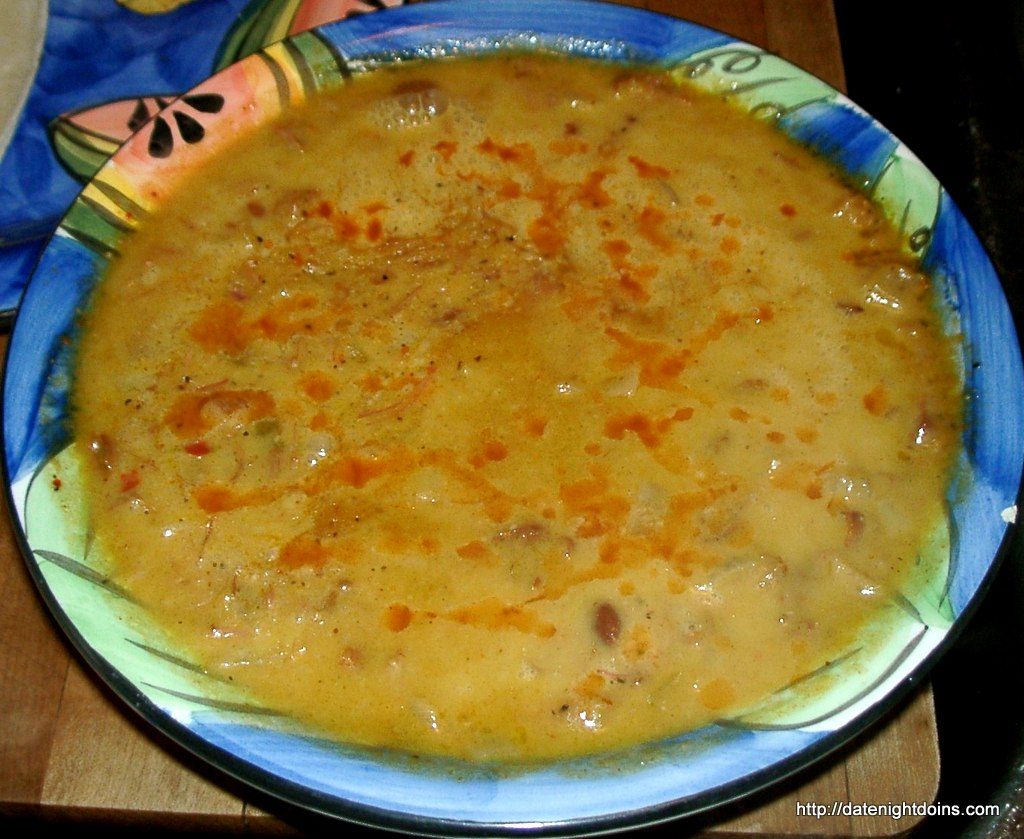 Prairie Fire Redux
A Date Night Doins Recipe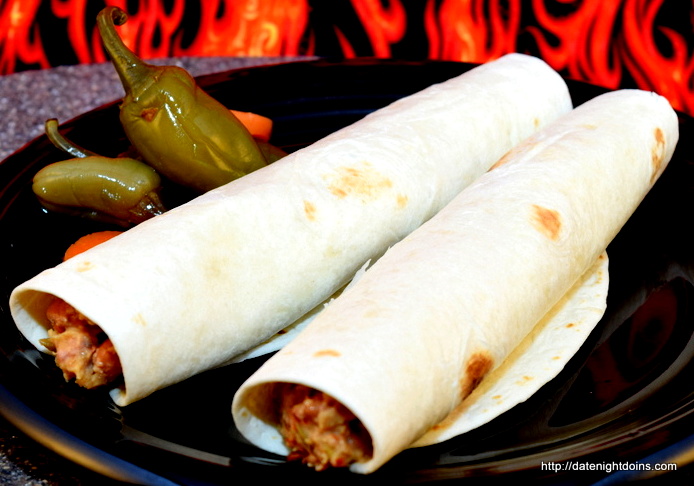 About our Recipes
We do our recipes on our patio where we have a lineup of grills, including Green Mountain, Sawtooth, Louisiana, Royall, Memphis, Traeger pellet grills, Char Griller side box smoker, Saber, Charmglow, Char-Broil, The Big Easy, Pacific Living Outdoor Oven, Lodge Sportsman's, Brinkman and Weber. I call it our "Wall of Grill". Our grilling styles are healthy and low fat and will fit pelletheads, gas, natural wood and even charcoal purists. Almost any of our recipes can be done on any kind of good BBQ.
The important thing to keep in mind is TIME & TEMPERATURE. You can do our recipes on any grill, even some of them in the oven or crock pot, but, then you lose all the flavors you get from cooking outdoors. But sometimes it does rain.
Remember that a recipe is simply an outline; it is not written in stone. Don't be afraid to make changes to suit your taste. Take it and run with it….
Live your Passion and Do What You Love,
Ken & Patti
---
If you enjoy our recipes you can help support us by Subscribing to us on YouTube.
And Checking Out Our Store…
"Date Night Butt Rub"
"Date Night Heat", Add a Little Heat To Your Meat"
"Date Night Gourmet Steak Seasoning"
Our Thanks To:
Our Cutlery Provided By:

Save