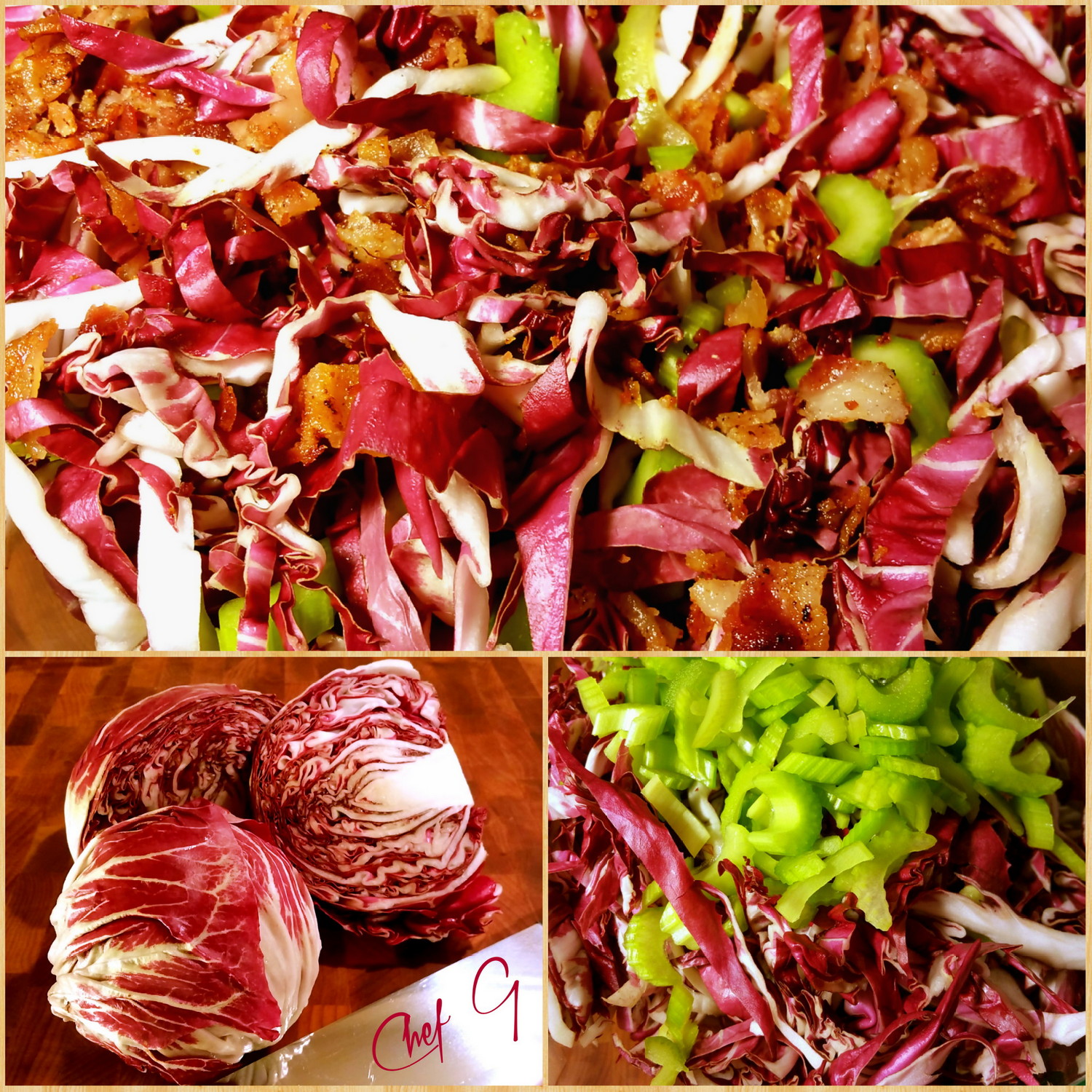 Guest Chef G's Radicchio Celery Slaw
While walking through the grocery produce section, pondering what to prepare for the evening, I suddenly had a taste for a tangy coleslaw. But I really didn't want just a basic cabbage variety. So when I spotted the radicchio, I was inspired.
Radicchio is an Italian salad plant related to chicory. The distinctive plant grows in a rich maroon color with white veins and has a bitter peppery flavor which mellows when it is grilled or roasted. It also adds a textural bite to salads when served raw. Radicchio has been in cultivation in the Mediterranean for hundreds of years and is used in a variety of Mediterranean dishes. Radicchio resembles lettuce most in appearance, although it is not in the lettuce family.
The slaw I came up with very tangy, with a flavorful bitterness and a cool combination of different textures achieved with celery and bacon. A perfect side dish to complement both casual and sophisticated main courses. Give it a try…you'll enjoy it.
BON APPÉTIT!  ~Chef G
——————————————————
RECIPE:
INGREDIENTS
— 4 cups thinly sliced radicchio
— 2 cups sliced celery (width-wise)
— 8 slices cooked bacon, coarsely chopped
— 2 cups mayonaise
— 1/2 tsp sea salt
— 1 tsp white pepper
— 1 tsp onion powder
— 1 tsp garlic powder
— 1/4 cup cider vinegar
Just toss everything together in a large bowl, add additional seasonings and vinegar if desired. Done!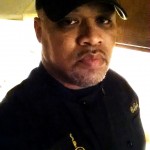 Chef Derrill Guidry (Chef G), a recent transplant in Cincinnati, is a self-taught chef and native of SW Louisiana, where cooking and eating is a way of life. He began experimenting in the kitchen at about the age of 6…and has been doing so ever since. In his early teens Chef G began traveling abroad, experiencing the culinary cultures of many countries. He also traveled extensively while serving as a commissioned officer in the US Army, retiring in 2011 after 21 years of service. From 5-star restaurants in Hong Kong, to street vendors in Saudi Arabia, and even in bedouin tents in the desert surrounding the Pyramids at Giza in Egypt, Chef G has experienced many very unique foods and spices that helped him to develop a style of cooking that is sophisticated and refined, appetizing and appealing, yet not intimidating to even the choosiest eaters. He creates what can only be described as simple goodness.
______________________________________
Chef G is currently working exclusively on developing and publishing his first cookbook, while exploring Cincy's culinary scene.
CONTACT: [email protected]
BLOG: http://thegspotculinary.com
PINTEREST: http://www.pinterest.com/spook06/my-foods-the-g-spot/
FB: https://m.facebook.com/profile.php?id=259194292533&ref=bookmark