First, what is Aïoli? Aïoli is a garlicky Provençal (French) sauce similar to mayonnaise made by pounding garlic with oil, salt and egg yolks until it's emulsified into a thick, creamy culinary delight. Take out the garlic and add mustard and you have a basic mayonnaise.
This simple, basic Aïoli recipe produces a very silky, garlic-spiced sauce with a very sophisticated flavor. Some cooks use a food processor to prepare aïoli, and it really does make it easier to combine the ingredients. But even with my carpal tunnel and arthritis, I prefer to manually whisk it by hand. There is something therapeutically satisfying about feeling the emulsification of aïoli as it happens.
BON APPÉTIT!  ~Chef G
========================
GARLIC AÏOLI RECIPE
INGREDIENTS:
– 2 tsp. fresh lemon juice
– 1 egg yolk, at room temperature
– 1 clove garlic, minced and smashed into a paste
– 1 cup pale golden extra-virgin olive oil
– Kosher salt to taste
PREPARATION:
Drape a dish towel over a pot large enough to set a medium bowl inside to create even stabilization, which frees both your hands for simultaneous whisking and oil-producing.
Add lemon juice, egg yolk, and garlic to bowl and beat until well combined.
While whisking vigorously, drizzle a few drops of oil into bowl with egg mixture. Still whisking, drizzle in a few more drops, and continue to whisk vigorously until egg mixture is very thick and emulsified. Gradually add remaining oil in a very thin stream while whisking vigorously until the aïoli is smooth, pale yellow, and emulsified. Season with salt.
Whisk in 2 tsp. water for a thinner AÏOLI.
Makes one cup. Aïoli will keep, refrigerated and covered, for up to 3 days.
Now sometimes, under certain conditions, aïoli can separate and break down. If that happens, just add a single egg yolk (room temperature) to a bowl and and whisk the separated aioli into it. The additional yolk will reimulsify the sauce.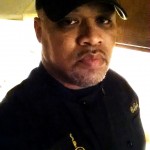 Chef Derrill Guidry (Chef G), a recent transplant in Cincinnati, is a self-taught chef and native of SW Louisiana, where cooking and eating is a way of life. He began experimenting in the kitchen at about the age of 6…and has been doing so ever since. In his early teens Chef G began traveling abroad, experiencing the culinary cultures of many countries. He also traveled extensively while serving as a commissioned officer in the US Army, retiring in 2011 after 21 years of service. From 5-star restaurants in Hong Kong, to street vendors in Saudi Arabia, and even in bedouin tents in the desert surrounding the Pyramids at Giza in Egypt, Chef G has experienced many very unique foods and spices that helped him to develop a style of cooking that is sophisticated and refined, appetizing and appealing, yet not intimidating to even the choosiest eaters. He creates what can only be described as simple goodness.
______________________________________
Chef G is currently working exclusively on developing and publishing his first cookbook, while exploring Cincy's culinary scene.
CONTACT: thegspotculinary@gmail.com
BLOG: http://thegspotculinary.com
PINTEREST: http://www.pinterest.com/spook06/my-foods-the-g-spot/
FB: https://m.facebook.com/profile.php?id=259194292533&ref=bookmark