Nothing fancy, just really delicious chicken salad. For this preparation I used dill-brined chicken breasts that I recently cooked, but you can cook the chicken any way you desire – seared, grilled, poached, baked, etc. Just make sure that's it's cooked all the way through. And don't be timid about adjusting, adding, or omitting ingredients to suit your personal taste.
Have fun. Be creative. Make it your own.
BON APPÉTIT Y'ALL!  ~Chef G
______________________________________
RECIPE
INGREDIENTS
– 4 thoroughly cooked chicken breasts, diced
– 2 stalks celery, cut into 1/4-inch pieces
– 4 scallions, trimmed and thinly sliced
– 1 tsp dried or finely chopped fresh tarragon
– 2 tbsp finely chopped parsley
– 1 cup mayonnaise
– 1 tbsp fresh lemon juice
– 1 tbsp yellow or Dijon mustard
– Sea salt and pepper to taste
PREPARATION
In a mixing bowl, toss together the chicken, celery, scallions and herbs.
In a separate small bowl, whisk together the mayonnaise, lemon juice, mustard, salt and pepper to taste. Add to the chicken and mix until combined. Refrigerate until ready to serve.
Serve on a bed of lettuce with sliced tomatoes, in half an avocado, on a sandwich with artisanal bread and crispy bacon, etc.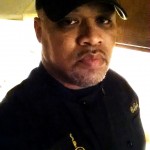 Chef Derrill Guidry (Chef G), a recent transplant in Cincinnati, is a self-taught chef and native of SW Louisiana, where cooking and eating is a way of life. He began experimenting in the kitchen at about the age of 6…and has been doing so ever since. In his early teens Chef G began traveling abroad, experiencing the culinary cultures of many countries. He also traveled extensively while serving as a commissioned officer in the US Army, retiring in 2011 after 21 years of service. From 5-star restaurants in Hong Kong, to street vendors in Saudi Arabia, and even in bedouin tents in the desert surrounding the Pyramids at Giza in Egypt, Chef G has experienced many very unique foods and spices that helped him to develop a style of cooking that is sophisticated and refined, appetizing and appealing, yet not intimidating to even the choosiest eaters. He creates what can only be described as simple goodness.
______________________________________
Chef G is currently working exclusively on developing and publishing his first cookbook, while exploring Cincy's culinary scene.
CONTACT: thegspotculinary@gmail.com
BLOG: http://thegspotculinary.com
PINTEREST: http://www.pinterest.com/spook06/my-foods-the-g-spot/
FB: https://m.facebook.com/profile.php?id=259194292533&ref=bookmark