This is a very special dish inspired by my good friend Chef Melissa in Beverly Hills.  When I first saw a photo of this salad I was instantly intrigued. And I can say without hesitation that this is one of the most flavorful salads I've ever prepared and eaten. It's really very healthy, yet oozing culinary ecstasy!
Now Melissa shared with me only the ingredients without amounts, and I just went for it . In the recipe below I estimated some of the ingredients I used for those who are more comfortable with detailed recipes, but this is a salad that you really should just put together to satisfy your own taste buds. The combination of flavors and textures for my salad were excellent, but don't be afraid to substitute or experiment with other greens, fruits, or veggies. For instance, figs are not usually easy to find, so you can use just the strawberries and/or mango, or you can get really creative and toss in some pomegranate, mandarin orange slices, or whatever you decide.
The dressing is a sweet red wine vinaigrette. The standard ratio for vinaigrettes is 3 parts oil to 1 part vinegar, but it's a flexible ratio. Use more vinegar if you like a tart dressing, or more oil if you like it richer. This is also not something for which you need to take out the measuring cups — eye-balling the proportions is perfectly acceptable behavior. And the brown sugar provides a nice touch of sweetness that bridges the fruit and greens in a flavorful way. You can also just omit the sugar if you like. Same with the almonds. Use other kinds of nuts if you prefer, or even none at all…your choice.
Again, this recipe is not presented to be followed exactly, rather it is meant to inspire your culinary brilliance.
Have fun. Be creative. Make it your own.
BON APPÉTIT!
~Chef G
SALAD INGREDIENTS:
Fresh baby spinach

1 bunch asparagus

1 cup fresh strawberries, sliced or halved

1/2 cup toasted almonds

Fresh figs, sliced

Fresh Mango, diced large
VINAIGRETTE:
3/4 cup olive oil

1/3 cup red wine vinegar or balsamic vinegar

1 garlic clove, minced

2 tsp dark brown sugar

1 tsp ground mustard

1 tbsp toasted sesame seeds (optional)

Sea salt and cracked black pepper, to taste
PREPARATION:
NOTE: You can use the asparagus raw, sautéed, or even grilled. Just make sure they remain firm and crunchy. You can also leave them whole, or cut them into about 3-in pieces. It's up to you.
In a bowl, add vinaigrette ingredients and whisk briskly to combine. You can also put everything in jar or other tightly sealable container and vigorously shake to mix.
Simply arrange salad ingredients on a plate or in bowl any way that you want to, drizzle with the vinaigrette, and enjoy!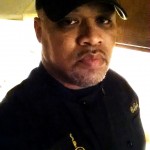 Chef Derrill Guidry (Chef G), a recent transplant in Cincinnati, is a self-taught chef and native of SW Louisiana, where cooking and eating is a way of life. He began experimenting in the kitchen at about the age of 6…and has been doing so ever since. In his early teens Chef G began traveling abroad, experiencing the culinary cultures of many countries. He also traveled extensively while serving as a commissioned officer in the US Army, retiring in 2011 after 21 years of service. From 5-star restaurants in Hong Kong, to street vendors in Saudi Arabia, and even in bedouin tents in the desert surrounding the Pyramids at Giza in Egypt, Chef G has experienced many very unique foods and spices that helped him to develop a style of cooking that is sophisticated and refined, appetizing and appealing, yet not intimidating to even the choosiest eaters. He creates what can only be described as simple goodness.
______________________________________
Chef G is currently working exclusively on developing and publishing his first cookbook, while exploring Cincy's culinary scene.
CONTACT: thegspotculinary@gmail.com
BLOG: http://thegspotculinary.com
PINTEREST: http://www.pinterest.com/spook06/my-foods-the-g-spot/
FB: https://m.facebook.com/profile.php?id=259194292533&ref=bookmark