Guest Chef Jenn Schumacher
Girls Do BBQ, Inc.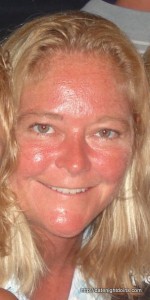 Guest Chef Jenn Schumacher Form Girls Do BBQ, Inc. Shows us her smoked Turkey Breast.
An Iowan by nature, New England Yankee and for over thirteen years, a Floridian, artist Jenn Schumacher has lived and worked all over the world. Through her travels, she has developed unique spice blend combinations that are honed to reflect multi-cultural flavors. With a passion for Art, Food and BBQ she launched her Girls Do BBQ Spice Rub business to encourage BBQ enthusiasts to expand their flavor profiles on the grill and/or smoker and be creative.
Smoked Turkey Breast
Guest Chef Jenn Schumacher
Recipe Ingredients: Smoked Turkey Breast
5 -7 lb Turkey Breast

½ cup diced onions

½ cup diced celery

3 cloves Garlic

3 cups chicken broth

½ stick of butter

1 tablespoon rubbed sage

Girls Do BBQ, "Tongue Teaser" Spice Rub

1 Turkey oven bag
Homemade Creole butter sauce (Injection)
½ stick butter

2 Tablespoons of "She Gets Around" Spice Rub

1 cup chicken broth

Ready For The Grill
Smoked Turkey Breast
Guest Chef Jenn Schumacher
Rinse turkey breast in cold water and place in roaster. Make your Creole butter injection marinade and inject your turkey, place in oven bag. Add 2 cups chicken broth, ½ stick of butter, onion, celery, rubbed sage and garlic to the turkey cavity and place in the oven bag. Tie and refrigerated over night.

Next day-Take Turkey out of oven bag and place in a roaster pan. Throw away oven bag and marinade.
Apply some "Tongue Teaser" rub generously on turkey breast. Let sit for about 20-30 minutes to reach room temperature. This will give you time to prep your grill and reach your 250 degree mark.

Place Turkey on opposite side of your fire on your grill. This is called indirect smoking/grilling. Your fire is on one side and your meat is on the other. Adjust your dampers so that the smoke will come from your coals and wood chips and blow under & over your meat through your stack.

Smoked Turkey Breast
Guest Chef Jenn Schumacher
The total approximate time for cooking your turkey breast is five hours. This will vary depending on size of turkey breast and your fire temperature. Add your a hand full of your wood chips. I use a combination of Pecan, Cherry and Maple wood chips. This combination provides a sweet, nutty, light smoky flavor, perfect for turkey or chicken. After about an hour, add another hand full of wood chips to your coals. I sometimes soak the chips, however in this case it will only decrease the temperature of your grill. You goal is to be consistent with your temp!

After the second hour on the grill/smoker, place your turkey breast in an aluminum roasting pan and set back on your grill (opposite of your fire). Here it will remain in the pan for another three or so hours until the internal temperature is 165 degrees F. Add wood chips every hour or so.

Once the Turkey breast has reached the 165 degree F, remove from grill and let sit, loosely covered with foil for 20-30 minutes.
Smoked Turkey Breast
Guest Chef Jenn Schumacher
Lookin Good
About SASSY BBQ SPICE RUB PRODUCTS HAVE MORE THAN HEAT!
Girls DO BBQ, Inc. develops Bona-fide Tantalizing BBQ Spice Rubs

Since the Fourth of July, when grills and smokers are rolled out to prepare for summer months of BBQing, Girls Do BBQ, Inc. has introduced a new line of BBQ spice rubs, that are anything but ordinary.

Located in Northwest Florida, Girls Do BBQ, Inc. combines humor with spice! Their recipes for seasoning and rubs have been developed over the last decade and provide great flavors and sassy names.

Their Spice Rubs began from a love of coffee that developed into "Perk It Up" a coffee based BBQ rub, excellent for beef, poultry or pork. After much successful feedback from customers, Girls Do BBQ created three more BBQ Spice Rubs; "Tongue Teaser" a smoky spicy rub, "Hot to Trot" an increased "heat" spice rub, "Gettin' Lucky" a smoky, tangy, sassy, heat rub, as well as a multi-purpose rub, "She Gets Around."  The humor and spice combination of Girls Do BBQ, Inc. has evolved into several new products to be released Spring 2015!
Girls Do BBQ, Inc. Spice Rubs are available on-line at www.girlsdobbq.com
You can also check out recipes, tips and information about Grilling and BBQ on their Facebook page http://www.facebook.com/GirlsDoBBQ and Twitter @GirlsDoBBQInc.