I recently saw packaged baby artichokes in the grocery store and decided to try them. I'd never eaten or cooked them before, so this was a perfect opportunity to learn something new. The verdict: I LOVE THEM! I did a very basic preparation that really celebrated the wonderful flavor of this vegetable. In the future I might do something fancy with them, but cooking baby artichokes with just olive oil, sea salt, and lemon juice made my taste buds Whip…and do the Nae-Nae (SMILE)!
Unlike European baby artichokes, which are harvested young, the ones here in America are actually fully matured, yet smaller artichokes that are harvested at the same time and from the same plants as bigger ones. They are clustered low on the stalk, shaded by the jumbo bulbs at the top of the plant. Baby artichokes are petite bulbs that remain relatively tender, while the larger artichokes have not only woody outer leaves, but also a fibrous choke that must be removed and discarded.
Once baby artichokes are cleaned and trimmed, they quickly begin to turn brown or black. To prevent this, rub the artichokes with the cut side of a lemon half or toss with fresh lemon juice, and use immediately. They can also be refrigerated for up to two days in four cups of water mixed with the juice of two lemons.
If you can find baby artichokes where you live, I encourage you to try them. You won't be disappointed. BON APPÉTIT!  ~Chef G
Guest Chef G's ROASTED BABY ARTICHOKES
A Guest Recipe

INGREDIENTS: ROASTED BABY ARTICHOKES

2lbs baby artichokes
olive oil
juice from 2 lemons
smoked paprika
kosher salt
freshly ground black pepper
PREPARATION:

Guest Chef G's ROASTED BABY ARTICHOKES

Preheat oven to 400 degrees. Remove the denser outer leaves of the artichoke, pulling off at least two layers. Then peel the stem with a vegetable peeler. Trim about ½ inch off the top ends of the artichokes with a sharp knife. Once that is done, cut the artichokes in half or in quarters, depending on size and preference. Immediately place the prepped artichokes in a large bowl, add lemon juice, and drizzle with olive oil. Season with a generous amount of sea salt and black pepper, and 1-2 tsp smoked paprika. Arrange artichokes on a baking sheet and roast for 20-25 minutes until they are golden brown and crispy on the edges, tossing a couple of times during cooking. Sprinkle with more sea salt after removing from oven and serve with more lemon.
Guest Chef G's ROASTED BABY ARTICHOKES
A Guest Recipe
Guest Chef G's ROASTED BABY ARTICHOKES
A Guest Recipe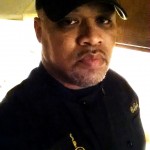 Chef Derrill Guidry (Chef G), a recent transplant in Cincinnati, is a self-taught chef and native of SW Louisiana, where cooking and eating is a way of life. He began experimenting in the kitchen at about the age of 6…and has been doing so ever since. In his early teens Chef G began traveling abroad, experiencing the culinary cultures of many countries. He also traveled extensively while serving as a commissioned officer in the US Army, retiring in 2011 after 21 years of service. From 5-star restaurants in Hong Kong, to street vendors in Saudi Arabia, and even in bedouin tents in the desert surrounding the Pyramids at Giza in Egypt, Chef G has experienced many very unique foods and spices that helped him to develop a style of cooking that is sophisticated and refined, appetizing and appealing, yet not intimidating to even the choosiest eaters. He creates what can only be described as simple goodness.
______________________________________
Chef G is currently working exclusively on developing and publishing his first cookbook, while exploring Cincy's culinary scene.
CONTACT: thegspotculinary@gmail.com
BLOG: http://thegspotculinary.com
PINTEREST: http://www.pinterest.com/spook06/my-foods-the-g-spot/
FB: https://m.facebook.com/profile.php?id=259194292533&ref=bookmark