Guest Chef G's Deep Fried Deviled Eggs
While watching television one afternoon, I caught a glimpse of beautifully plated deep-fried deviled egg. I was intrigued. I didn't record it, but I figured that all I had to do was stick two deviled egg halves together, roll 'em in some flour, and fry them. I was right!
My recipe is lengthy for those who might have detailed questions, but it really is just a basic deviled egg with avocado added. Don't be intimidated. The preparation is simple…trust me. And as always, I encourage y'all to be creative, and make it your own. BON APPÉTIT!
~Chef G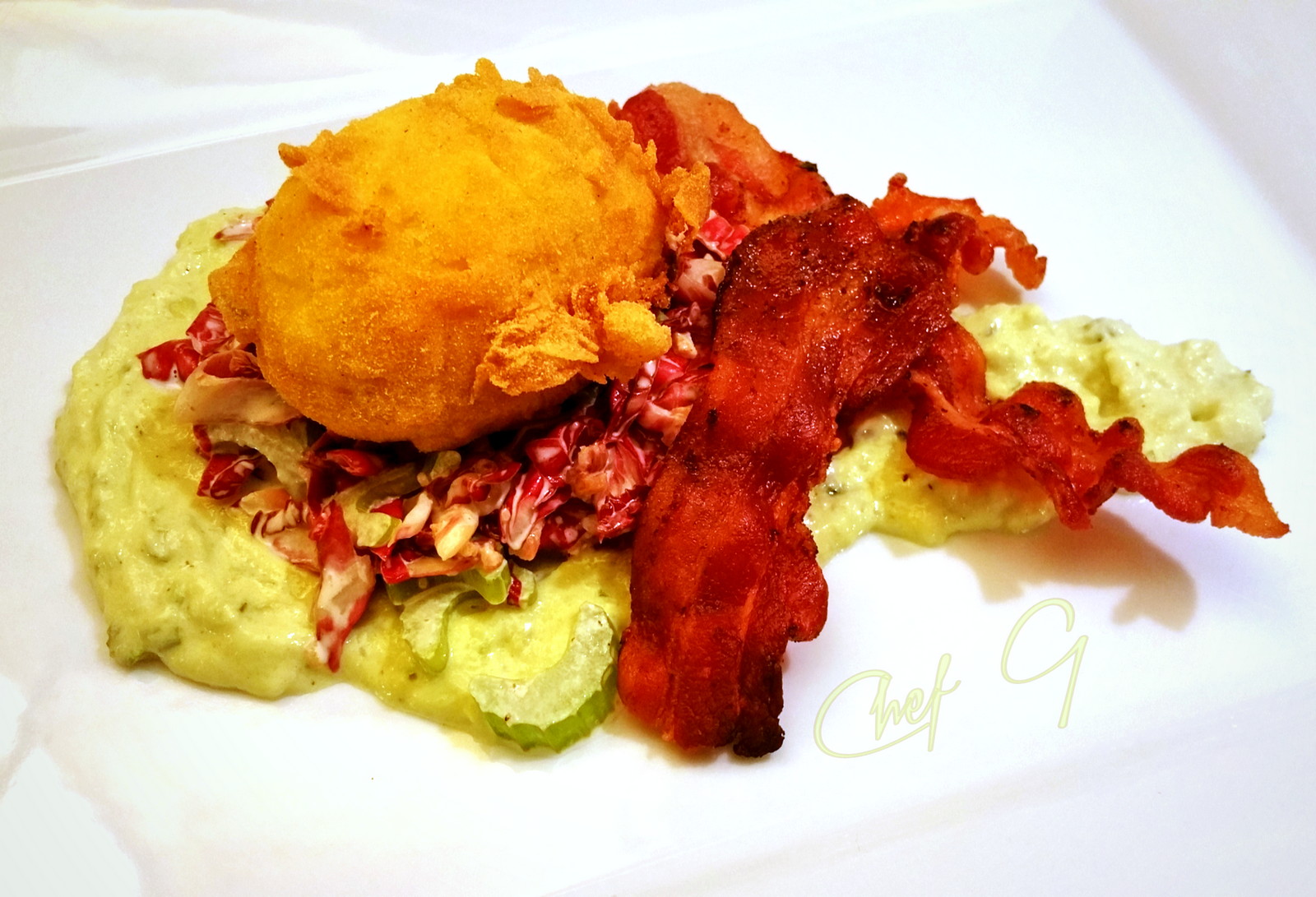 ==============================
RECIPE — Guest Chef G's Deep Fried Deviled Eggs

INGREDIENTS:
— 6 eggs + 2 additional for egg wash
— 1/4 cup mayonnaise
— 1 teaspoon white vinegar
— 1 teaspoon yellow mustard
— 1/2 avocado flesh
— 1/8 tsp sea salt
— Freshly ground black pepper
— 2 cups milk
— 2-3 cups seasoned all-purpose or corn flour
— Cooking oil for deep frying
PREPARATION:
Here's the deal — the yolks will be smashed whipped, so you can just boil the eggs using whatever method with which you're comfortable. If you want to be adventurous, try the following technique.
BOILING — Guest Chef G's Deep Fried Deviled Eggs

Place cold eggs in a saucepan and fill with cold water, covering the eggs by an inch. Set the pan over high heat and bring the water to a boil, uncovered. The water should come to a full, rolling boil.Turn off the heat and cover the pan. As soon as the water comes to a boil, remove the pan from heat and cover the pan.
Set your timer. Leave the eggs in the covered pan for the amount of time for desired yolk consistency.
• For runny soft-boiled eggs (barely set whites): 3 minutes
• For slightly runny soft-boiled eggs: 4 minutes
• For custardy yet firm soft-boiled eggs: 6 minutes
• For firm yet still creamy hard-boiled eggs: 10 minutes
• For very firm hard-boiled eggs:15 minutes
After your selected time is up, remove the cooked eggs from the pan and tap each gently on the countertop to crack the shell in a few places. (Skip this step if your eggs are very soft-boiled with runny yolks).
Place the eggs in a bowl of ice water for at least 1 minute. Peel and eat or use in a recipe.
Refrigerate any unused, unpeeled eggs within 2 hours. They can be stored in the fridge for up to 1 week.
FILLING — Guest Chef G's Deep Fried Deviled Eggs

Okay. The deviled egg filling is a very basic recipe.
Gently dry peeled with paper towels. Slice them in half lengthwise, removing yolks to a bowl. Set the whites aside, keeping the "mates" together. Mash the yolks into a fine crumble using a fork. Add avocado, mayonnaise, vinegar, mustard, salt, and pepper. Smash and and mix well. Don't be afraid to use other preferred seasonings and herbs…I do.
Fill each half of the egg whites with the yolk and avocado mixture, and then press the mates together to reform a whole egg.
FRYING —
Preheat cooking oil to 350°F/150°C.
In a medium bowl mix milk with two whole raw eggs. In a separate large bowl add flour.
Carefully dip whole deviled eggs in milk/egg wash, then coat with flour. Then once more dip coated egg in egg wash, and again in flour.
Using a slotted spoon, slowly and carefully place three eggs at a time into heated oil, and deep fry until coating is a beautiful golden brown. Once done, carefully remove eggs and place on paper towels until ready to serve.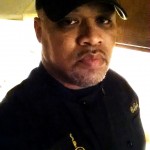 Chef Derrill Guidry (Chef G), a recent transplant in Cincinnati, is a self-taught chef and native of SW Louisiana, where cooking and eating is a way of life. He began experimenting in the kitchen at about the age of 6…and has been doing so ever since. In his early teens Chef G began traveling abroad, experiencing the culinary cultures of many countries. He also traveled extensively while serving as a commissioned officer in the US Army, retiring in 2011 after 21 years of service. From 5-star restaurants in Hong Kong, to street vendors in Saudi Arabia, and even in bedouin tents in the desert surrounding the Pyramids at Giza in Egypt, Chef G has experienced many very unique foods and spices that helped him to develop a style of cooking that is sophisticated and refined, appetizing and appealing, yet not intimidating to even the choosiest eaters. He creates what can only be described as simple goodness.
______________________________________
Chef G is currently working exclusively on developing and publishing his first cookbook, while exploring Cincy's culinary scene.
CONTACT: thegspotculinary@gmail.com
BLOG: http://thegspotculinary.com
PINTEREST: http://www.pinterest.com/spook06/my-foods-the-g-spot/
FB: https://m.facebook.com/profile.php?id=259194292533&ref=bookmark