I'm not a breakfast person, so the only time I cook pancakes is by request. And when I do, I make the batter from scratch. And for this batch I used what is now my new favorite, very versatile pancake recipe that I found at the Foodies' Kitchen website. What I like about these are the subtle sweetness, and the creamy flavor of the vanilla. I always add extra vanilla, a little extra milk for lighter pancakes, and sometimes even a touch of cinnamon. Also, I heat the pan over medium heat to prevent burning. I recommend testing a couple of pancakes to determine the best temperature for your batter.
If you try them, I'm sure you'll enjoy them…BON APPÉTIT!  ~Chef G
_________________________________
BEST HOMEMADE PANCAKES
Yield: 6 Pancakes
INGREDIENTS:

Guest Chef G's BEST HOMEMADE PANCAKES
1 egg

1 cup all-purpose flour

¾ cup milk

2 tablespoons melted butter

2 tablespoons sugar

3 teaspoons baking powder

Pinch of salt

1 teaspoon vanilla extract
PREPARATION:

Guest Chef G's BEST HOMEMADE PANCAKES

In one bowl, mix flour, baking powder, salt and sugar. In a separate bowl, mix egg, milk, melted butter and vanilla extract.

Whisk wet and dry ingredients until combined. Do not over mix the batter. It can have some lumps remaining.

Set the batter aside to rest for 5 minutes before cooking. Heat the frying pan over the medium-high heat and brush it with few drops of oil or butter.

Pour or spoon about ¼ cup of batter into the hot pan. Cook pancakes on one side for about 2-3 minutes or until golden brown.Flip pancakes using the spatula and cook again for about 1-2 minutes or until golden brown.Serve warm and with desired topping.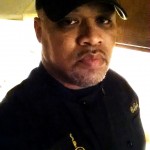 Chef Derrill Guidry (Chef G), a recent transplant in Cincinnati, is a self-taught chef and native of SW Louisiana, where cooking and eating is a way of life. He began experimenting in the kitchen at about the age of 6…and has been doing so ever since. In his early teens Chef G began traveling abroad, experiencing the culinary cultures of many countries. He also traveled extensively while serving as a commissioned officer in the US Army, retiring in 2011 after 21 years of service. From 5-star restaurants in Hong Kong, to street vendors in Saudi Arabia, and even in bedouin tents in the desert surrounding the Pyramids at Giza in Egypt, Chef G has experienced many very unique foods and spices that helped him to develop a style of cooking that is sophisticated and refined, appetizing and appealing, yet not intimidating to even the choosiest eaters. He creates what can only be described as simple goodness.
______________________________________
Chef G is currently working exclusively on developing and publishing his first cookbook, while exploring Cincy's culinary scene.
CONTACT: thegspotculinary@gmail.com
BLOG: http://thegspotculinary.com
PINTEREST: http://www.pinterest.com/spook06/my-foods-the-g-spot/
FB: https://m.facebook.com/profile.php?id=259194292533&ref=bookmark