See the what had happened was…our car was in the shop for repairs, but we didn't have plans to go anywhere and figured we'd be okay for a couple of days…until late-night munchies creeped up, and $h!t got REAL!
My fiancé looked in the fridge, and said in a very hungry voice, "There is nothing in here to eat!" Oh REALLY??? Challenge accepted!
I had recently cleaned out the refrigerator and pantry, so to the untrained eye things looked a little bare. Chef G, however, saw unlimited potential. So while discussing our increasing hunger pains the word pizza was uttered, and all of a sudden the world appeared to be a much brighter place.
One of the staple products I keep on hand is Fleischmann's Pizza Yeast. Just add flour, water, and olive oil…quick home pizza crust. Just follow the directions on the packet *(see below). I threw that together and set aside to let the dough rise, but the cool thing is that you can actually use dough made with this particular yeast immediately. While dough was doing its thing, I scrounged the kitchen for toppings. Here's what I came up with… Chicken breast (seared, chopped)
Ingredients:
Smoked bacon (chopped)
  Fresh basil
  Castelvetrano olives
  Dried red jalapeños
  Grated Colby, Mozzarella, and Parmesan cheeses
  Finely grated Parmesan
  Smoked paprika
  Homemade white sauce

I assembled the pizza, baked for about 15 minutes…DONE!

I didn't include amounts of topping ingredients because (1) I didn't measure anything, and (2) a pizza is something that you can courageously experiment with and personalize in your own way without fear of messing it up. Have fun with different cheeses, meats, veggies, fruits, herbs, sauces, spices, etc. You got this!

BON APPÉTIT Y'ALL!

~Chef G
_______________________________________

How to make the pizza crust:
INGREDIENTS:
1 3/4 – 2 1/4 cups of flour
1 envelope Fleischmann's® Pizza Yeast
1 1/2 teaspoons sugar
3/4 teaspoon salt
2/3 cup of very warm water (120° to 130° F)
3 tablespoons oil
PREPARATION:
Preheat oven to 425-deg
Combine 1 cup flour with the rest of the ingredients. Mix well.
Gradually add more flour to form soft dough ball. It will be slightly sticky.
Knead dough on floured surface, adding additional flour as needed, until smooth and elastic. Press dough with floured hands into a pizza pan, or roll dough into a circle and transfer to pan.
Top dough with desired sauce, toppings, and cheese.
Bake for 12-15 minutes until cheese is bubbly and crust is browned.
"Cooking is my passion, and my therapy.
My culinary philosophy is 'Simple Goodness'…" ~Chef G
______________________________________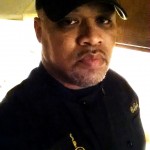 Chef Derrill Guidry (Chef G), a recent transplant in Cincinnati, is a self-taught chef and native of SW Louisiana, where cooking and eating is a way of life. He began experimenting in the kitchen at about the age of 6…and has been doing so ever since. In his early teens Chef G began traveling abroad, experiencing the culinary cultures of many countries. He also traveled extensively while serving as a commissioned officer in the US Army, retiring in 2011 after 21 years of service. From 5-star restaurants in Hong Kong, to street vendors in Saudi Arabia, and even in bedouin tents in the desert surrounding the Pyramids at Giza in Egypt, Chef G has experienced many very unique foods and spices that helped him to develop a style of cooking that is sophisticated and refined, appetizing and appealing, yet not intimidating to even the choosiest eaters. He creates what can only be described as simple goodness.
______________________________________
Chef G is currently working exclusively on developing and publishing his first cookbook, while exploring Cincy's culinary scene.
CONTACT: thegspotculinary@gmail.com
BLOG: http://thegspotculinary.com
PINTEREST: http://www.pinterest.com/spook06/my-foods-the-g-spot/
FB: https://m.facebook.com/profile.php?id=259194292533&ref=bookmark