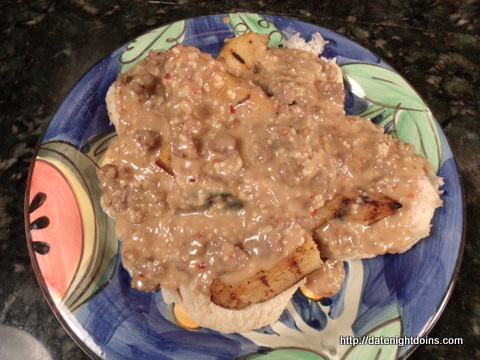 Not Your Momma's Biscuits and Gravy, It's cold and wet outside this week, so we are doing what I call comfort food. Biscuits and gravy or SOS. This is nothing like your momma's…
Ours is loaded with garlic, sweet onions and red pepper. Then served over hot buttered biscuits, piled high with French fries… topped with a healthy dose of Tabasco sauce.
What I like about this is that you can go in so many directions with this. You can change up the meat by mixing different kinds of sausage or meats. Your gravy can be mild to zippy. I like to add a little beef base to it for a little color and another layer of flavor. I have added onion soup mix to it, slipped in some bacon or shredded beef. You are only held back by the size of your skillet. I have a large cast iron one I got from my mother, but sometimes I use her big Dutch oven. I am always amazed by how much this grows as you are cooking it; whatever you use go big…
Patti and I have set one night a week just for us. It's our date night. We usually put something special on one of our Grills or Smokers, but sometimes we cook inside. We always eat outside on our patio where it is very comfortable with a rainforest theme.  Wood Pellet Patio Heater, little lights, candles, lanterns and surround sound. We enjoy a little wine, or strawberry margaritas using frozen strawberries for ice, good food, music and sometimes a dance or two…
Not Your Momma's Biscuits and Gravy
There just is no other way to live. This is good stuff.
Ingredients: Not Your Momma's Biscuits and Gravy
2 lbs. sausage
A handful of garlic cloves 8-10, crushed (to taste)
Red Pepper flakes (to taste)
2 large sweet onion, diced
¼ cup Flour may need a little more
Milk as needed (sometimes I use ½ gallon)
Worcestershire sauce
1 Tbsp. Beef base or bullion
Biscuits
French fries
Tabasco sauce
Note: There is not a lot of measuring with this one, it is all to taste.
Directions: Not Your Momma's Biscuits and Gravy
I don't think I can cook without garlic. I have come to really enjoy it rough chopped and added in to your sauces and gravy. It usually takes longer to cook than everything else so I start here.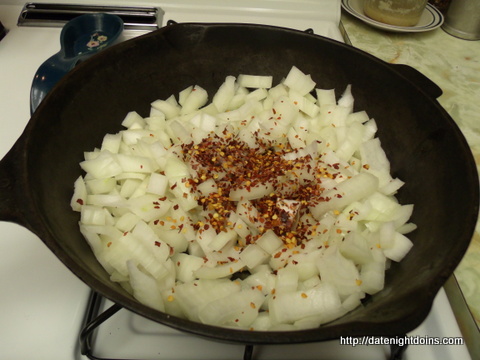 This is about a cup of rough chopped garlic, added into my largest cast iron skillet with the onions and about 2 Tbsp. of red peppers. I know it is not "PC" but I put a good spoon full of bacon grease into the skillet (but it sure is good). Make sure the grease is hot before adding anything to your skillet. Sauté the onions until are about half done. I spray a little of my Worcestershire spray in the onions while they cook. Add the sausage and cook until done.  Strain out all the grease.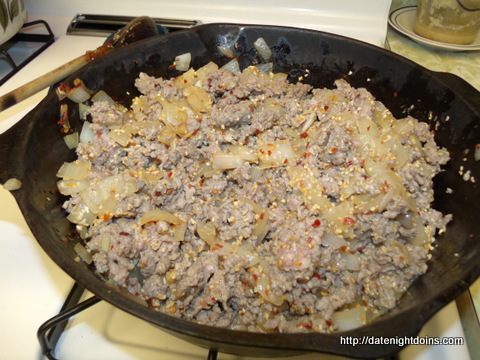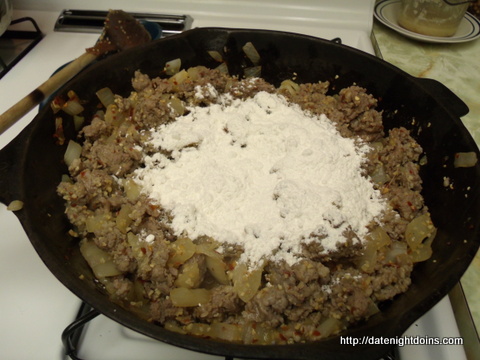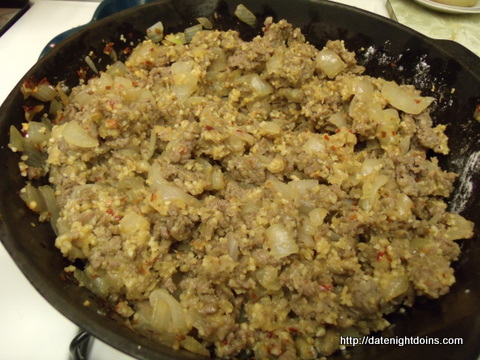 Not Your Momma's Biscuits and Gravy
Sprinkle 2 or 3 Tbsp flour into the skillet.  Stir well over medium heat. Be careful here, because it will gum up as the flour starts cooking. You want to brown the flour a bit or it will end up tasting like "flour". (Not good.) Now you can add in your milk a little at a time.
You want to bring it up to a slow boil, adding milk as needed. When it boils it is as thick as it is going to get. So, if you want it thinner add a little more milk, thicker a little more flour. I add a little beef base for a richer flavor and color but it is not really needed. Simmer to let everything get happy until your biscuits and French fries are ready.
Even Patti likes this one, not too over the top with spices but, with good rich gravy. And if you did it right you'll have enough for leftovers a few times…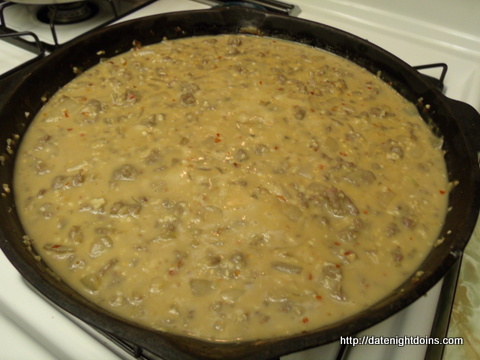 Not Your Momma's Biscuits and Gravy
About Our Recipes
We do our recipes on our patio where we have a lineup of grills, including Monument, Green Mountain, Uuni Wood Fired Pizza Oven, Sawtooth, Louisiana, Royall, Memphis, Traeger pellet grills, Char Griller side box smoker, Saber, Charmglow, Char-Broil, The Big Easy, Lodge Sportsman's, Brinkman and Weber. I call it our "Wall of Grill". Our grilling styles are healthy and low fat and will fit pelletheads, gas, natural wood and even charcoal purists. Almost any of our recipes can be done on any kind of good BBQ.
The important thing to keep in mind is TIME & TEMPERATURE. You can do our recipes on any grill, even some of them in the oven or crock pot, but, then you lose all the flavors you get from cooking outdoors. But sometimes it does rain.
Remember that a recipe is simply an outline; it is not written in stone. Don't be afraid to make changes to suit your taste. Take it and run with it….
Live your Passion and Do What You Love,
Ken & Patti
---
If you enjoy our recipes you can help support us by Subscribing to us on YouTube.
And Checking Out Our Store…
Also Check Out Our Cookbooks
Our Thanks To:
Our Cutlery Provided By: ???