VIDEO:
While grocery shopping recently, a small cooking pan caught my eye. It was a little IMUSA mini 6-inch egg casserole. I already have a couple of pans that size, but this one had a lid. That was my excuse to buy it. When I got home I found a recipe inside the pan for Mini Huevos Rancheros, and of course I had to try it.
Huevos rancheros translates to "eggs ranch-style," or "eggs country-style." The basic dish consists of fried eggs served with a lightly fried tortilla. From there, the eggs and tortilla are covered with a salsa or tomato chili sauce. Variations of the dish have become popular, particularly in the southwest United States.
In many recipes, the eggs are cooked separately and placed on the cooked tortilla. The interesting thing about this one, however, is that the eggs are cracked onto the tortilla, and then the whole thing is covered with the lid and cooked over low heat for about 3 minutes. Seemed easy enough, but I ruined the tortilla during my first attempt. I used a flour tortilla instead of corn. And the eggs were cold, not at room temperature. Additional time was needed to cook the eggs, and the tortilla burned on the bottom.
Instead of running out to buy corn tortillas, I adjusted the process a little. I brought the eggs to room temperature, and made sure all the filler ingredients (veggies and chorizo) were hot. I also heated the oven to finish the dish in case the tortillas began to overcook.  Finally, success. I also made a larger one with five eggs in a bigger skillet.
My recipe is below, and I encourage you to adjust it based on the type and thickness of your pan, the type of tortilla used, and your preferred ingredients.
"Guest Chef" Chef G's HUEVOS RANCHEROS
A Guest Chef Recipe
RECIPE (for one 6″ Mini Huevos Rancheros)
INGREDIENTS:
1 flour tortilla, cut to fit pan
2 large eggs
1/4 cup chopped bell pepper
1/4 cup chopped onion
1/2 jalapeño pepper, chopped (seeded for less heat)
1/2 cup chorizo
1/4 cup grated cheese of choice (I used enchilada cheese)
1 tsp cooking oil
1 tbsp chopped cilantro (plus extra for garnish)
1 tsp cumin
1 tsp ground chipotle or cayenne pepper
1 tsp sea salt
1 tsp smoked paprika
Salsa, homemade or store-bought
"Guest Chef" Chef G's HUEVOS RANCHEROS
A Guest Chef Recipe
PREPARATION:
In a saucepan over med-high heat, heat cooking oil and sauté peppers and onion until softened, about 3 minutes. Add chorizo, cumin, and chipotle pepper, stir, and cook until heated through. Set aside but keep warm.
Spray a little non-stick spray on both sides of the tortilla and place it in the pan over medium-low heat.
Cook the first side of the tortilla for about 3 minutes, flip, and immediately add the chorizo mixture, cheese, and chopped cilantro on top of the tortilla. Then carefully crack the two eggs on top of the chorizo. Sprinkle salt and paprika on eggs.
Cover the pan and bring heat to low. Allow eggs to cook between 3-4 minutes, remove from heat, top with salsa and more cilantro and serve.
If desired, preheat oven to 450°F/230°C. If egg is not cooked as desired after 3-4 minutes, pop pan in oven until done. Ensure pan is oven-safe.
"Guest Chef" Chef G's HUEVOS RANCHEROS
A Guest Chef Recipe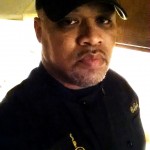 Chef Derrill Guidry (Chef G), a recent transplant in Cincinnati, is a self-taught chef and native of SW Louisiana, where cooking and eating is a way of life. He began experimenting in the kitchen at about the age of 6…and has been doing so ever since. In his early teens Chef G began traveling abroad, experiencing the culinary cultures of many countries. He also traveled extensively while serving as a commissioned officer in the US Army, retiring in 2011 after 21 years of service. From 5-star restaurants in Hong Kong, to street vendors in Saudi Arabia, and even in bedouin tents in the desert surrounding the Pyramids at Giza in Egypt, Chef G has experienced many very unique foods and spices that helped him to develop a style of cooking that is sophisticated and refined, appetizing and appealing, yet not intimidating to even the choosiest eaters. He creates what can only be described as simple goodness.
______________________________________
Chef G is currently working exclusively on developing and publishing his first cookbook, while exploring Cincy's culinary scene.
CONTACT: thegspotculinary@gmail.com
BLOG: http://thegspotculinary.com
PINTEREST: http://www.pinterest.com/spook06/my-foods-the-g-spot/
FB: https://m.facebook.com/profile.php?id=259194292533&ref=bookmark