I rarely bake sweets, but I am a HUGE fan of super "lemony" pastries! So when I saw this recipe for Lemon Brownies, I simply had to try it. I was not disappointed.
Fresh out of the oven, the lemony aroma was captivating. They are very light and moist, and just melt in your mouth. The best thing about these brownies, however, is the Tart Lemon Glaze. Made with fresh lemon zest, lemon juice, and powdered sugar, it soaks into the top layer of the brownies and shocks the palate with an explosion of lemon flavor that becomes immediately addictive.
I doubled the recipe below, and added extra lemon zest and juice to both the brownies and the glaze with no problems. Also, because I don't have access to my Kitchenaid mixer and I mixed it by hand, sifting the flour made it easy to achieve a smooth batter.
Try this one, you'll like it! BON APPÉTIT!
~Chef G
_________________________________
INGREDIENTS: LEMONY "LEMON BROWNIES"
For the Brownie;
1⁄2 cup unsalted butter, softened
3⁄4 cup flour
2 eggs, large
2 tablespoons lemon zest
2 tablespoons lemon juice
3⁄4 cup granulated sugar
1⁄4 teaspoon sea salt
_____
For the tart lemon glaze;
4 tablespoons lemon juice
8 teaspoons lemon zest
1 cup icing sugar
PREPARATION:
Preheat the oven to 350 degrees.
Grease an 8×8 inch baking dish with butter and set aside. (I doubled the recipe and used an 11x7in baking dish)
Zest and juice two lemons and set aside.
In the bowl of an electric mixture fitted with the paddle attachment, beat the flour, sugar, salt, and softened butter until combined. (I used a fork)
In a separate bowl, whisk together the eggs, lemon zest, and lemon juice until combined. Pour it into the flour mixture and beat for 2 mins at medium speed until smooth and creamy. (I don't have access to a mixer, so I used a heavy whisk)
Pour into baking dish and bake for 23-25 mins, should turn golden around the edges.Allow to cool completely before glazing. Do not overbake, or the bars will dry.
Filter the powdered sugar and whisk with lemon zest and juice. Spread the glaze over the brownies with a rubber spatula and let glaze set.
Cut into squares and serve.
"Cooking is my passion, and my therapy.
My culinary philosophy is 'Simple Goodness'…" ~Chef G
______________________________________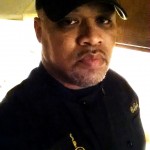 Chef Derrill Guidry (Chef G), a recent transplant in Cincinnati, is a self-taught chef and native of SW Louisiana, where cooking and eating is a way of life. He began experimenting in the kitchen at about the age of 6…and has been doing so ever since. In his early teens Chef G began traveling abroad, experiencing the culinary cultures of many countries. He also traveled extensively while serving as a commissioned officer in the US Army, retiring in 2011 after 21 years of service. From 5-star restaurants in Hong Kong, to street vendors in Saudi Arabia, and even in bedouin tents in the desert surrounding the Pyramids at Giza in Egypt, Chef G has experienced many very unique foods and spices that helped him to develop a style of cooking that is sophisticated and refined, appetizing and appealing, yet not intimidating to even the choosiest eaters. He creates what can only be described as simple goodness.
______________________________________
Chef G is currently working exclusively on developing and publishing his first cookbook, while exploring Cincy's culinary scene.
https://www.evernote.com/shard/s236/sh/d735c6b0-ac5e-46a0-b9a7-291d7b599d07/d9016ebb10995c4e804bab6cafa79d3f
CONTACT: thegspotculinary@gmail.com
BLOG: http://thegspotculinary.com
PINTEREST: http://www.pinterest.com/spook06/my-foods-the-g-spot/
FB: https://m.facebook.com/profile.php?id=259194292533&ref=bookmark