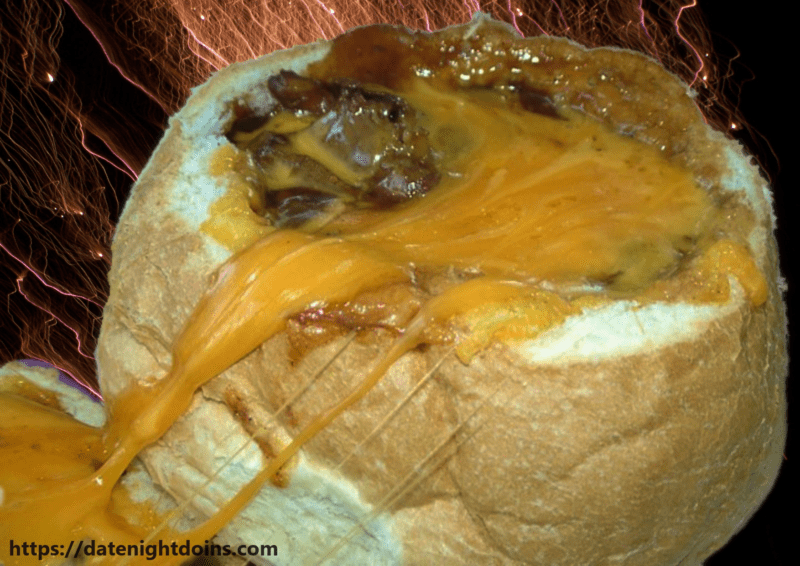 Chipotle Chili Bowl, I have been going through "Chipotle Withdrawals" these last few weeks. I love the sweet smoky flavors of Chipotle on the grill. Everyone here (Patti) has been saying "NO More Chipotle for a while, It's too hot". I don't understand this, chipotle is just a smoked jalapeno, and these are mild sweet peppers that are AWESOME on the grill.
Well, I just couldn't stand it anymore. So, I made up a batch of chipotle chili from scratch with a nice thick sauce that was good for dipping. I did not do my normal thing by using different dried chili peppers that can build up a little heat (3 or 4 on my heat index). I just used dried chipotle peppers.
Using only dried chipotle peppers, sweet onions and garlic as my building blocks this chili came out with a rich sweet chipotle flavor that will sooth anyone's chipotle cravings and the meat was so tender you did not even need teeth. (I am not that old yet!) I let it simmer all day in the smoke listening to the girls saying it smells soooo good but it's going to be too hot. When I tried to get them to taste it they wouldn't…
But when dinner time came, they EVEN ATE THE BOWLS! Good thing they were made out of French bread!
Chili is one of those things that you can do almost anything. Traditional chili is only meat and peppers. It was made by the poorest of the poor. They did not have much to start with and the little meat they had was the cheapest, toughest cuts. There were no tomatoes, onions or beans to be found. They came up with chili to stretch out the food they had. Some Chili Heads would never think of adding tomatoes, beans, rice or onions to their chili. But, you can do whatever you want. It's just chili, you can't hurt it.
Chipotle Chili Bowl
A Pellet Grill Recipe
Our Favorite Grill Accessories:
We have a few "Grilling Essentials" that we love. First, we have "Grill Grates" on all of our grills. Love the control they give us with our "cooks" from smoke to sear!
A "Wedgie" for creating smoke blends or just bring smoke into our cook.
Bull Racks used as much Off the grill As on the grill!!! A Must Have for Smoking
And Don Godke's Downdraft on my Green Mountains Grills". What the "DownDraft" does is hold the smoke a little longer in the cooking chamber. Adding more smoke flavor and making it easier to create smoke blends to your liking.
Prep Time: 20 Minutes
Cook Time: 5 hours @ 225* (107c).
Grill: Green Mountain Wood Pellet Grill/Smoker
Pellets: Green Mountain's Texas Blend BBQ Pellet
I have been messing with chili for 45 years now, don't use any recipes anymore. I just think about the direction I want to go: Texas, Texas Red, New Mexican, Southwest, Colorado red or green, beef or pork and go from there. I don't measure my spices anymore, I just seem to know how much to use. Today I did give it some thought so if someone wanted they could build a batch for themselves.

You May also enjoy these chili recipes;
Green with Envy Chili Verde http://datenightdoins.com/green-with-envy-chili-verde/
DUMP CHILI http://datenightdoins.com/dump-chili/
Mom's Texas Red Chili http://datenightdoins.com/moms-texas-red-chili/
Chipotle Chili Bowl
A Pellet Grill Recipe
Ingredients: Chipotle Chili Bowl
3 lbs. of any roast beef (Patti got a sirloin tip)

2 large sweet onions, rough chopped, reserve 1

Garlic to taste, I used 2 handfuls of fresh peeled cloves (we buy it in 5 lb. jars)

7 or 8 dried chipotle peppers, rough chopped

1 12 oz. can tomato sauce

1 Qt. beef broth

1 cup flour, seasoned (I add black pepper and chipotle chili)

2 Tbsp. cumin

2 Tbsp. coarse black pepper

Country Bob's Seasoning Salt, to taste

3 Tbsp. bacon grease or oil

Shredded cheese of your choice, we used extra sharp cheddar

1 sour dough or French bread "Cannon Ball aka bread bowl" for each person.
Chipotle Chili Bowl
A Pellet Grill Recipe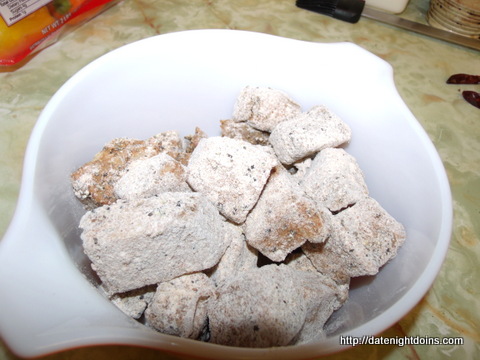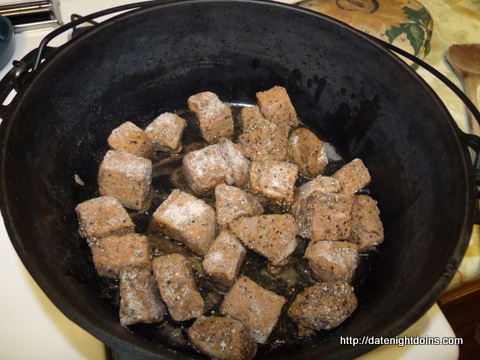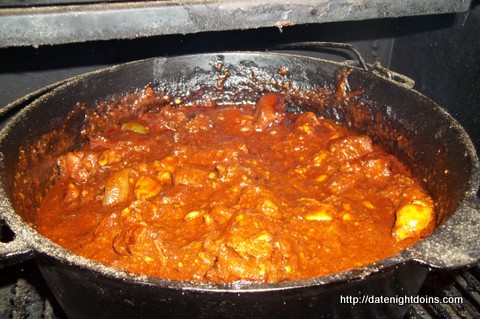 Chipotle Chili Bowl
A Pellet Grill Recipe
Cooking Directions:
Chipotle Chili Bowl
In a Dutch oven (I use Lodge Cast Iron) heat your bacon grease. While that is heating cut your meat into 1 to 2 inch cubes. Put meat cubes in a plastic bag with seasoned flour and shake to coat. Add a little at a time to the Dutch oven when the oil is hot.
Brown meat, stirring to brown. You may need to do it in batches. There will be a lot of juices in the Dutch oven when the meat is brown. Don't throw it away, there's tons of flavor here, use it. After the meat is nicely browned add 1 onion, garlic, cumin, pepper, salt, chipotle peppers, tomato sauce and beef broth. I cut the peppers into little pieces with kitchen shears, too easy. Stir it a bit to mix, if it is not covered by the sauce add a little water to cover. Off to the grill …
Preheat the grill to 225* (107c). Place your Dutch oven directly onto the grill and just let it hang out in the smoke and do a slow boil stiring now and then until the meat is tender, about 5 hours or so. When the meat is fork tender and the sauce is as thick as you want it is time to eat.
The last hour of cooking add the last onion. Now, if you are like me you will want a nice thick sauce. Mix Tbsp. of the flour with a little cold water until smooth, I use a fork for this. Stir it into your chili. It will start to thicken. If you want it thicker, add more but only a little at a time because it can get too thick.
Note: If you want to thicken your sauce by mixing a little flour with water and adding it to your Dutch oven. I used the flour/chipotle left after coating the meat.
To serve slice the top of the cannon balls and hollow them out. Fill with chili, top with cheese, put the top back on. Placing them on a cookie sheet and onto the Green Mountain grill at 350* (177c) for a few minutes to melt the cheese and serve.
Note: I get a lot of questions about the kind of pellets you can use with a recipe. Keep in mind that a recipe is just an outline. Some you need to follow closely like when you are making bread, but most you can do anything you can dream, our favorite way to cook. Feel free to mix and match the pellets until you find a combination you really like. Also you are only smoking at temps less than 250* (122c), anything higher is cooking and there will not be much if any smoke so it does not matter what kind of pellet you are using.
Chipotle Chili Bowl
A Pellet Grill Recipe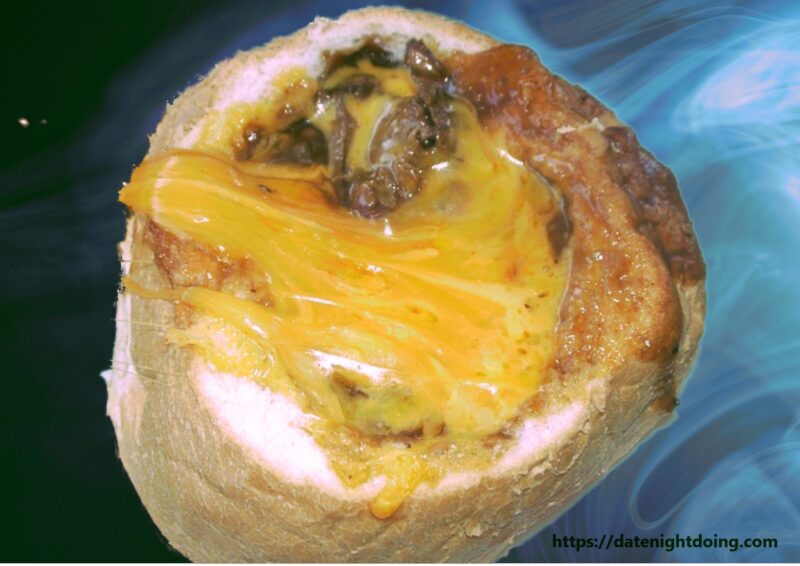 Chipotle Chili Bowl
A Pellet Grill Recipe
About our Recipes
We do our recipes on our patio where we have a lineup of grills, including Monument, Green Mountain, Uuni Wood Fired Pizza Oven, Sawtooth, Louisiana, Royall, Memphis, Traeger pellet grills, Char Griller side box smoker, Saber, Charmglow, Char-Broil, The Big Easy, Lodge Sportsman's, Brinkman and Weber. I call it our "Wall of Grill". Our grilling styles are healthy and low fat and will fit pelletheads, gas, natural wood and even charcoal purists. Almost any of our recipes can be done on any kind of good BBQ.
The important thing to keep in mind is TIME & TEMPERATURE. You can do our recipes on any grill, even some of them in the oven or crock pot, but, then you lose all the flavors you get from cooking outdoors. But sometimes it does rain.
Remember that a recipe is simply an outline; it is not written in stone. Don't be afraid to make changes to suit your taste. Take it and run with it….
Live your Passion and Do What You Love,
Ken & Patti
---
If you enjoy our recipes you can help support us by Subscribing to us on YouTube.
And Checking Out Our Store…
Also Check Out Our Cookbooks
Our Thanks To:
Our Cutlery Provided By: ???