"Guest Chef" CHEF G's CAJUN CATFISH COURTBOUILLION
A Louisiana Courtbouillon (pronounced COO-be-yon) is completely different than the French Court Bouillon, which is an aromatic liquor or stock used as a cooking liquid. The Louisiana Cajun Courtbouillion is a thick, rich fish stew that starts with a traditional dark roux. There is also a Creole style Courtbouillion, which is typically a whole fish, usually Redfish, stuffed with aromatics, topped with lemon slices, then braised in a Creole tomato-based sauce.
Now before continuing, I want to very briefly explain the general differences between Creole and Cajun cuisines. Creole and Cajun cuisines are culturally connected by a shared French heritage. And in addition to France, both cooking styles have culinary roots in Spain, Africa, Native America, the Caribbean, and even Germany, Ireland, and Italy.
A major difference between Creole and Cajun food is in the type of roux used as the base of sauces, stews, soups, and other savory dishes. Creole roux is made from butter and flour (as in France), and is often light-brown or blonde in color. On the other hand, Cajun roux is made from lard or oil and flour, and is usually a deep dark brown with a distinct nutty aroma and flavor. The differences in ingredients is partly due to the scarcity of dairy products in some areas of Acadiana (Acadia + Louisiana), west of New Orleans, when Cajun cuisine was being developed.
Regional cultural differences exist between the two cuisines because of geography. Creoles in and around New Orleans had access to coastal imports, diverse local markets, and "high-class" European and Spanish influences. Cajuns, descendents of Acadians expelled from Acadia, now known as Nova Scotia, in 1755, had to live off the land and adjust to the swamps, bayous, and woodlands that presented many "exotic" forms of meat, game, fish, produce, and grains that we Louisianians still enjoy today.
There's an old Cajun saying that puts it in even simpler terms – "A Creole feeds one family with three chickens, and a Cajun feeds three families with one chicken." City vs. Country.
Back to the Courtbouillion…
In Louisiana there are two basic requirements for preparing a traditional Catfish Courtbouillion:
1. WILD CATFISH – also called Opelousas, yellow, or spotted catfish – is better than the pond or farm-raised variety. Wild catfish has a very distinct, gamy flavor that is complemented by the sauce. And it is also firmer and less fragile than pond catfish.
2. A BIG-ASS CAST IRON POT – A large, well-seasoned cast iron pot is crucial. A traditional courtbouillion should NEVER be stirred, so the heavy pot protects the ingredients from burning. The fish is added near the end of cooking, and the pot is "twisted" rather than stirred with a spoon. Otherwise the tender fish will break apart.
For my version I use a common Cajun recipe. This dish is not usually made in small batches, so I reduce it by more than half. Also, because I don't have my cast iron Dutch oven, I was forced  to stir the courtbouillon to prevent it from burning, even with my heavy-bottomed pots. DO NOT attempt this recipe using light, cheap pots. The sauce, like any tomato sauce, only gets better the longer it cooks, but even the smallest amount of burned sauce at the very bottom of the pot will permeate the entire stew with a rather unpleasant taste. To ensure a tasty, savory courtbouillon, just reduce the heat, increase cooking time, and pay attention to the bottom of the pot.
I presented you with a lot of information, but I firmly believe that the more we understand certain regional/cultural foods from their origins, the more passion we have when cooking them…and that passion is where the real flavor comes from in any dish.
BON APPÉTIT Y'ALL!
~Chef G_____________________________________
CATFISH COURTBOUILLION RECIPE
INGREDIENTS:
3-5 lbs catfish fillets, cut into 2-in cubes




(reserve 1/2 cup fish pieces to flavor sauce)

1/2 cup oil

1/2 cup flour

1 cups chopped onions

1 cups chopped celery

1 cup chopped green bell pepper

1 tbsps chopped garlic

1-1/2 cups diced tomatoes

1/2 cup tomato sauce

1-1/2 quarts fish stock

juice of one lemon

1/2 cup chopped green onions

2 bay leaves

1 tsp thyme

1 tsp dill

1 tbsp smoked paprika

salt and pepper to taste

cayenne pepper to taste (optional)




For FISH STOCK:

3 quarts water

Fish pieces (head, bones)

1 onion, quartered

1 stalk celery

2 bay leaves

1 tbsp peppercorns
PREPARATION:
Prepare the stock. Place fish head/bones in a large pot with 3 quarts water, onion, celery, bay leaves, peppercorns. Bring to a rolling boil and cook 30 minutes, skimming any impurities that rise to the surface. Strain and reserve 1-1/2 quarts for the courtbouillon.
In a large dutch oven, heat oil over medium-high heat. Add flour and using a wire whip stir constantly until dark brown roux is achieved. Add onions, celery, bell peppers, garlic, and sauté until vegetables are wilted, approximately 3-5 minutes. Add reserved fish pieces, tomatoes, tomato sauce, and continue to sauté until fish is cooked into the roux mixture.
Add fish stock, one ladle at a time, until all is incorporated. Add lemon juice, bay leaves, thyme, dill, and smoked paprika. Bring to a rolling boil, then reduce to simmer. Allow to cook approximately 30 minutes. Add green onions and season to taste using salt and pepper. Drop cubed catfish fillets into the sauce, allow to cook 3-4 minutes, then remove from heat. Adjust seasonings if necessary. Serve over steamed white rice.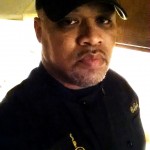 Chef Derrill Guidry (Chef G), a recent transplant in Cincinnati, is a self-taught chef and native of SW Louisiana, where cooking and eating is a way of life. He began experimenting in the kitchen at about the age of 6…and has been doing so ever since. In his early teens Chef G began traveling abroad, experiencing the culinary cultures of many countries. He also traveled extensively while serving as a commissioned officer in the US Army, retiring in 2011 after 21 years of service. From 5-star restaurants in Hong Kong, to street vendors in Saudi Arabia, and even in bedouin tents in the desert surrounding the Pyramids at Giza in Egypt, Chef G has experienced many very unique foods and spices that helped him to develop a style of cooking that is sophisticated and refined, appetizing and appealing, yet not intimidating to even the choosiest eaters. He creates what can only be described as simple goodness.
______________________________________
Chef G is currently working exclusively on developing and publishing his first cookbook, while exploring Cincy's culinary scene.
CONTACT: thegspotculinary@gmail.com
BLOG: http://thegspotculinary.com
PINTEREST: http://www.pinterest.com/spook06/my-foods-the-g-spot/
FB: https://m.facebook.com/profile.php?id=259194292533&ref=bookmark