Guest Chef Robert Simon As Seen On Spike TV "FrankenFood"
"Taste of the Turnpike"

"Spicy Stegosaurus Balls"
Prep time: 1 hour 35 minutes (approx)
Cook time: 35 minutes (approx)
INGREDIENTS : Spicy Stegosaurus Balls
1 lb. Boneless Skinless Chicken Thighs


only a little of the chicken is used in each ball, 1 lb can make approx. 40 balls

20 ounces  Hot Italian Turkey Sausage links or bulk (fresh, uncooked,

I used Jennie-O, 5 links per package each link yields 2- 2 ½" balls)

5 Jalapeño Peppers (approx. 3" long, 1+ inch Diameter,

Each pepper is enough for 2 balls)


1 Poblano pepper

1 container (5 oz.) crumbled Gorgonzola

(1 container can make 25-30 balls)

1 Container 8 oz. Crème Fraiche

Chef of the Future Brand Floribbean Seasoning (Coffee, Cocoa, Chipotle Blend)

Twizzlers Black Licorice twists Cut into 1" lengths


Tabasco Brand Green Jalapeño Pepper Sauce

Cooking Spray, Canola
 "Spicy Stegosaurus Balls"
DIRECTIONS

: Spicy Stegosaurus Balls

Remove the visible fat and connective tissue from the chicken thighs and liberally coat each side with Chef of the Future's Floribbean rub. Coat with the cooking spray. Grill the chicken until done, let cool for easy handling.

Remove The Visible Fat and Connective Tissue
Liberally Coat Each Side with Chef of the Future's Floribbean Rub

Prepare the Jalapeños and the Poblano peppers, cut off the tops, and slice lengthwise on one side, remove the seeds before Fire Roasting. Char (fire roast) remove the skin. Immediately after fire roasting, place in a bowl, cover with plastic wrap and let the peppers "sweat" until cool enough to touch. The skin can be removed with a paper towel, do not run under water
Fire Roast your Peppers

Remove Skin with a Paper Towel
"Spicy Stegosaurus Balls"
Cut the Jalapeño peppers crosswise into 1" sections to prep for stuffing. Liquefy the Poblano pepper to be added to the crème fraiche.
T

he Poblano Puree



For each cup of Crème Fraiche add 8 tsp of the Poblano puree and 4 tsp of the Green Tabasco sauce, blend together for the finishing drizzle or can be used for dipping.
Open the pepper and put in some Gorgonzola, a 1" sliced piece of the chicken, the licorice and more cheese, surrounding the chicken. Compress the pepper lightly to reform the pepper. Remover the casing from the sausages. Use ½ of a sausage link, form into a round ball and flatten on a piece of plastic wrap to form a patty, ¼" thick, 5" around. If the sausage sticks to your fingers, dip you fingers in a bowl of cool water. Place the filled pepper, cut side down, in the center of the patty and seal all edges so it forms a round ball. Coat the balls liberally with the Floribbean Rub and spray with the cooking spray.
Flatten Sausage on a Piece of Plastic Wrap
    

Place the Filled Pepper

Roll Pepper Closed
Coat the Balls Liberally with the Floribbean Rub                
"Spicy Stegosaurus Balls"
Grill the balls, elevated off the grill grate, over a low flame/heat to help prevent flare-ups, for about 15 minutes or until the center is 165° F. This can be done using an open spring form pan with a perforated grilling pan (coated with the cooking spray) so there are no grill marks and the balls retain their shape. Turn the balls so the color stays even. Plate the balls, either whole or halved. Drizzle the Poblano Crème or serve on the side for dipping. Serve immediately.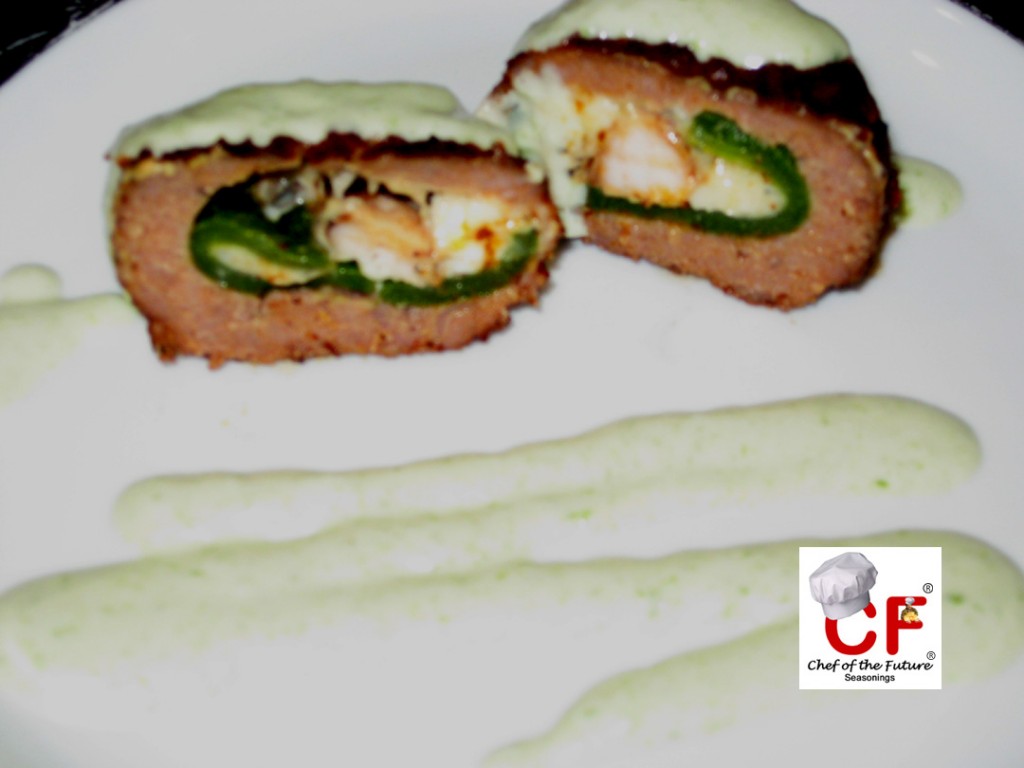 Pictures of my Spicy Stegosaurus Balls from the Frankenfood Episode.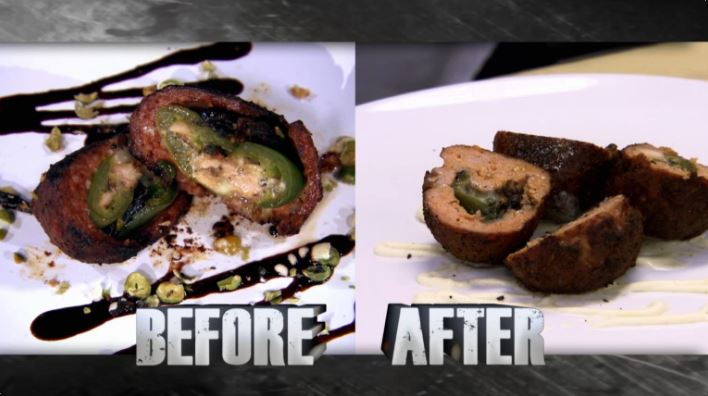 Enjoy and post pictures telling me how amazing they were!
Cheers!
Robert Simon
Chef of the Future Brand Seasonings
"Spicy Stegosaurus Balls"
One note of extreme importance. If you want to replicate my recipe as it was on the TV Show, You must use Chef of the Future's Floribbean Seasoning. There is no substitute and I cannot guarantee the results without it. Try all of my blends and get a 3 pack with free shipping and autographed jars. See our special on www.chef-ofthefuture.com
Our Thanks to : Chef Robert Simon
Chef Of The Future Brand Seasoning
https://www.chef-ofthefuture.com/
973 780 5895
info@chef-ofthefuture.com
Guest Chef on Date Night Doins BBQ For Two

Live your Passion,
Ken & Patti
http://datenightdoins.com
Facebook 
Youtube Channel
Pintrest