This is Reverse Sear
Reverse Sear what is it?
After talking with a few folks there seem to be 2 schools of thought here.
1. Do a sear on your meat then smoke it.
2. Smoke your meat, and then do your sear.
I got 1000's of responses on both options so I thought I would do some research on it. I am not going to go into the science of it, but more into the "How To" of it… 
Here is what I have learned. There are 100's of ways of doing this and your steak houses use both methods indoors. We are going to do this outside on pellet grills because I hear folks say that you can't sear a steak on a pellet grill. Wrong, these are 2 ½ inch thick sirloins done using both methods on some of my pellet grills.
A reverse sear is when you smoke your meat first then finish it off with a hot quick sear. There are two ways to do the finishing sear. 1 is with a cast iron griddle or skillet, the other is using grill grates. You can use either; I did both here to show you. Using grill grates you get the diamond grills marks or as I call them flavor bars. On a griddle the whole steak caramelizes and turns that beautiful mahogany brown.
This process is known as the Maillard reaction and is responsible for the savory flavor and beautiful mahogany brown color of roasted meats.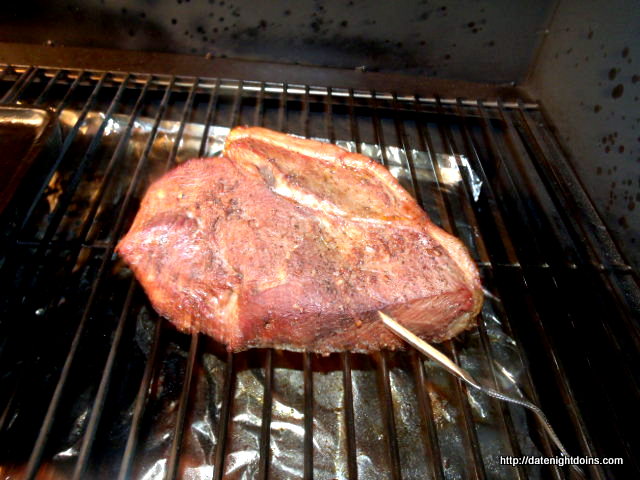 In The Smoke
This process is best for large cuts of meat this sirloin was 2 ½ inches thick. We want to smoke our steaks at 250 degrees (122c) until we reach an internal temperature of 120 degrees (48c) about 45 minutes. You can wing it with your temperatures if you don't have anything to check with. Man has been cooking for 1000's of years without any kind of thermometers. But, I like more control especially with the cost of good meat. On this cook I used Maverick's Ready Check for a real time reading. Then the PT-100 for instant read and the laser for checking the grate/griddle temps.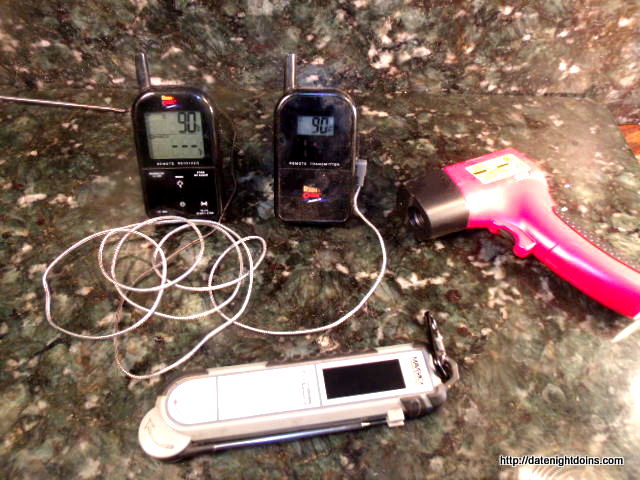 When your steaks reach 120 degrees (48c) pull them and let them rest as the grill grates and/or griddle heat up. I set my grills on 500 degrees (around 300c) for this and was screaming hot in 10 minutes.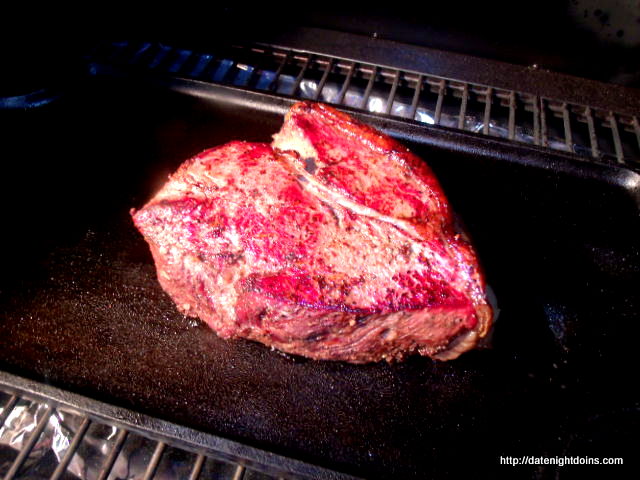 We'll do the Lodge Cast Iron Griddle 1st.
On a Griddle the Whole Steak Caramelizes and Turns that Beautiful Mahogany Brown
I did this steak for two minutes per side, these were almost medium rare. If you like it cooked more just add a minute or two to your cooking time. My cast iron griddle temp was 500 degrees.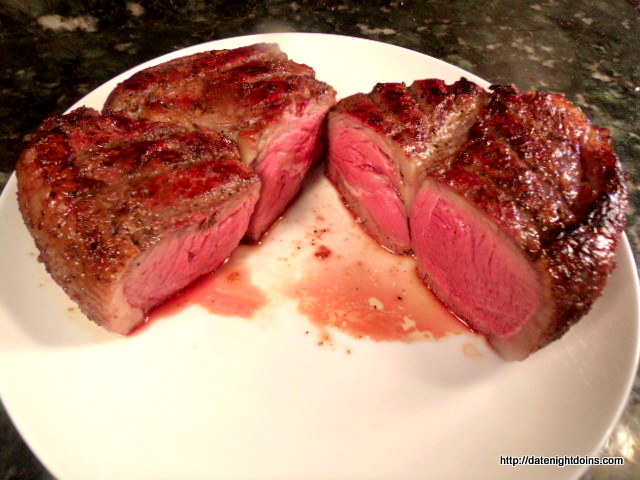 Lookin So Good
Now let's look at the grill grates, keep in mind these can be the grates your grill comes with but I like the way these cook.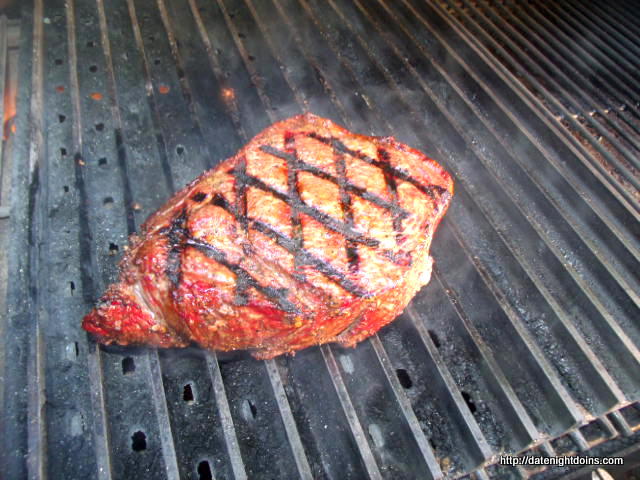 2 Minutes per Side with a Quarter Turn at the 1 Minute Mark
Beautiful
Grill Grate verses Cast Iron
This is Both, Let's Eat!
You may enjoy the video; http://datenightdoins.com/video-reverse-sear-what-is-it/
About Our Recipes
We do our recipes on our patio where we have a lineup of grills, including Green Mountain, Sawtooth, Louisiana, Memphis, Royall, Traeger pellet grills, Char-Griller, Saber, Charmglow, Char-Broil, The Big Easy, Pacific Living Pizza Oven, Lodge Sportsman's, Brinkman and Weber. I call it our "Wall of Grill". Our grilling styles are healthy and low fat and will fit pelletheads, gas, natural wood and even charcoal purists. Almost any of our recipes can be done on any kind of good BBQ.
The important thing to keep in mind is TIME & TEMPERATURE. You can even do some of them in the oven or crock pot, but, then you lose all the flavors you get from cooking outdoors. But sometimes it does rain.
Remember that a recipe is simply an outline; it is not written in stone. Don't be afraid to make changes to suit your taste. Take it and run with it….
Live your Passion and Do What You Love
Ken & Patti
If you enjoy our recipes you can help support us by Subscribing to us on YouTube.
And Checking Out Our New Date Night Seasoning
Our Thanks To:
Our Cutlery Provided By:

Save
Save
Save
Save
Save
Save