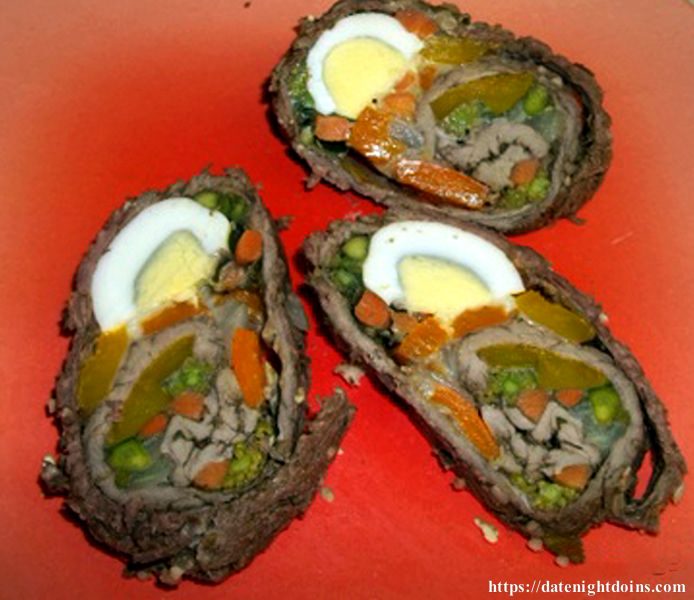 Traditional Argentinean Matambres, I have spent the last 2 months researching Argentinean and Gaucho cooking. Fascinating. Lots of interesting styles of cooking and sites most of which I can't understand what they say.

One thing I learned about the Matambre is that there is a traditional style and then from there it is more a free style, anything you can dream and we sure did. This is where the fun starts. By the way Matambre translates to "hunger killer" and these guys lived up to their name.

We thought we would do 4 of these bad boys: one traditional, then one that was along the same line of thought. We stuffed it with carrots, asparagus, onions, hard boiled eggs and spinach. These are just the basic building blocks for our Matambre festival. Next, we went "Free Style", one stuffed with our smoked jalapeno and bacon poppers. Then, followed with one stuffed with peanut butter and bacon, the personal favorite of the four of us.
We used some of Lumberjacks new "Mexican Heat" wood pellets. Mexican Heat is a wood pellet that has Red pepper chili powder mixed right in it. The red pepper chili powder is a pungent, hot chili powder with a strong bite and the flavor intensifies as it is cooked. I love the Southwestern flair it adds to all of your grilling.
Argentinean

Matambres
A Wood Pellet Grill Recipe
Prep Time: a big recipe with a lot a variations and 2.5 hours prep time
Cook Time: 1 to 1.5 hours@ 350* (177c)
Grill: Louisiana Wood Pellet Grill
Pellets: Lumberjack "Mexican Heat"
I am not going to give measurements with this ingredient list because we did so many and you may not want to do so much at a time. Our goal here is to give you the idea of where you can take this recipe, run with it.
Ingredients:
Traditional Argentinean Matambres
Flap meat, skirt steak, flank steak. Any of these will be fine.

Hard boiled eggs, 4 to 6 per Matambre

Jalapenos, smoked and sliced

Spinach

Asparagus

Carrots, julienned

Bacon, partially cooked

Sweet onion, sliced

Sweet peppers, sliced

Cilantro, rough chopped

Cheese, Queso Oaxaca (Patti's favorite Mexican cheese)

Cheese, pepper jack



Argentinean Matambres
A Wood Pellet Grill Recipe
Ingredients: Marinade
½ cup red wine vinegar

½ cup olive oil

3 cups red wine, we used an Argentine wine called Malbec


¼ cup crushed garlic

2 Tbsp. smoked Paprika

2 Tbsp. Cilantro, rough chopped

2 Tbsp. dried chopped onion

1 Tbsp. Oregano

3 Bay leaves

Salt and pepper to taste
Argentinean Matambres
A Wood Pellet Grill Recipe
Ingredients: Broth for braising
4 cups of water

2 cups red wine

¼ cup onion soup mix

2 Tbsp. dry crushed garlic

2 Tbsp. dry chopped onion

1 Tbsp. beef base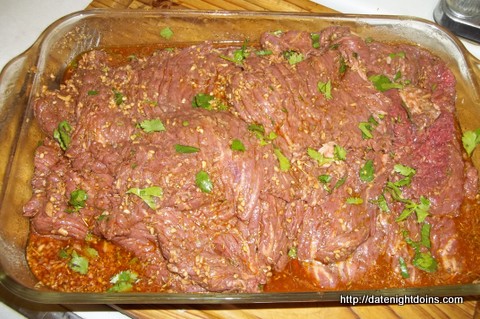 Directions: Marinade
Mix all the ingredients and place in a dish or zip lock bag. Add meat making sure it is all covered and refrigerate for 3 hours or overnight. Every so often roll the meat to be sure it all gets coated.
Argentinean Matambres
A Wood Pellet Grill Recipe
Directions: Meat
I rolled my meat out on a cookie sheet and then layered it with the stuffing we wanted. We did 4 different ones, you can see the stuffing for each and how to roll and tie them.

Place your completed Matambre in an oven safe baking dish and cover half way with your broth. Now you're ready for the grill, 350* (177c) for 1 to 1 ½ hours. The longer it cooks the more tender it will be. Roll them over after 30 minutes and continue cooking.

The meat will be done at 125*  (53c), but it will be tough and the veggies wont done. I think anywhere from 160* to 190* may be the best for a tender Matambre.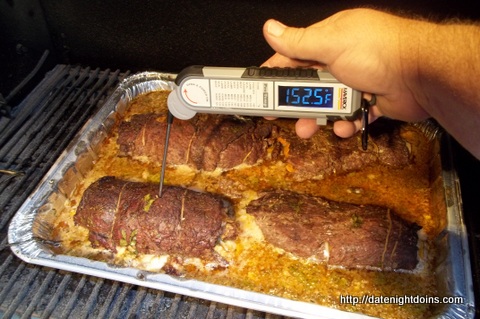 Argentinean Matambres
A Wood Pellet Grill Recipe
Note: I get a lot of questions about the kind of pellets you can use with a recipe. Keep in mind that a recipe is just an outline. Some you need follow closely like when you are making bread, but most you can do anything you can dream, our favorite way to cook. Feel free to mix and match the pellets until you find a combination you really like. Also you are only smoking at temps less than 250 degrees, anything higher is cooking and there will not be much if any smoke so it does not matter what kind of pellet you are using.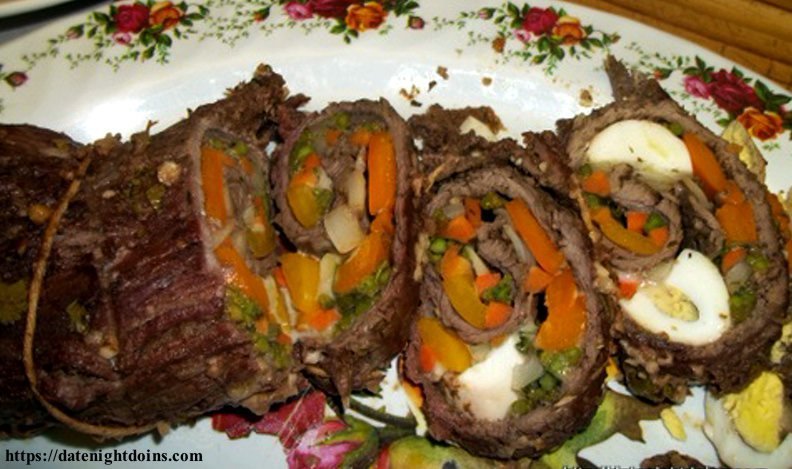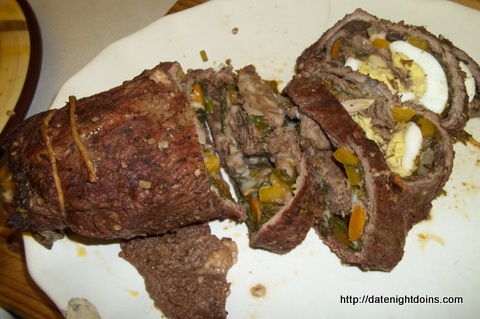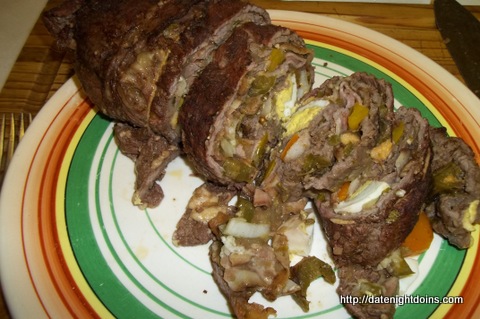 Argentinean Matambres
A Wood Pellet Grill Recipe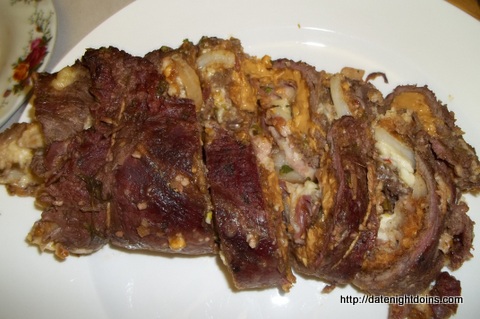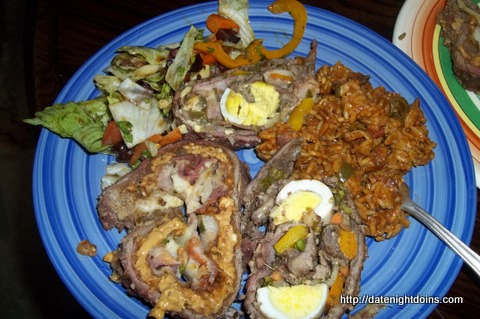 Argentinean Matambres
A Wood Pellet Grill Recipe
About our Recipes
We do our recipes on our patio where we have a lineup of grills, including Green Mountain, Sawtooth, Louisiana, Royall, Memphis, Traeger pellet grills, Char Griller side box smoker, Saber, Charmglow, Char-Broil, The Big Easy, Pacific Living Outdoor Oven, Lodge Sportsman's, Brinkman and Weber. I call it our "Wall of Grill". Our grilling styles are healthy and low fat and will fit pelletheads, gas, natural wood and even charcoal purists. Almost any of our recipes can be done on any kind of good BBQ.
The important thing to keep in mind is TIME & TEMPERATURE. You can do our recipes on any grill, even some of them in the oven or crock pot, but, then you lose all the flavors you get from cooking outdoors. But sometimes it does rain.
Remember that a recipe is simply an outline; it is not written in stone. Don't be afraid to make changes to suit your taste. Take it and run with it….
Live your Passion and Do What You Love,
Ken & Patti
---
If you enjoy our recipes you can help support us by Subscribing to us on YouTube.
And Checking Out Our Store…
"Date Night Butt Rub"
"Date Night Heat", Add a Little Heat To Your Meat"
"Date Night Gourmet Steak Seasoning"
Our Thanks To:
Our Cutlery Provided By: