Chicken Fried Steak , Rice with Country Bob's Savory Gravy
Rainy Chicken Fried Steak, tonight we had to cook inside. I know it never rains in California. But, we got so much rain our patio roof collapsed. It sounded like an artillery round going off. All that water almost washed the fish out of their pond.
We have wanted to do some country fried steak and here was our chance to do a few "Rainy Day Recipes". I think this may have been the best country fried steak we have ever done. Check it out…
This is one of our 1st. recipes but it's a good one…
Can you see how we've grown in the last 9 years…
5 cameras ago, new lights, Tripods, photo tent, software and skills…
Thanks for your years of support…
Rainy Day Chicken Fried Steak
Prep Time: 20 minutes
Cook Time: 15 minutes
Stove Top
Ingredients: Rainy Day Chicken Fried Steak

3 lbs. round steak (the butcher runs it through the tenderizer twice for us)

Dry crushed garlic, to taste

Coarse ground black pepper, to taste

Country Bob's season salt, to taste

Worcestershire spray

6 eggs

2 cups buttermilk (or milk)

2 cups flour

¼ cup Country Bob's Sauce

oil
 Work Your Seasoning Into the Meat
Work your seasoning into the meat and let it sit for a little while.
In a bowl, beat the eggs with the buttermilk. Mix well and set aside. Put the flour into a dish or platter, set aside. I also put a little pepper and season salt into the flour and mix it with a fork.
Cut steaks into serving (sandwich) size and trim fat. Spray them with a little Worcestershire spray and sprinkle them with the pepper, season salt and garlic. Work the seasoning into the meat with your fingers. We like a lot of pepper and garlic, so you need to add these to your taste.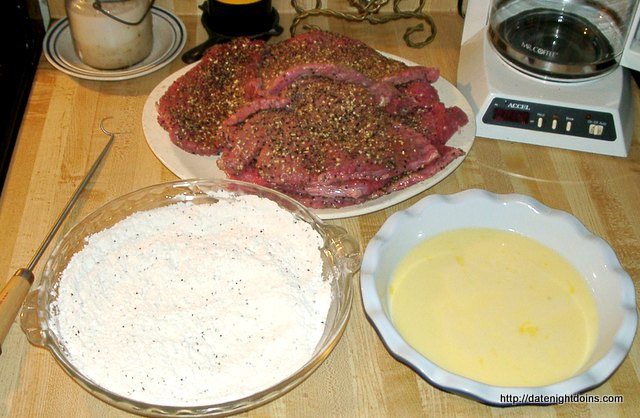 Ready To Go
Dip both sides of meat into the egg batter and back into the flour, covering meat completely. (We do it twice.) In a large, deep skillet (We use cast iron) pour in enough oil to cover the steaks. You want a deep skillet because the oil spatters during cooking. When your oil is hot, add the meat. Leave room between the pieces for the cooking oil to do its thing for 2 or 3 minutes, then turn and repeat. When done, place steaks on a platter with racks or paper towels to drain the oil.  Keep warm until all the meat is fried.
Rainy Day Chicken Fried Steak
Country Bob's Gravy:
Drain oil from skillet, reserving about 2 Tbs. Stir in flour, cooking until brown, making a roux. Then add the milk (a little at a time) and a ¼ cup of Country Bob's Sauce. Continue cooking and stirring over low heat until it thickens. Season, to taste…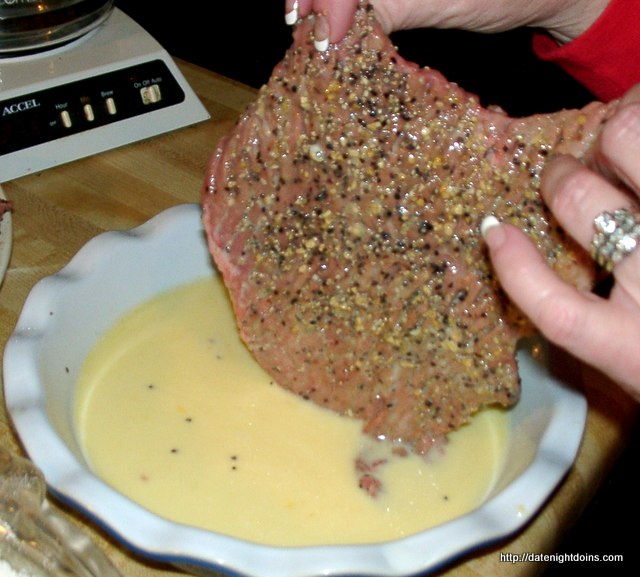 Dip Completely Into The Egg Wash
Into the flour, we do it twice

I Love These Pig Tails
Then, into the hot skillet, turning once after 2 or 3 minutes. It should be a nice and brown.


Lookin Good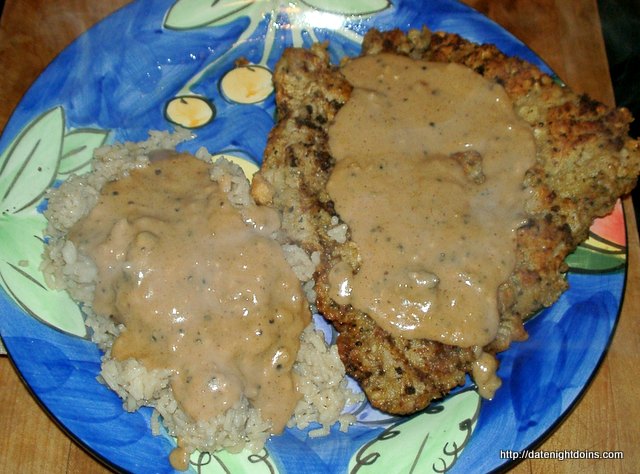 Let's Eat !!!
These were better than good; we like to make sandwiches with the leftovers …
Note: I use a spray bottle when cooking filled with a Worcestershire sauce that keeps things moist and adds tons of flavors.

Rainy Day Chicken Fried Steak
About Our Recipes
We do our recipes on our patio where we have a lineup of grills, including Green Mountain, Sawtooth, Louisiana, Memphis, Royall, Traeger pellet grills, Char-Griller, Saber, Charmglow, Char-Broil, The Big Easy, Pacific Living Pizza Oven, Lodge Sportsman's, Brinkman and Weber. I call it our "Wall of Grill". Our grilling styles are healthy and low fat and will fit pelletheads, gas, natural wood and even charcoal purists. Almost any of our recipes can be done on any kind of good BBQ.
The important thing to keep in mind is TIME & TEMPERATURE. You can even do some of them in the oven or crock pot, but, then you lose all the flavors you get from cooking outdoors. But sometimes it does rain.
Remember that a recipe is simply an outline; it is not written in stone. Don't be afraid to make changes to suit your taste. Take it and run with it….
Live your Passion and Do What You Love
Ken & Patti
If you enjoy our recipes you can help support us by Subscribing to us on YouTube.
And Checking Out Our New Date Night Seasoning
Our Thanks To:
Our Cutlery Provided By:

Save
Save
Save
Save