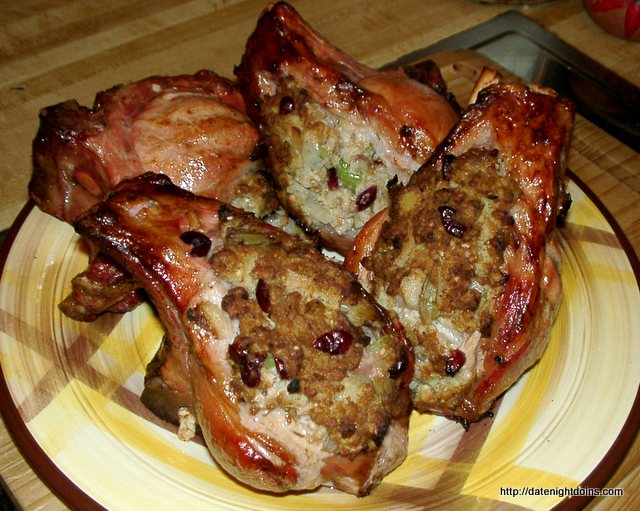 Stuffed Pork Chops with Cranberry Stuffing, this is one of our very 1st recipes from Dec. 2009. I thought some of you may enjoy looking at this and seeing how we've grown. This was done on a Traeger. The only editing I've done here are with the photos and the closing…

These were something special Patti dreamed. Literally she had a dream about these.  We went to see Jacob at T & H Meats and told him what she had in mind. He came up with these chops that were almost 4 inches thick and sweet and tender on their own. Then, Patti made a cranberry stuffing and a zesty cranberry sauce.
All I can say is "OH MY", these were so good that you could serve them for any special occasion and everyone will sing praises. I am looking forward to my next special occasion: another Date Night with Patti.
Stuffed Pork Chops with Cranberry Stuffing
A Pellet Grill Recipe

Prep Time: 30 minutes
Cook Time: 1 Hour
Grill: Traeger Wood Pellet Grill
Pellets:  Lumberjack maple

Stuffed Pork Chops with Cranberry Stuffing


A Pellet Grill Recipe



Ingredients: Zesty Cranberry Wine Sauce
1 can of cranberry sauce (we like the whole berry)

1 C. dried cranberries

1 C. red wine, any kind you like to drink is perfect to use for cooking

3 Tbsp. red pepper flakes

2 Tbsp. Country Bob's Sauces and Seasonings all purpose sauce
Directions: Zesty Cranberry Wine Sauce
Put all ingredients in a saucepan. Heat over medium heat until it thickens.
Ingredients: Cranberry Stuffing
 1 bag stuffing cubes, seasoned

¾ stick butter

1 C. celery, chopped

1 C. onion, chopped

3 Tbsp. minced garlic

1 Tbsp. black pepper

1 tsp. Country Bob's Season Salt

2 C. chicken broth
Directions: Cranberry Stuffing
Sauté veggies in butter.  Add seasonings, broth and stuffing, stir to mix. Spoon stuffing lightly into pork chops.
Ingredients: Stuffed Pork Chops with Cranberry Stuffing

4 double thick pork chops, bone in



Directions: Stuffed Pork Chops with Cranberry Stuffing
With a sharp knife cut a slit in the pork chop. Patti likes the bone in so she knows when to stop cutting. Make your cut all the way back to the bone. Make as large a pocket you can for the stuffing. Spoon the stuffing into the chop. It is stuffing, stuff it in there. All you can.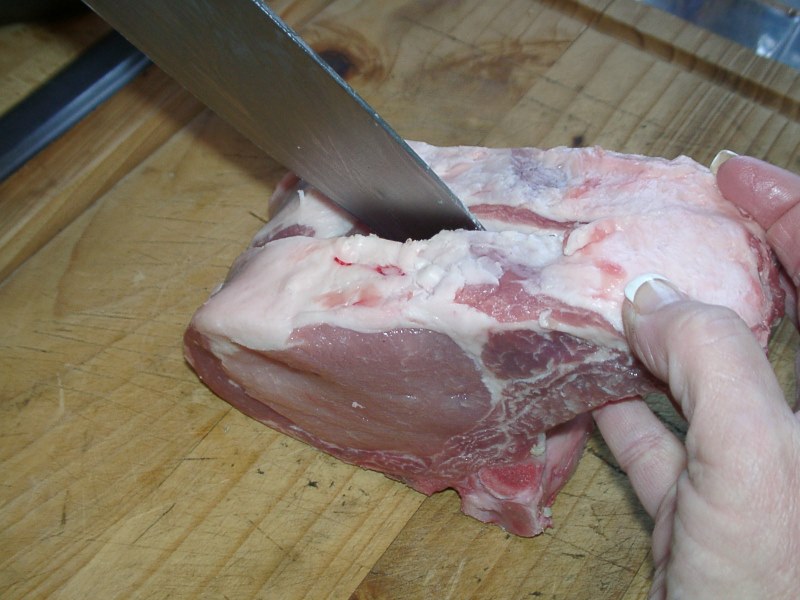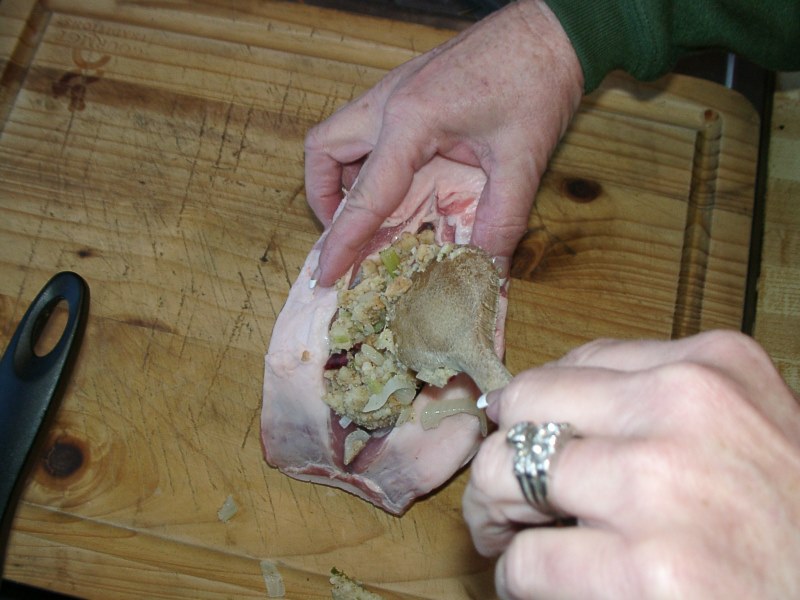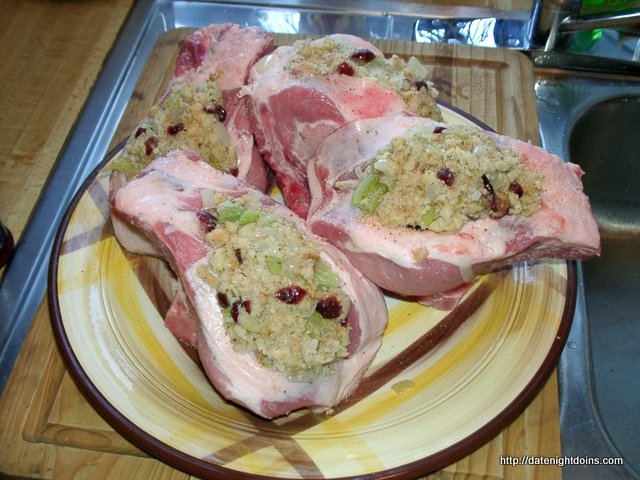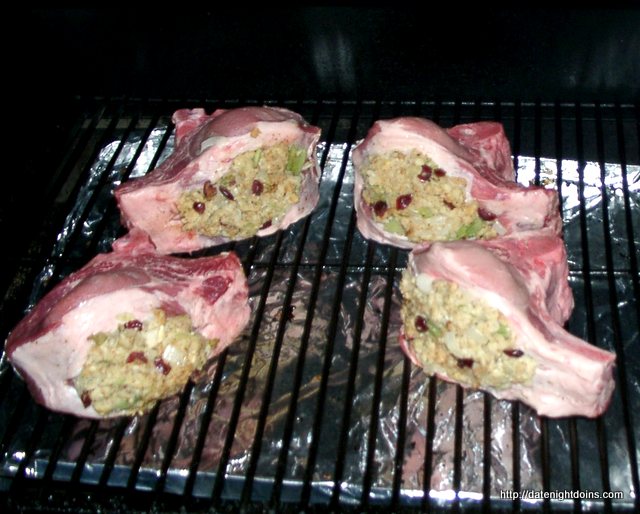 Stuffed Pork Chops with Cranberry Stuffing


A Pellet Grill Recipe
Cooking Directions: Traeger
Open the lid and set the dial to "smoke". After about five minutes, shut the lid. Give it about 10 minutes to heat up. Patti has lined the drip pan with foil for me, it makes for easier clean up. Place everything directly onto the grill and just let it hang out in the smoke and get happy for 40 minutes.
After 40 minutes, turn the digital control up to 375 degrees for 20 minutes. You should have a temperature around 310 at the stack or dome thermometer.
When the meat reaches an internal temp around 130 pull it off. Cover it and let it rest for 10 minutes before serving. This will be medium rare. Keep in mind that the meat will continue cooking for another 10 degrees after you pull it off the grill. So for medium pull it at 140 and overdone 160. I use a Maverick ProTemp Instant Read Thermometer for checking meat temps.

Note: I get a lot of questions about the kind of pellets you can use with a recipe. Keep in mind that a recipe is just an outline. Some you need follow closely like when you are making bread, but most you can do anything you can dream, our favorite way to cook. Feel free to mix and match the pellets until you find a combination you really like.
Stuffed Pork Chops with Cranberry Stuffing
A Pellet Grill Recipe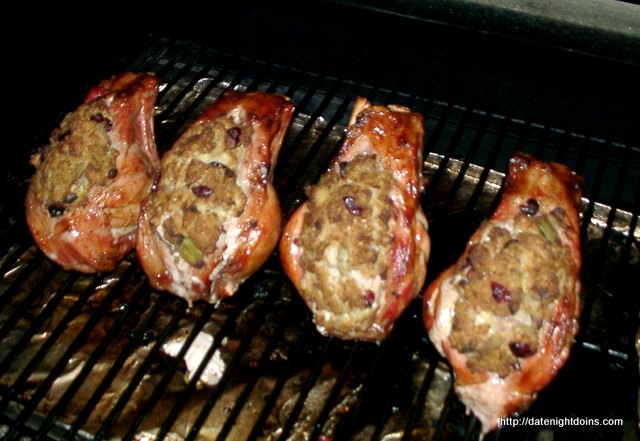 Stuffed Pork Chops with Cranberry Stuffing
A Pellet Grill Recipe
About Our Recipes
We do our recipes on our patio where we have a lineup of grills, including Green Mountain, Sawtooth, Louisiana, Royall, Memphis, Traeger pellet grills, Char Griller side box smoker, Saber, Charmglow, Char-Broil, The Big Easy, Pacific Living Outdoor Oven, Lodge Sportsman's, Brinkman and Weber. I call it our "Wall of Grill". Our grilling styles are healthy and low fat and will fit pelletheads, gas, natural wood and even charcoal purists. Almost any of our recipes can be done on any kind of good BBQ.
The important thing to keep in mind is TIME & TEMPERATURE. You can do our recipes on any grill, even some of them in the oven or crock pot, but, then you lose all the flavors you get from cooking outdoors. But sometimes it does rain.
Remember that a recipe is simply an outline; it is not written in stone. Don't be afraid to make changes to suit your taste. Take it and run with it….
Live your Passion and Do What You Love,
Ken & Patti
---
If you enjoy our recipes you can help support us by Subscribing to us on YouTube.
And Checking Out Our Store…
"Date Night Butt Rub"
"Date Night Heat", Add a Little Heat To Your Meat"
"Date Night Gourmet Steak Seasoning"
Our Thanks To:
Our Cutlery Provided By:

Save