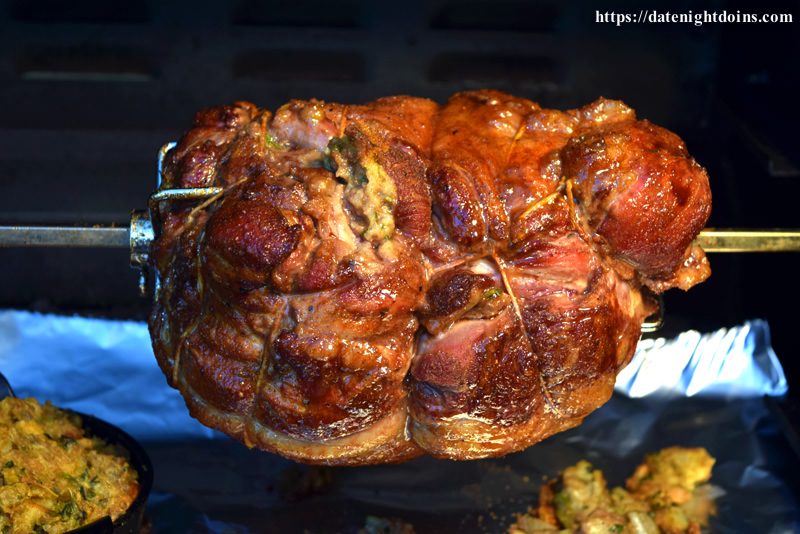 Easy Stuffed Leg of Lamb was easy because the lamb was boneless. Patti made stuffing starting with "Stove Top". Plus, she added some herbs and veggies and used chicken stock instead of water. You can use whatever type of stuffing cubes you like. They're all good. We got the lamb from Texas Steak Warehouse so we knew it would be tender and juicy!
Patti and I have set one night a week just for us. It's our date night. We usually put something special on one of our Grill's, but sometimes we cook inside. We always eat outside on our patio where it is very comfortable with a rainforest theme.  Wood Pellet Patio Heater, little lights, candles, lanterns and surround sound. We enjoy a little wine, or strawberry margaritas using frozen strawberries for ice, good food, music and sometimes a dance or two…
Note: Texas Steak Warehouse provided us with the Lamb used in this recipe and we thank them.
I want to give them a "Shout Out" for what they do for our Troops. They ship meat to our American Heroes Overseas.
They carry hamburger to ship to our troops overseas. In some APO's our American Heroes can put together some kind of grill and enjoy a little love from home. I know when I was in the Army what I missed most was a hamburger. We think this is Awesome!
If you have someone overseas and you want to send some love or just to thank them you can contact Texas Steak Warehouse at https://thetexassteakwarehouse.com/ or (833) 429-1241. Our troops will never forget it or you.
Easy Stuffed Leg of Lamb
Smokin' on Your Gasser
A BBQ Grill Recipe
Prep Time: 20 minutes
Cook Time: 1 hour and 45 minutes @500*
Grill: Gas
Pellets: BBQPelletsOnline
Ingredients: Easy Stuffed Leg of Lamb 
What You Need for Smokin on Your Gasser: 
First you need a grill that's burners go front to back.
You need to be able to control the burners, by shutting off some of the burners while at the same time be able to control the temperature on other burners. I always light the left burner and turn the rest off. But it doesn't matter if you use the left or right burner. You need at 3 burners with 4 being even better.
You need some kind of oven thermometer so you can see the temperature of the meat at/on your grill grate. Your hood thermometer won't help, you don't care the temp is up there, but you need to know what it is where the meat is.
I use a Maverick ET-732 that has 2 probes, one for the meat and one for the grill level.
Then you need a "Smoke Box" and the "Wedgie" is a good one. The cool thing about using the "Wedgie" is that BBQ Pellets on Line sells 1, 3- and 10-pound bags of pellets so you don't have to buy a big bag that will last a year and makes it easy to mix and match pellets for the smoke flavor you want. They have over 21 different pellets! 
Easy Stuffed Leg of Lamb
Smokin' on Your Gasser
A BBQ Grill Recipe 
Cooking Directions: Stuffing 
Follow the directions on the box, but substitute chicken stock for the water. Then add your seasonings and veggies and simmer until veggies are soft. Remove from heat and blend in your stuffing cubes. Let sit for five minutes before stuffing your lamb.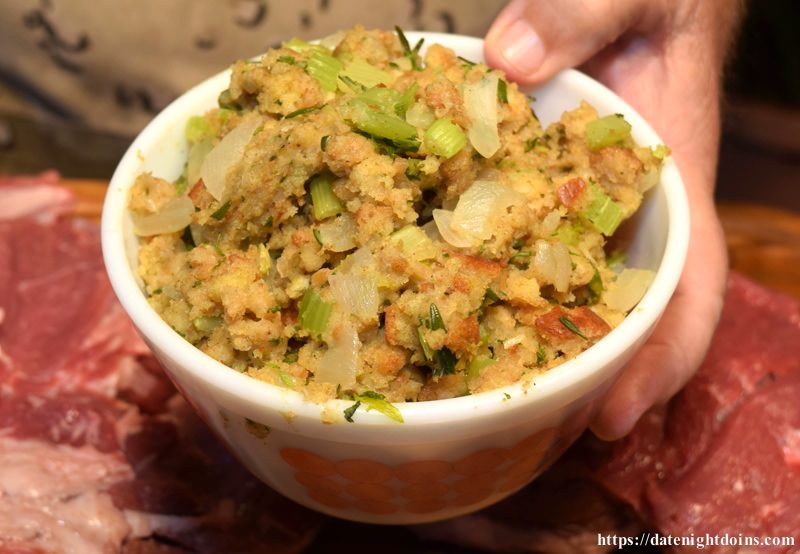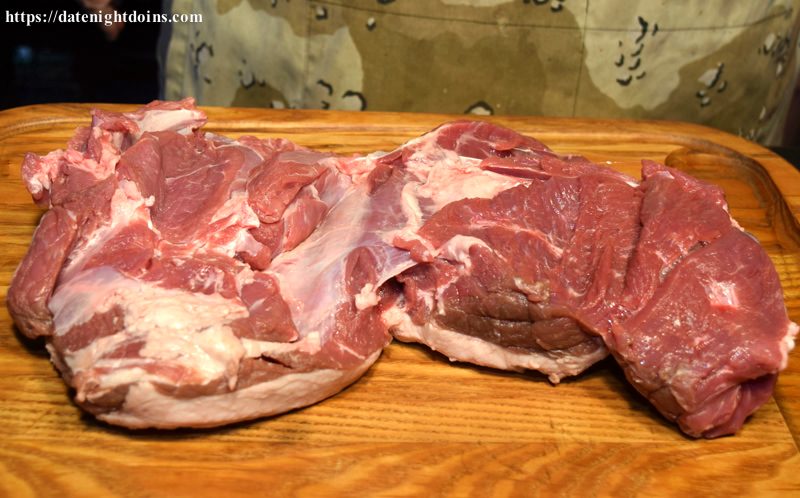 Cooking Directions: Easy Stuffed Leg of Lamb 
Pre heat your grill to around 500* and light your wedgie for that "Kiss of Smoke". We used GMG's Fruitwood pellet blend thinking it would go nicely with lamb. I put some foil under the lamb because I want 100% indirect heat for this cook.
Our lamb was boneless and I took a knife and butterflied it to open a little more for stuffing.
Place as much stuffing you can and still be able to fold it together holding the stuffing in. Tie it off with some butcher's cord. We put all the leftover stuffing into a cast iron dish and onto the grill for that "Kiss of Smoke"
Now you are ready to put it onto your rotisserie rod.
Mount it on your rod, spray with the "Duck Fat" to hold the seasoning onto the lamb and then cover with a nice coat of your Butcher BBQ Premium Rub. Ready for the grill.
Easy Stuffed Leg of Lamb
Smokin' on Your Gasser
A BBQ Grill Recipe
We went about 1 hour and 45 minutes at 500* checking it every ½ hour. You're cooking times may vary a bit do to different grills and the size of your lamb. So, you want to use time as a rule of thumb using your internal temperature.
You are looking for an I.T. around 125* (52c) for rare.
When the lamb reaches an internal temperature around 125* (52c) pull it off, cover it and let it rest for 5 to 10 minutes before serving. U.S.D.A. safe is 125* (52c). Keep in mind that the meat will continue cooking for another 5 to 10 degrees after you pull it off the grill. I use a Maverick ProTemp Instant Read Thermometer for checking meat temps.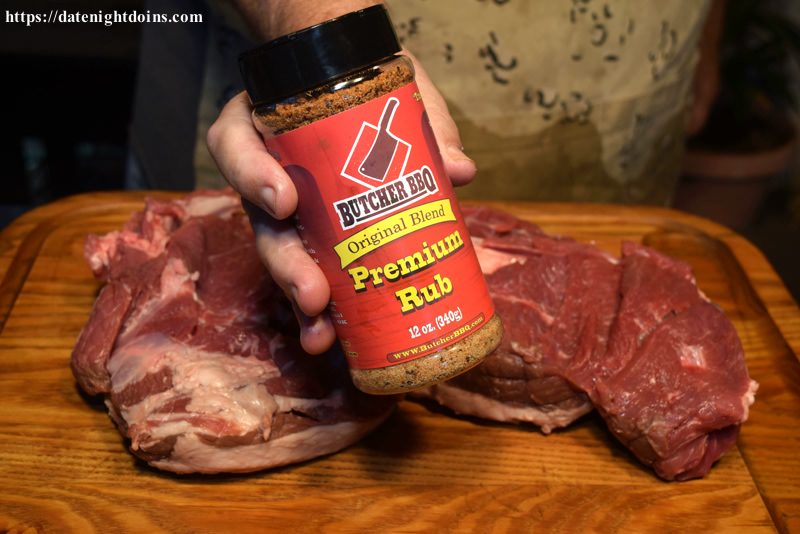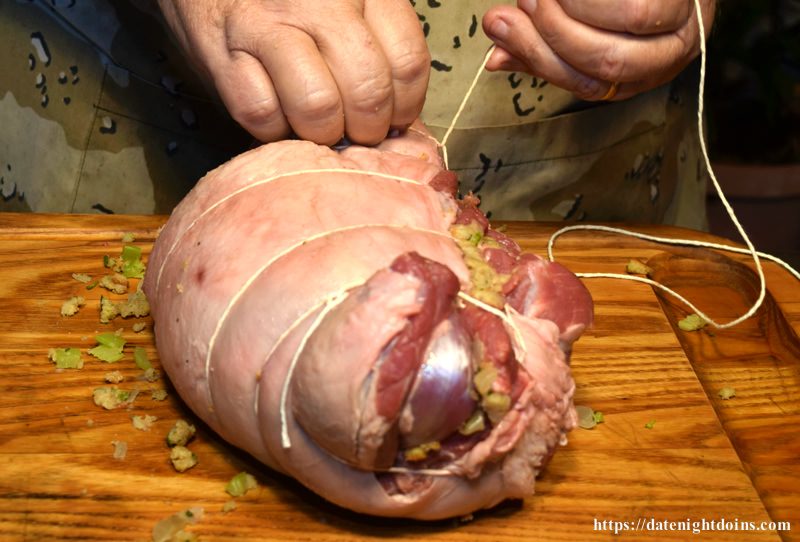 Easy Stuffed Leg of Lamb
Smokin' on Your Gasser
A BBQ Grill Recipe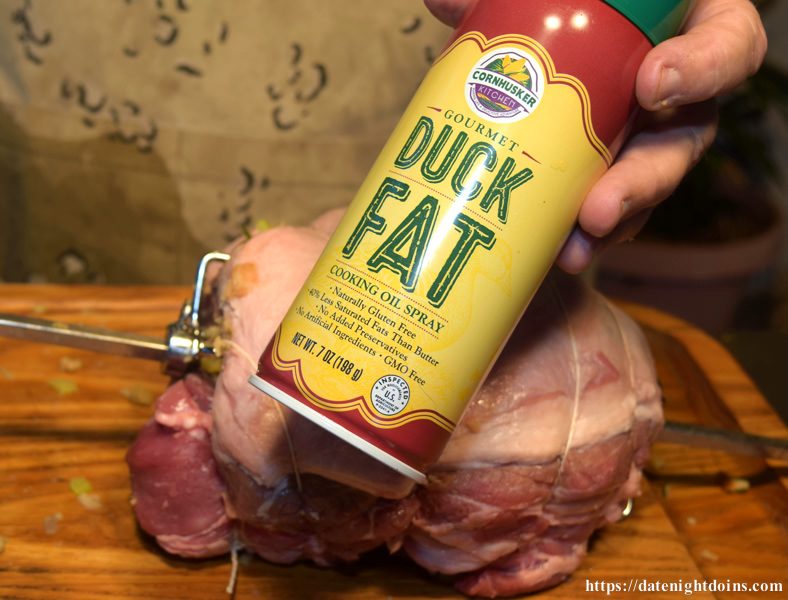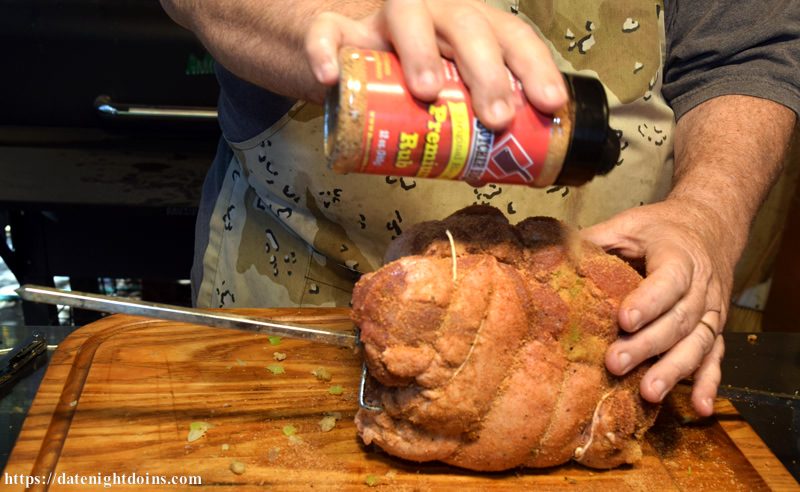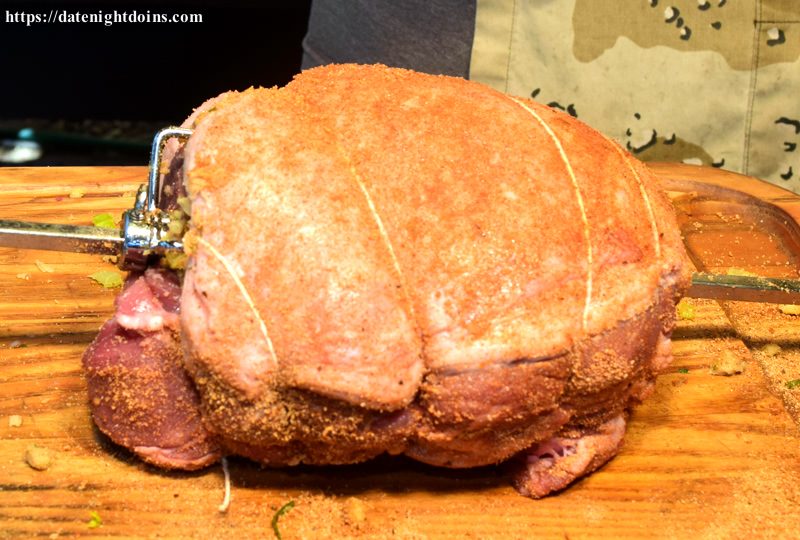 Easy Stuffed Leg of Lamb
Smokin' on Your Gasser
A BBQ Grill Recipe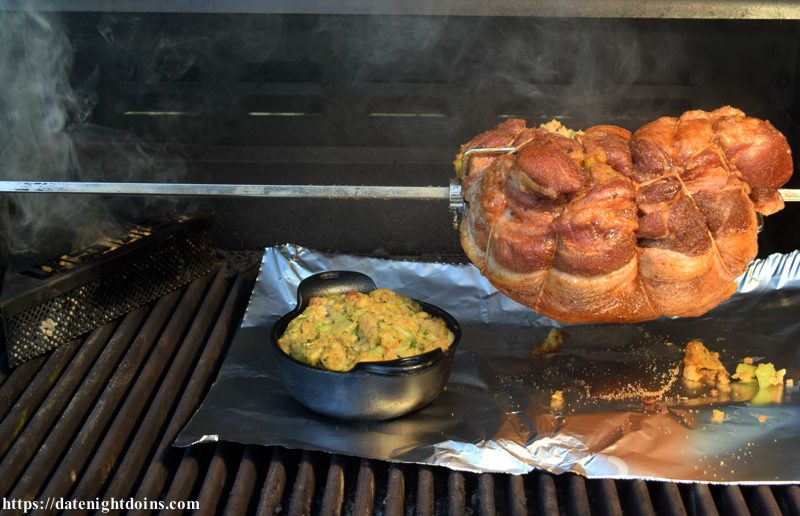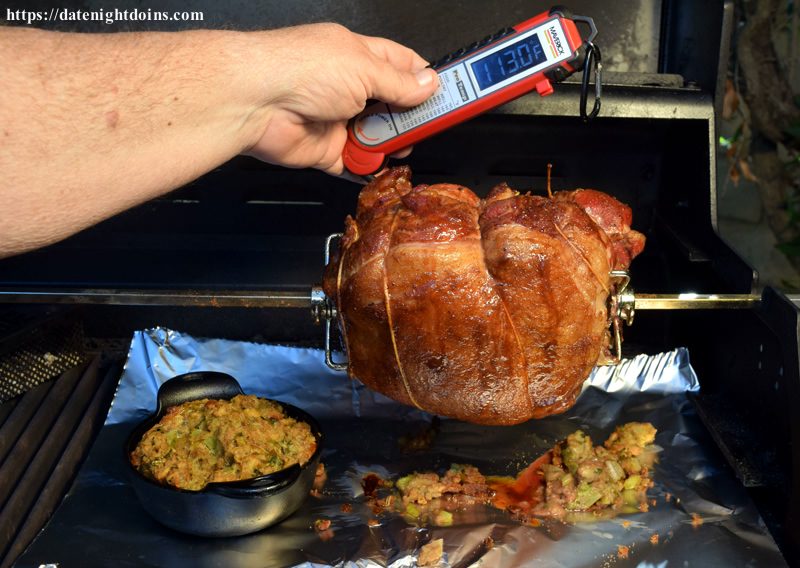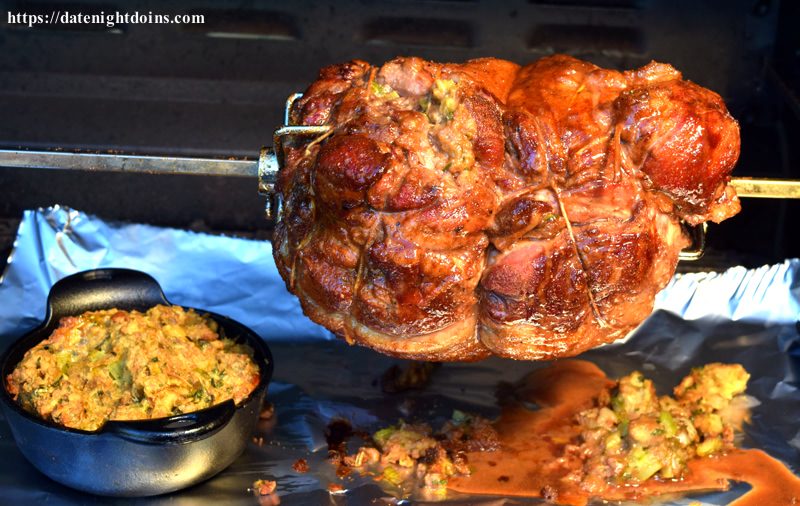 Easy Stuffed Leg of Lamb
Smokin' on Your Gasser
A BBQ Grill Recipe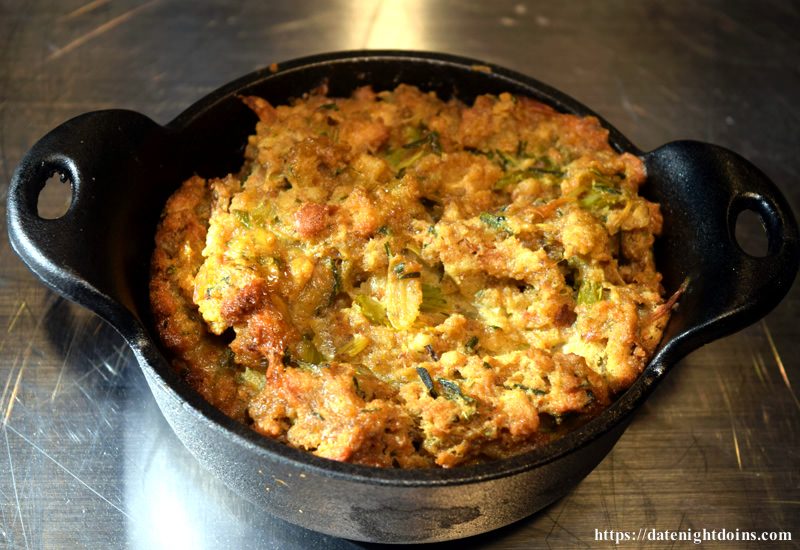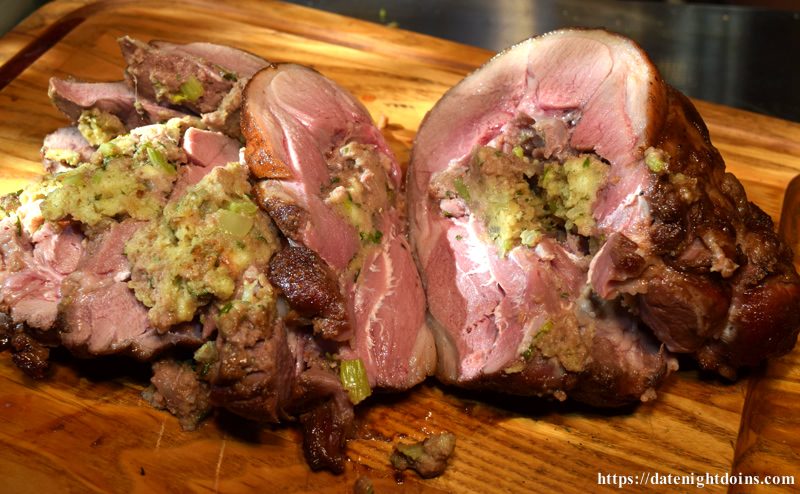 About our Recipes
We do our recipes on our patio where we have a lineup of grills, including Monument, Green Mountain, Uuni Wood Fired Pizza Oven, Sawtooth, Louisiana, Royall, Memphis, Traeger pellet grills, Char Griller side box smoker, Saber, Charmglow, Char-Broil, The Big Easy, Lodge Sportsman's, Brinkman and Weber. I call it our "Wall of Grill". Our grilling styles are healthy and low fat and will fit pelletheads, gas, natural wood and even charcoal purists. Almost any of our recipes can be done on any kind of good BBQ.
The important thing to keep in mind is TIME & TEMPERATURE. You can do our recipes on any grill, even some of them in the oven or crock pot, but, then you lose all the flavors you get from cooking outdoors. But sometimes it does rain.
Remember that a recipe is simply an outline; it is not written in stone. Don't be afraid to make changes to suit your taste. Take it and run with it….
Live your Passion and Do What You Love,
Ken & Patti
---
If you enjoy our recipes you can help support us by Subscribing to us on YouTube.
And Checking Out Our Store…
Also Check Out Our Cookbooks
Our Thanks To:
Our Cutlery Provided By: ???