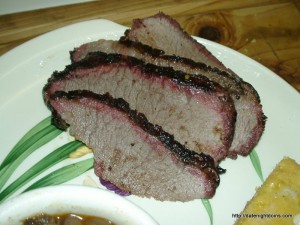 Cowboy Up Brisket Beans Cornbread, this week Patti brought me a beautiful 12 pound brisket. Brisket is an area where I have needed more practice. I think my problem is that I have been over thinking it. My last one was my best so far and this passed it with even more rich beefy flavor, tender and running down your chin juicy. Patti loves her Church, but said it was hard not to think about what was on the smoker at home!
When I think of brisket I think of Texas BBQ and cowboys, chuck wagon beans and cornbread. So, that is how we went with tonight's dinner. Brisket on the smoker by 6:30 AM and beans in an old cast iron Dutch oven by 7.
Now, time for our morning coffee.
An hour before dinner Patti will make up some cornbread for me to put on the grill.
I ran the Royall 3000 for 12 hours using a mix of oak and pecan pellets to smoke the brisket. Then, I pulled the meat and turned the grill up all the way to finish the corn bread.
Patti and I have set one night a week just for us. It's our date night. We usually put something special on our Green Mountain Wood Pellet Grill/Smoker but sometimes we cook inside. We always eat outside on our patio where it is very comfortable with a rainforest theme.  Wood Pellet Patio Heater, little lights, candles, lanterns and surround sound. We enjoy a little wine, or strawberry margaritas using frozen strawberries for ice, good food, music and sometimes a dance or two…
Cowboy Up Brisket Beans Cornbread




A Pellet Grill Recipe



Prep Time: 5 minutes
Cook Time: 12 Hours
Grill: Royall 3000 wood pellet grill
Pellets: Lumberjack Oak & pecan
Cowboy Up Brisket Beans Cornbread
A Pellet Grill Recipe
Ingredients:
Cowboy Up Brisket Beans Cornbrea
d
 1 Beef brisket (we did a 12 pounder)

 Spice rubs of choice.  (I used petesfirehousebbq BBQ Rubs) 
 Ingredients: cornbread
I package cornbread mix, we used Jiffy brand

4 Tbsp. grated parmesan cheese

1 egg, beaten

1/3 cup buttermilk

6 chili peppers, chopped

1 ½ cups creamed corn, slightly drained

½ tsp. Country Bob's Seasoning Salt
Cowboy Up Brisket Beans Cornbread




A Pellet Grill Recipe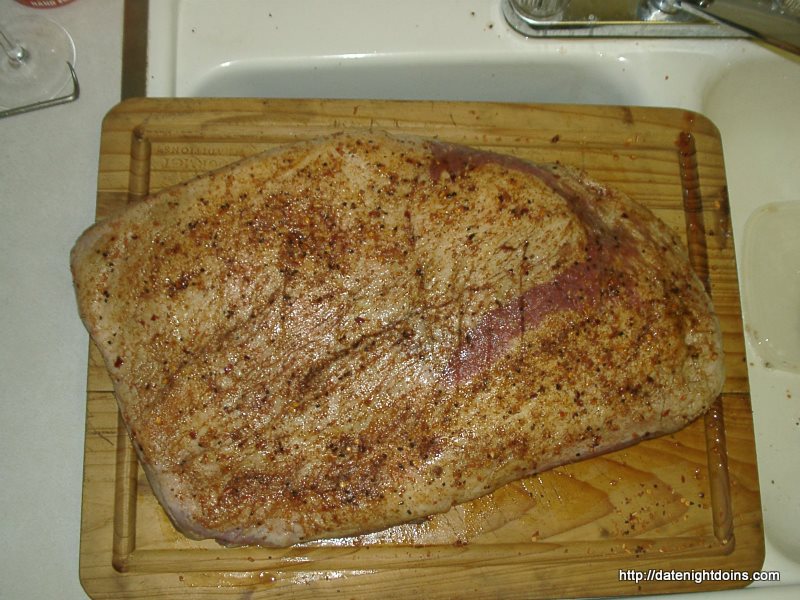 Cowboy Up Brisket Beans Cornbread




A Pellet Grill Recipe



Directions:

Cowboy Up Brisket Beans Cornbread
Preheat the grill to 180* (82c).
Rub your seasoning into the meat and set aside to let it come to room temp. (Over night is even better)
Place your brisket directly on the grill for 12 hours in the smoke 180* (82c), roughly an hour per pound.
I like to wrap my brisket when I reach an internal temp of 165* (74c) and let it cook until it reaches an I.T. of 190* to 205* (96c).
Pull it off the grill and let rest when you reach an internal temp of 190* (87c) to 205* (96c).
Place the corn bread on the grill about the last 15/20 minutes before you pull the meat off. After you pull the meat turn the heat up to high for 10 minutes to brown the cornbread. Test with a toothpick, it should come out dry.
Keep in mind that your cook time will vary by the size of your brisket.
All this time I have just been over thinking BRISKET. Not anymore!
Note: I use a spray bottle when cooking on the grill filled with Worcestershire sauce it helps keep things moist and adds tons of flavors.
Note: I get a lot of questions about the kind of pellets you can use with a recipe. Keep in mind that a recipe is just an outline. Some you need follow closely like when you are making bread, but most you can do anything you can dream, our favorite way to cook. Feel free to mix and match the pellets until you find a combination you really like.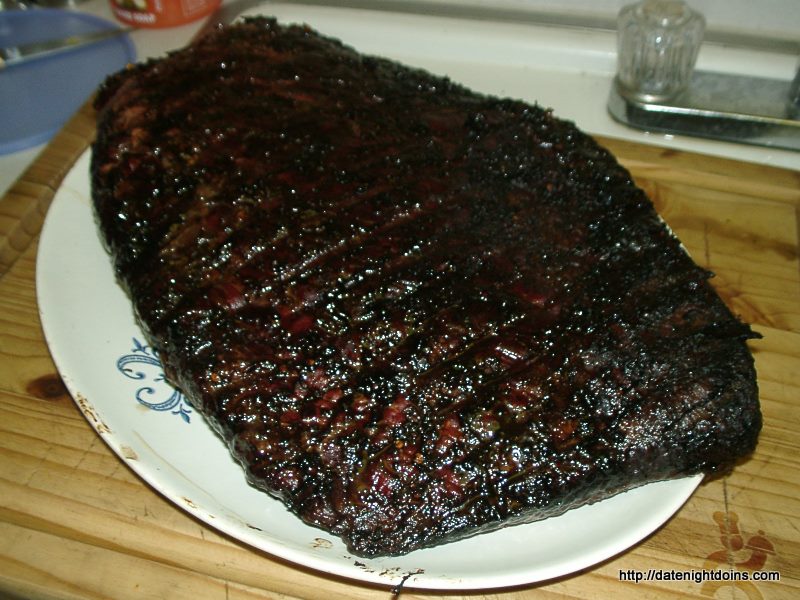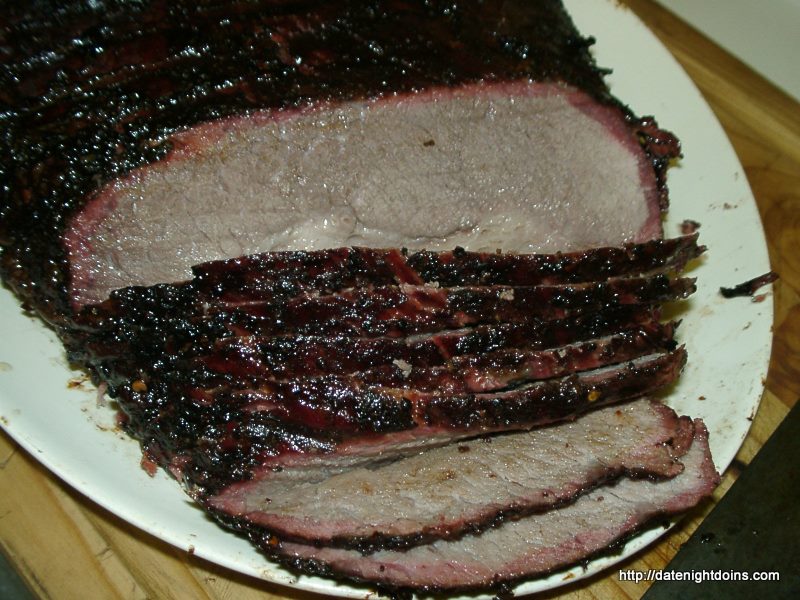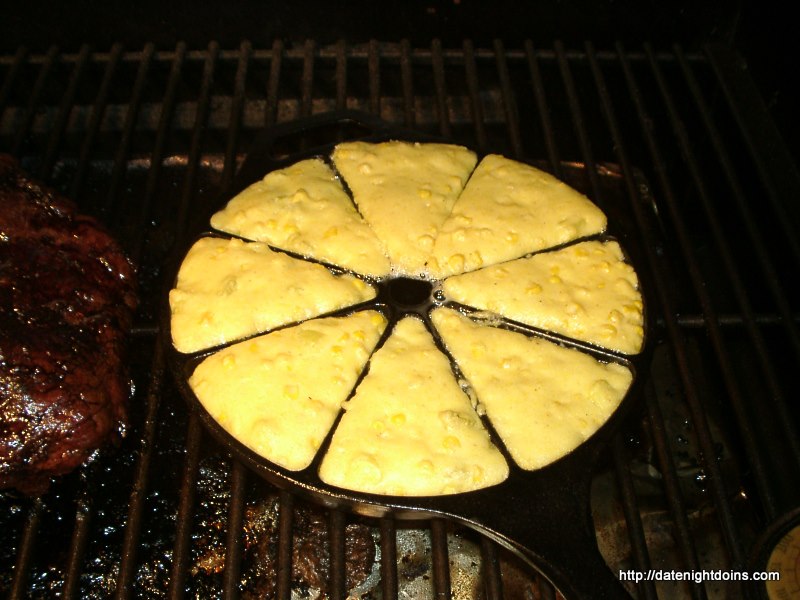 Cowboy Up Brisket Beans Cornbread




A Pellet Grill Recipe



Directions: Cornbread
Mix all ingredients in a bowl, pour or spoon into a well oiled pan and place on grill the last 20 minutes of the brisket's cook time. Pull the meat when it is done and let it rest. Turn the grill all the way up to finish browning the cornbread. Check with a tooth pick, if it comes out clean the cornbread is done. The package calls for 15 minutes at 400*, you can't always do that when you are cooking other things at the same time. So you can cook at a lower temp, but you have to go a little longer. The way I have done it it picks some flavor from the grill and comes out perfect. My cornbread pan is cast iron by Lodge, a gift from Patti a few years ago.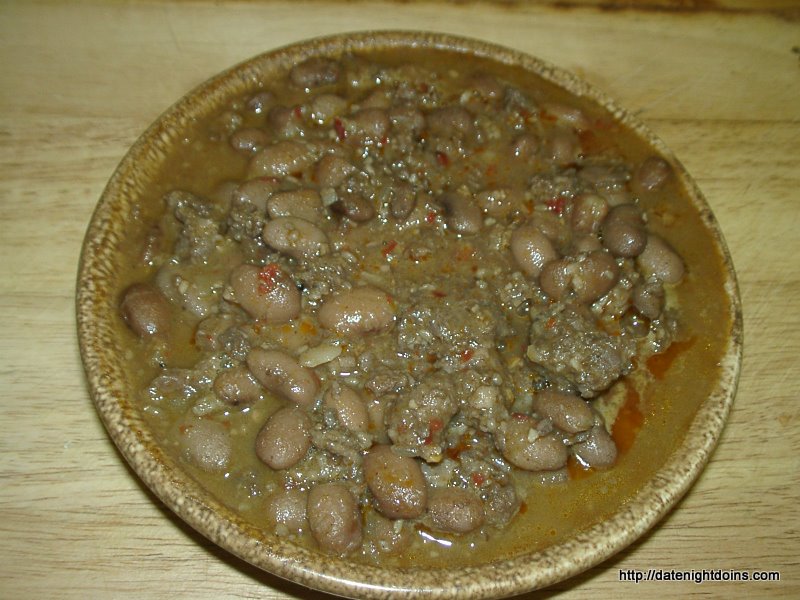 Cowboy Up Brisket Beans Cornbread
A Pellet Grill Recipe
Ingredients: Cowboy Beans
I have been making these beans for over 20 years now. I have made them on many camping trips over an open fire. I don't measure anything anymore. I'll get you close and you go from there. First, my beans are a little on the fiery side so you may want to tone it down now and go open a can. Ok, let's do it.
Ingredients: Cowboy Beans
1 lb. dried pinto beans

2-3 cups water, more as needed

2 lbs. hot sausage

2 large sweet onions, rough chopped

A handful or so of peeled garlic

4 Tbsp. chipotle chili powder (or more to taste)

4 Tbsp. crushed red pepper flakes

1 Tbsp. cumin

3 or 4 beef bouillon cubes
Any dried peppers or anything else that looks good that I may have lying around. I like it with a lot of soup so I may add more water.
Cowboy Up Brisket Beans Cornbread




A Pellet Grill Recipe



Directions: Cowboy Beans
Wash beans and put them into a large Dutch oven, add water to cover beans by 2 inches. Set over low heat. Add everything except sausage. Render sausage in a skillet, drain and add to the beans. Cook uncovered over low heat until beans are tender. Stirring occasionally and adding water as needed for about 4 or 5 hours.
Cowboy Up Brisket Beans Cornbread
A Pellet Grill Recipe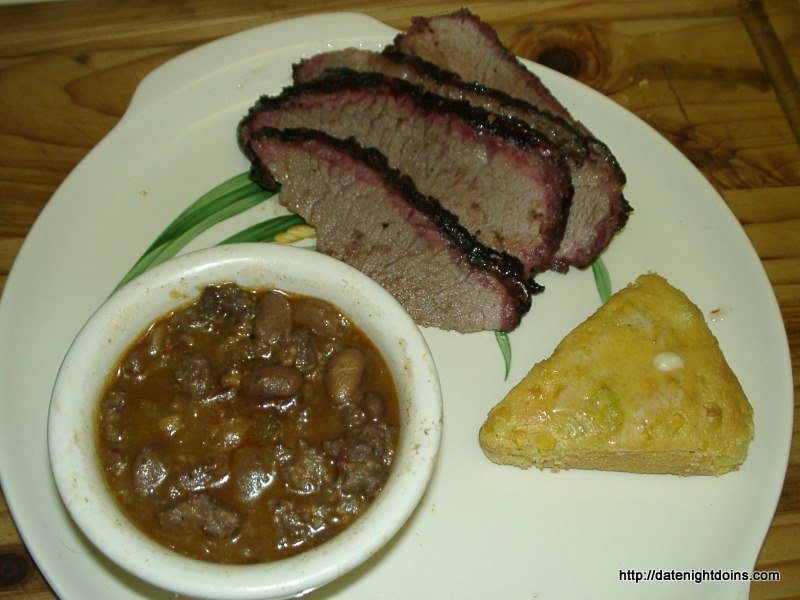 About Our Recipes
We do our recipes on our patio where we have a lineup of grills, including Green Mountain, Sawtooth, Louisiana, Royall, Memphis, Traeger pellet grills, Char Griller side box smoker, Saber, Charmglow, Char-Broil, The Big Easy, Pacific Living Outdoor Oven, Lodge Sportsman's, Brinkman and Weber. I call it our "Wall of Grill". Our grilling styles are healthy and low fat and will fit pelletheads, gas, natural wood and even charcoal purists. Almost any of our recipes can be done on any kind of good BBQ.
The important thing to keep in mind is TIME & TEMPERATURE. You can do our recipes on any grill, even some of them in the oven or crock pot, but, then you lose all the flavors you get from cooking outdoors. But sometimes it does rain.
Remember that a recipe is simply an outline; it is not written in stone. Don't be afraid to make changes to suit your taste. Take it and run with it….
Live your Passion and Do What You Love,
Ken & Patti
---
If you enjoy our recipes you can help support us by Subscribing to us on YouTube.
And Checking Out Our Store…
"Date Night Butt Rub"
"Date Night Heat", Add a Little Heat To Your Meat"
"Date Night Gourmet Steak Seasoning"
Our Thanks To:
Our Cutlery Provided By: