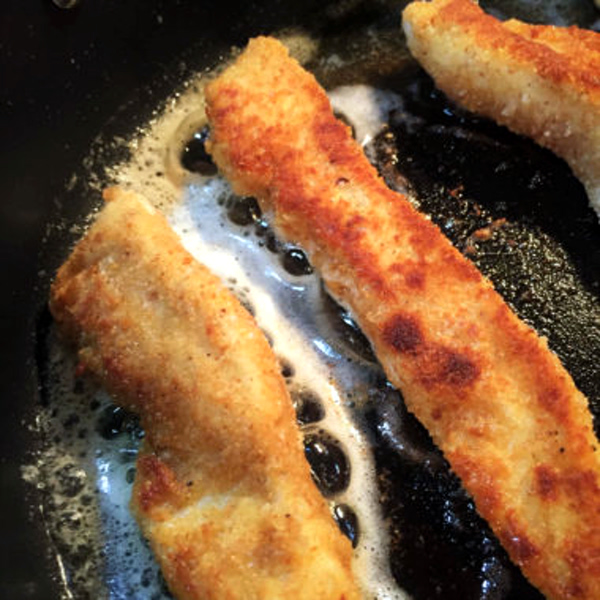 Chicken Tenders "Guest Chef Saffron". Although some people think its too much effort in breading/crumbing, personally I think it is totally worth the effort to make your own camp chicken tenders.
They are easily cooked in a skillet over fire or gas chicken tenders are a great camping or tailgating choice, and can satisfy the fussiest, fast food loving kids.
Originally it is likely that the tenders were actually short for tenderloins, but as time has gone on the name seem to include any cut of the chicken, even thighs.
Of course this basic breading/crumbing technique can be transferred to other proteins, such as freshly caught fish.
Bush Cooking
Outdoor Cooking Recipe
Recipe Origin America
Servings 4
Preparation: 25 min
Cook: 15 min
Ready in 40 min
Difficulty: Seasoned
Cooking Method: Fry
Ingredients:  Chicken Meat
Equipment: Cast Iron Skillet
Recipe Type: Finger Food Lunch Main Dish
Bush Cooking
Outdoor Cooking Recipe
Our Ingredients
1 cup all purpose (plain) flour
2 teaspoons favorite rub
1 egg
2 tablespoon milk
2 cups fine dry breadcrumbs
4 chicken breasts
1/4 cup (50g) butter
3 tablespoons olive oil
Equipment Needed
3 shallow bowls
1 12 inch or bigger skillet
Bush Cooking
Outdoor Cooking Recipe
Recipe Directions
Lay out the three shallow bowls, in the first combine the flour and rub, in the second whisk together the egg and milk, and in the third add the breadcrumbs.
Lay out the each chicken breast and slice into even pieces. Alternately the chicken breast can be exchanged for an equivalent weight of chicken tenderloins.
One piece of chicken at a time move them from one bowl to the next covering completely. First they are dusted in the seasoned flour, then dipped in the egg, and finally covered in a coat of breadcrumbs.
If there is time place the crumbed chicken in a cooler to chill while preparing the skillet.
Heat the skillet to a medium temperature.
Tip: If the skillet gets to hot the breadcrumbs can easily burn will the chicken inside doesn't get a chance to cook.
Add the butter and olive oil and leave to melt.
Tip: The combination of the two oils creates a pleasing taste and seems to reduce the burning of the butter solids.
Place the breaded/crumbed chicken in the heated skillet and cook until golden brown then turn and cook the other side. By the time it is brown the inside will also be cooked, however if in doubt check the internal temperature which should be at or over 165 degrees F (74 degrees C). Serve immediately.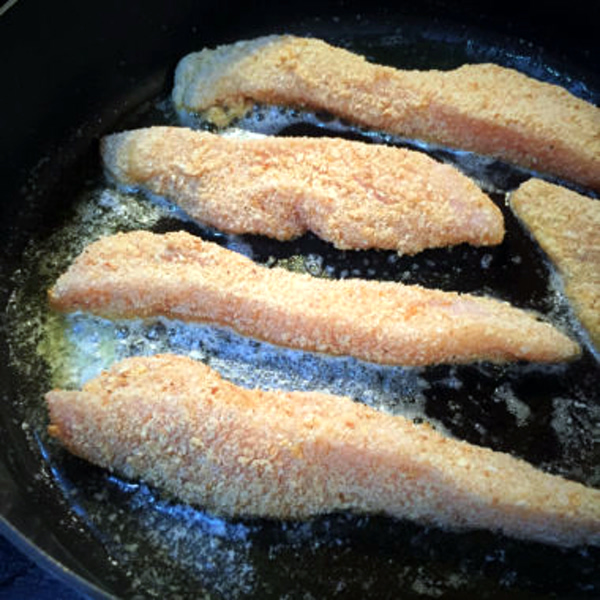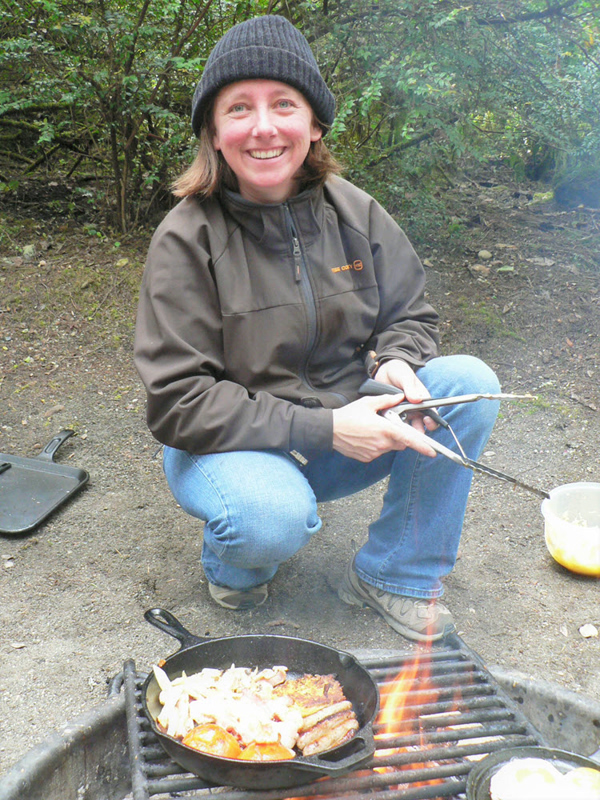 "Guest Chef" Chef Saffron is active in the outdoor cooking community both teaching and competitively. She has experience in successfully competiting in BBQ, Dutch oven, Chili, Steak, Chuck Wagon and more!
More recently Saffron's focus has been on the creation of her new webpage BushCooking.com that aims to bring together the outdoor cooking community through the sharing of skills and outdoor cooking recipes. This site currently features over 25 chefs, competitors and/or enthusiasts who have shared they knowledge through recipes.
Links for Bush Cooking
This Recipe: https://bushcooking.com/recipes/chicken-tenders/
Webpage             https://bushcooking.com/
Facebook            https://www.facebook.com/BushCooking
Instagram           https://www.instagram.com/_bushcooking_/
Pinterest             https://www.pinterest.com/Bush_Cooking/
Google+              https://plus.google.com/b/111693240535408848587 /111693240535408848587
LinkedIn            https://www.linkedin.com/in/saffronh/