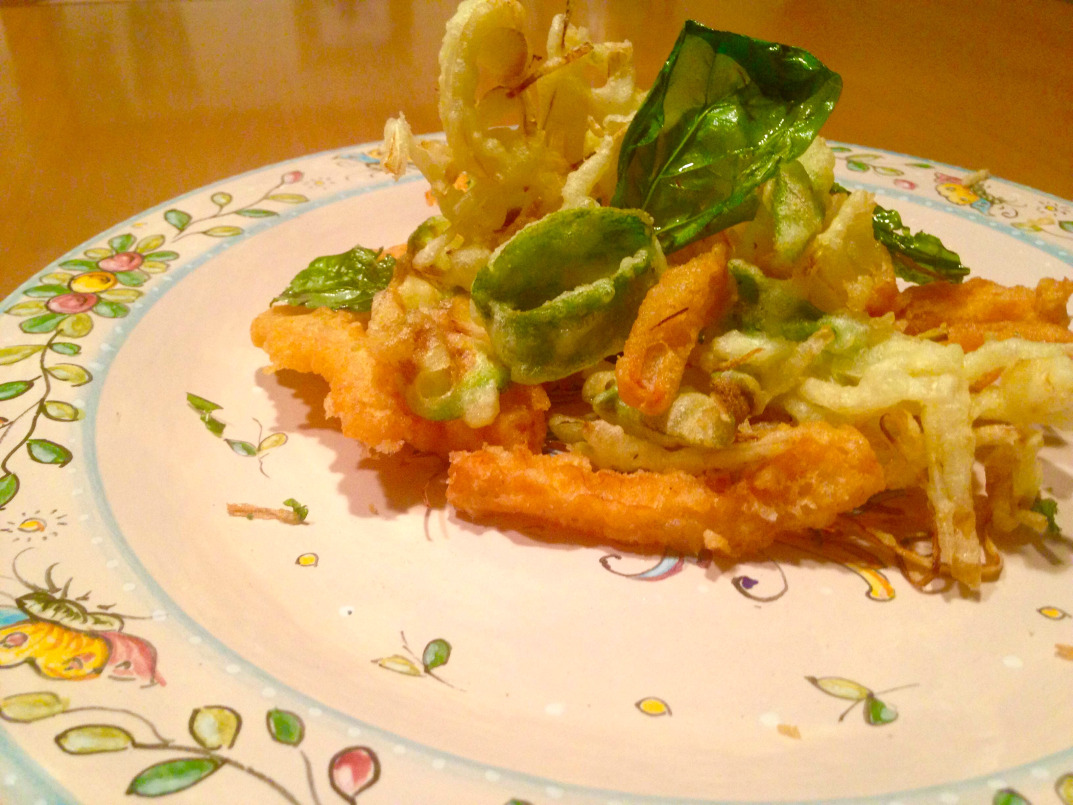 Fried Tripe
Tripe cannot miss on the table in Castelfiorentino. It derives from different parts of bovine stomach. Usually tripe is cooked with tomato or, also, in white in slow cooking. We decide a different way, hoping it can be inviting also for the most skeptical people about tripe! Ready for a tasty and crispy tripe?
Sulla tavola castellana non può mancare la trippa. La trippa è ricavata dalle diverse parti dello stomaco del bovino. In genere viene consumata in umido con il pomodoro o in bianco dopo cotture lente. Noi vogliamo proporre un modo diverso per gustare questo prodotto, per invogliare anche i più scettici a gustare la trippa!
Pronti per una trippa gustosa e croccante?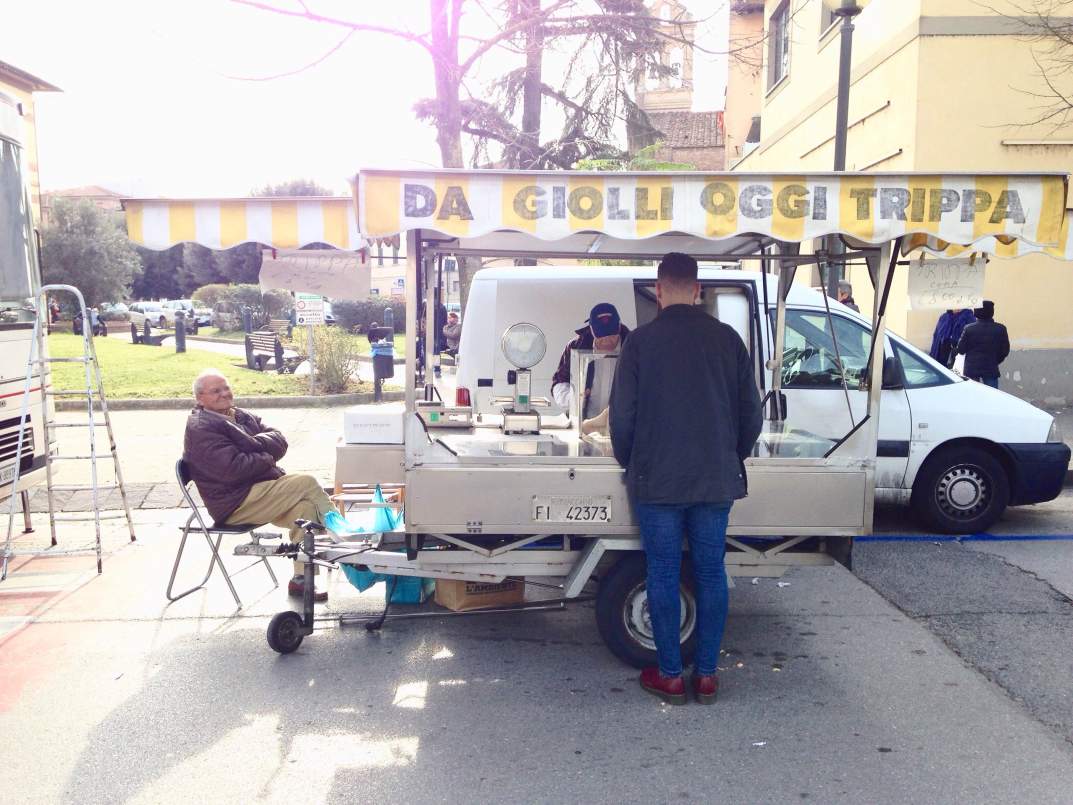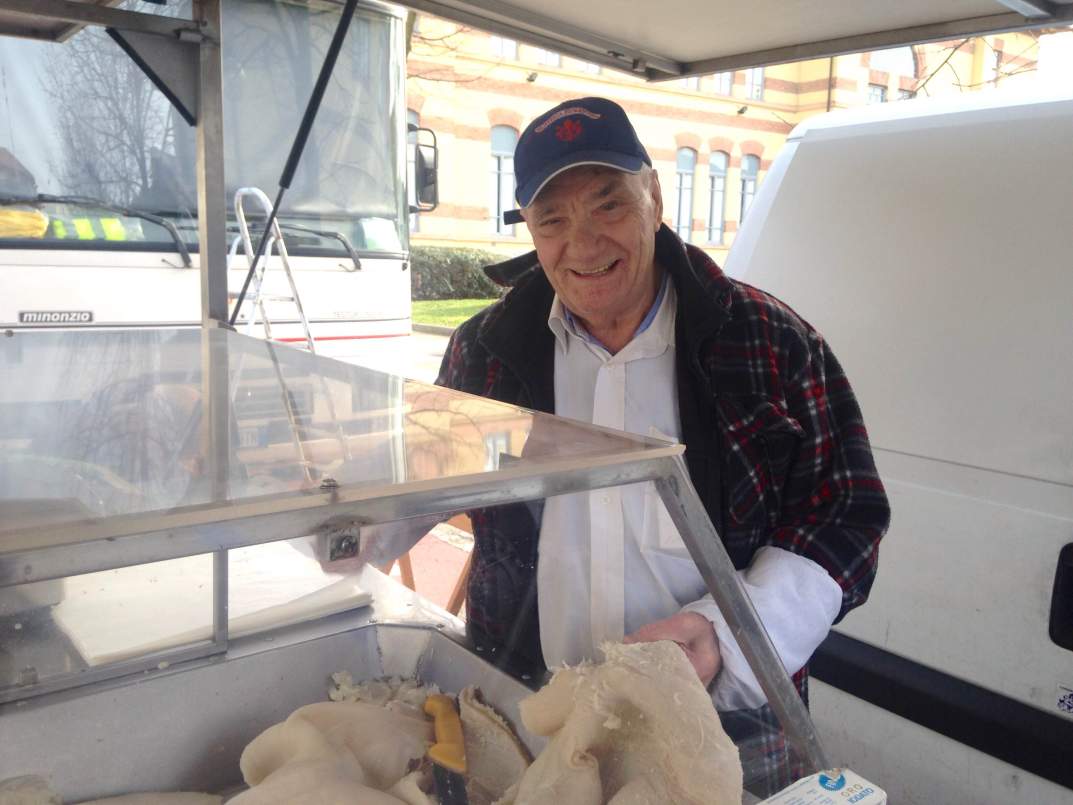 Ingredients / Ingredienti
(4 people – 4 persone)

350 g of trip – 350 g di trippa

2 zucchini – 2 zucchine

2 leeks – 2 porri

a bunch of masil – un mazzo di basilico

flour – farina

cold sparkling water – acqua frizzante fredda

1 l of seem oil – 1 l di olio di semi

2 spoons of sweet paprika – 2 cucchiai di paprika dolce

sailt – sale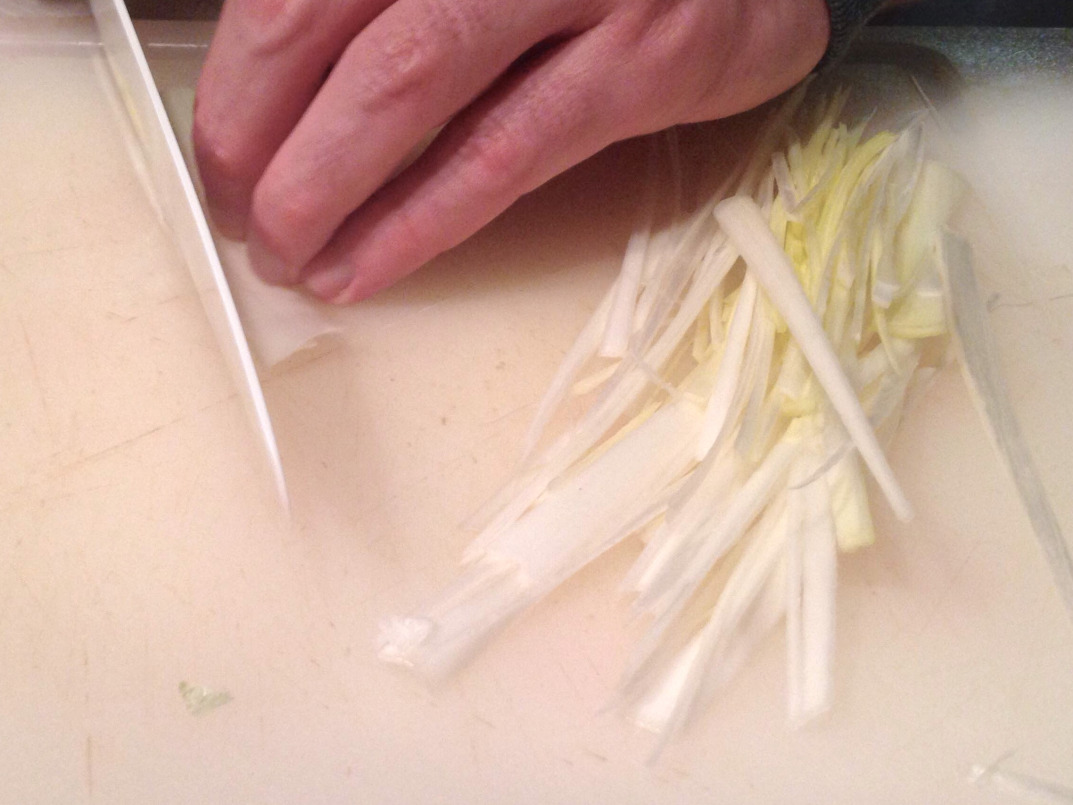 Let's begin…
Cut tripe in strips, not too thin. Then, cut zucchini using a potato peeler. Try to get long slices. For leeks: remove the outer part and julienne the heart of leeks.
Iniziamo…
Tagliare la trippa in strisce, non troppo sottili. Poi passate alle zucchine, usando un pelapatate e provando a fare strisce lunghe. Dopo i porri: privateli della parte esterna più coriacea e tagliate il cuore a julienne.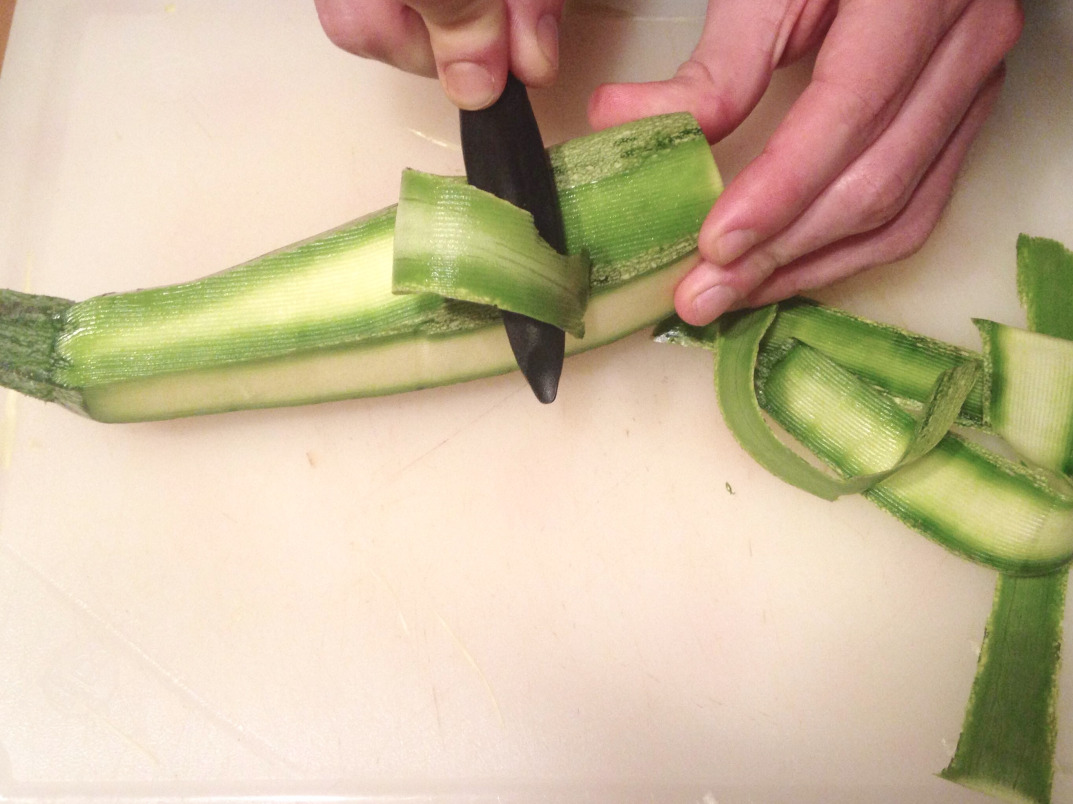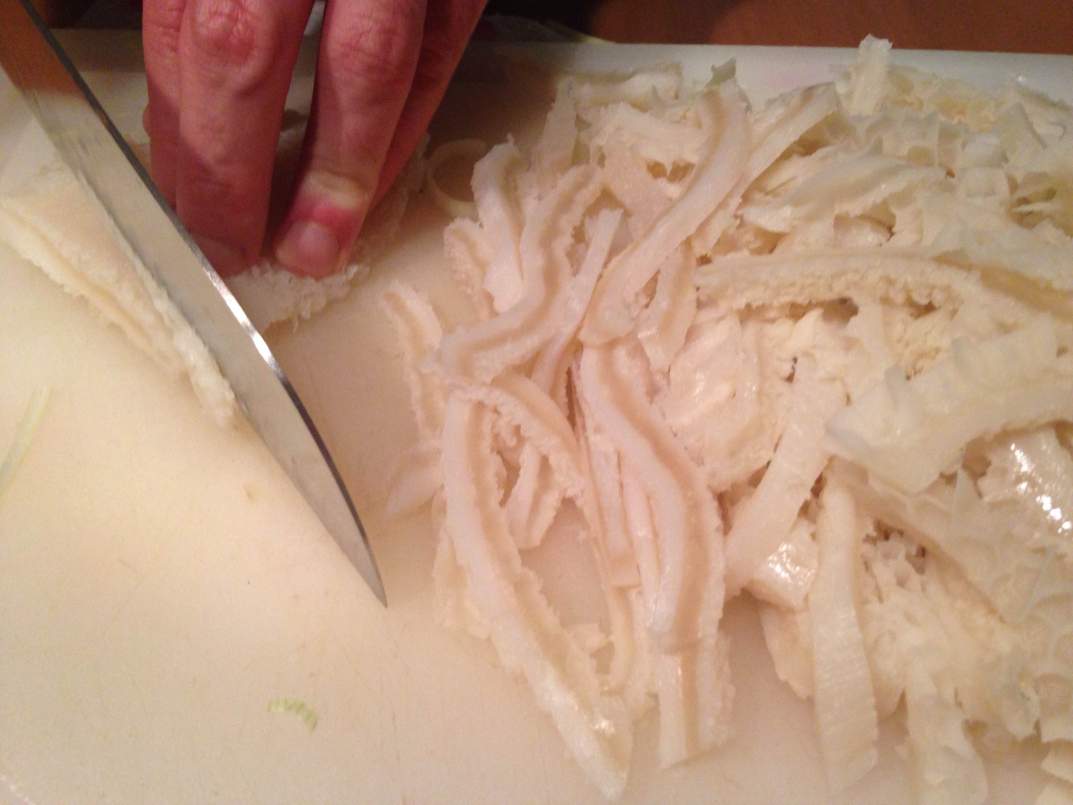 Batter:
Sift flour and put it, slowly, in a bowl with water, mixing very quickly with a whip! Go on to get a liquid viscous batter. A way to not make a mistake. Immerse a spoon, if batter leaves a kind of light veil, batter is ready.
Pastella:
Setacciare la farina e mettetela, gradualmente in una ciotola con l'acqua, mescolando vivacemente con una frusta. Continuate fino a che non avrete una pastella che sia liquida ma allo stesso tempo vischiosa. Una prova che funziona sempre è la portava del cucchiaio: immergete un cucchiaino, se il composto lascerà un leggero velo, la pastella sará perfetta.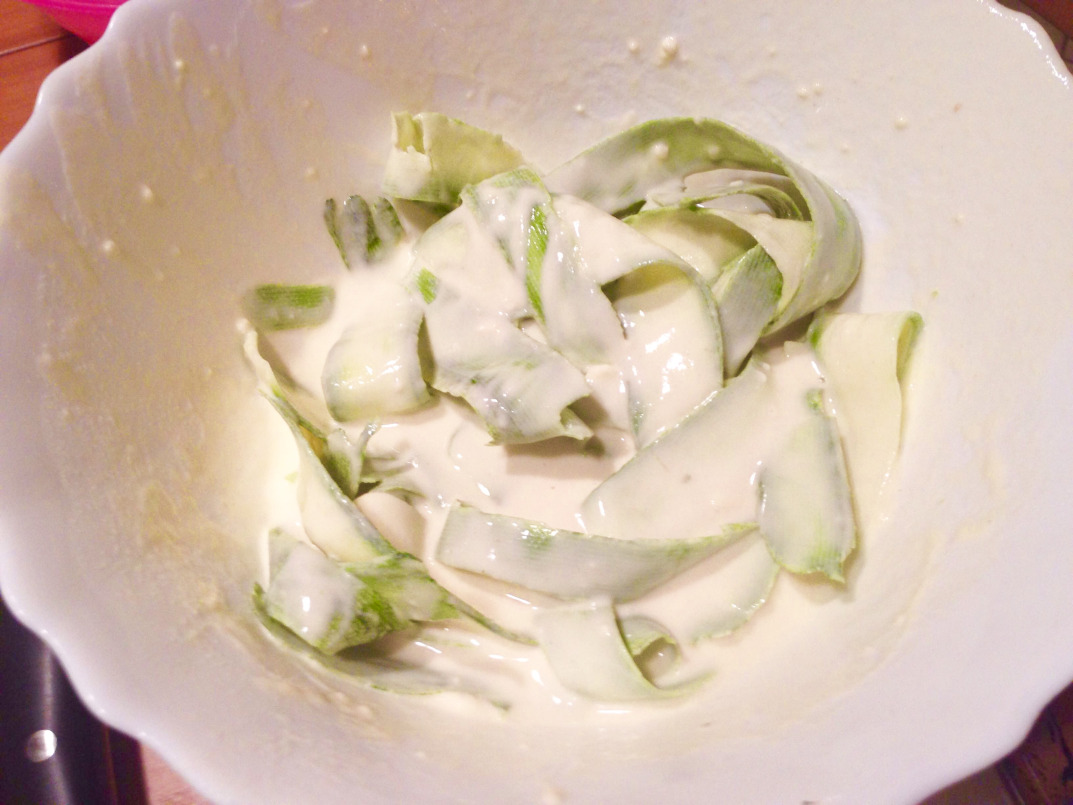 Then…divide batter in two different containers, using one for vegetables and one for tripe. In this last one, add two spoons of sweet paprika and a pinch of sailt.
Poi..dividete la pastella in due recipienti diversi, uno per le verdure e uno per la trippa. In quest'ultimo, aggiungete due cucchiai di paprika e un pizzico di sale.
Let's fry – Iniziamo a a friggere 🍟🍟🍟
Immerse vegetable and tripe in the batter and then in the hot oil, avoiding to drain them too much from batter. Don't put tripe stripes all together and  remove them, from time to time, when they get gold. Let dry everything and at last salt. Serve decorating with fried leaves of basil. Be careful: basil fries in a moment! As always, enjoy! 👌
Immergeteli nella pastella e poi nell'olio ben caldo, evitando di scolarli troppo dalla pastella. Non mettete le strisce di trippe tutte insieme e rimuovetele, di volta in volta, quando diventano dorate. Fate asciugare bene il fritto e salate all'ultimo. Impiattate decorando con delle foglie di basilo fritte. Attenzione: friggono in una frazione di secondo. Come sempre, buon appetito 👌
Giulio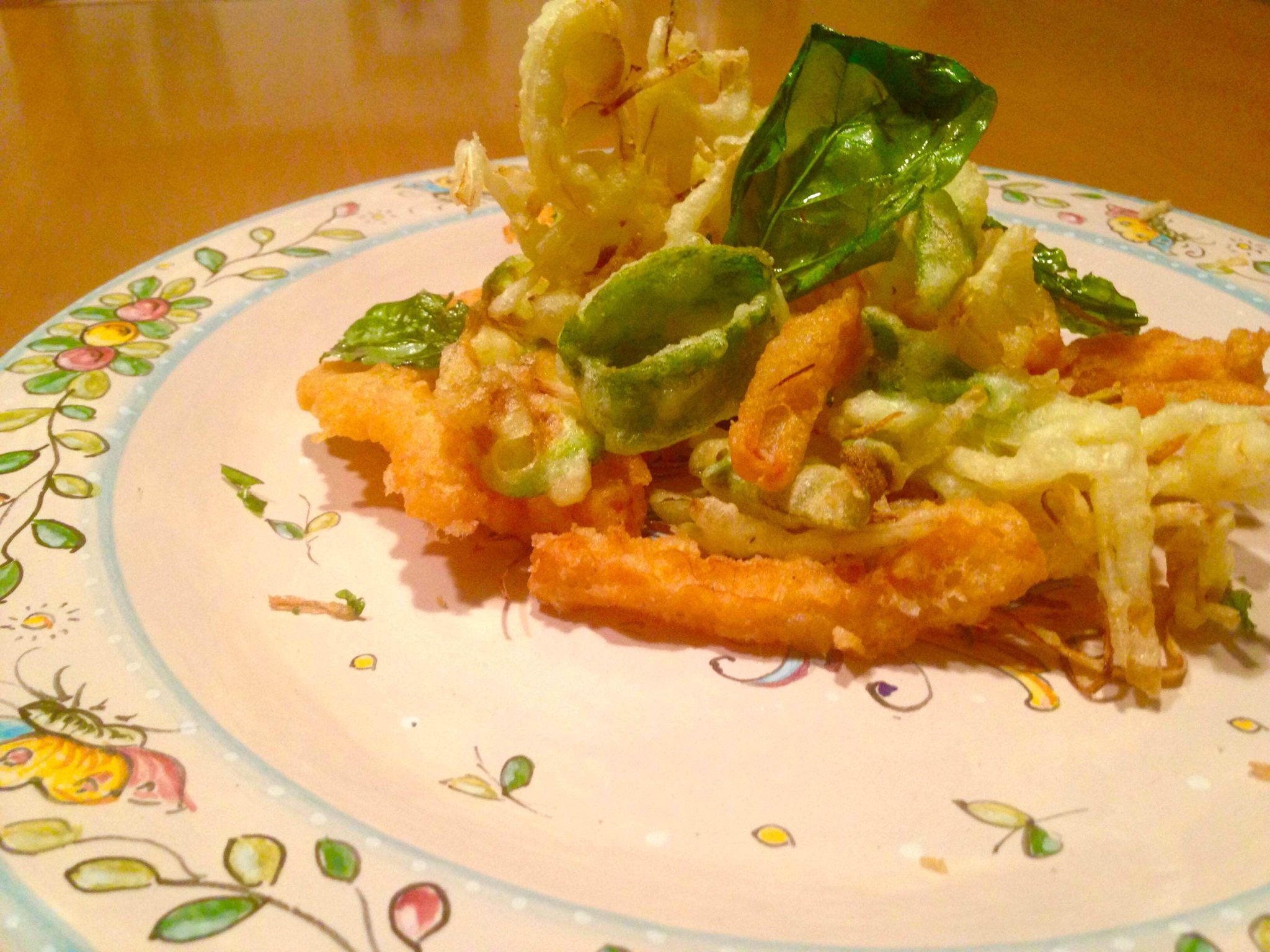 Let's Eat!!!
Guest Chef Brenda Gatta
http://thecomingspoon.com/2016/01/21/fried-tripe-trippa-fritta/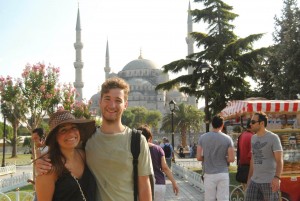 A place, a recipe. For each corner or city of Italy, a traditional dish. This is The Coming Spoon by Brenda and Giulio, a young Italian couple with passion for travel and cuisine.