Cold Smoked Cheese on your Gasser

Cold Smoked Cheese
Cold Smoked Cheese on your gasser. We love smoked cheese and we use it in our recipes to add a whole new layer of flavor. Things like Mac and Cheese, casseroles, sandwiches, egg dishes, pizza and calzones. Stuffed meatloaf and burgers are crazy good picking up the smoky flavors of the grill. Not even talking about sauces and dips, but you will be when you experience the amazing smoky flavors.
Cold smoking cheese is so easy to do, anyone can do it. Today we used our gas grill with our Bull Racks and a wedgie filled with Pacific Pellet Gourmet Maple pellets. Very nice day in the neighborhood as it was filled with a "Kiss of Smoke".
Cold Smoked Cheese
Smoking on Your Gasser
Prep Time: 5 minutes
Cook Time: 2 hours cold smoke
Grill: Any
Pellets: Pacific Pellet Gourmet Maple
Ingredients: Cold Smoked Cheese
Pepper Jack

Monterey Jack

Colby Jack

Cheddar cheese, sharp and mild

Mozzarella Cheese

Or any of your favorite cheeses
Cold Smoked Cheese
Smoking on Your Gasser 
Our Ingredients
Directions: Cold Smoked Cheese
Cut your cheese into blocks, this gives you more surface area to pick up the flavor of the smoke. Lay it out on your Bull Racks and place it onto the grill. Fill your wedgie with your favorite pellets, light it and lay it on the grill out of the way.
We are cold smoking here and that is done at less than 100 degrees (38c). We live on the edge of the desert and sometimes it's too hot here to cold smoke. So, to cold smoke here I add ice packs to the grill to keep the temperature down. I put my ice packs into a zip lock bag to keep them clean.
Check your cheese in about an hour or so. You want to smoke your cheese for 1 ½ to 2 hours. You need to keep an eye on it, so you don't over smoke it because it gets bitter if you do over smoke it. (If you do over smoke it you can still use it in recipes, it still blends in nicely).
Note: You do not light your grill; the wedgie provides all the smoke.
Cold Smoked Cheese
Smoking on Your Gasser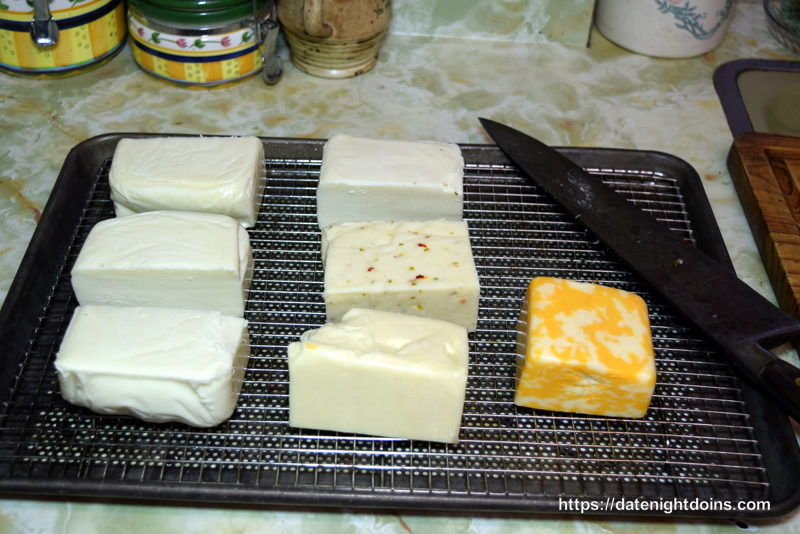 Cut Cheese into Smaller Blocks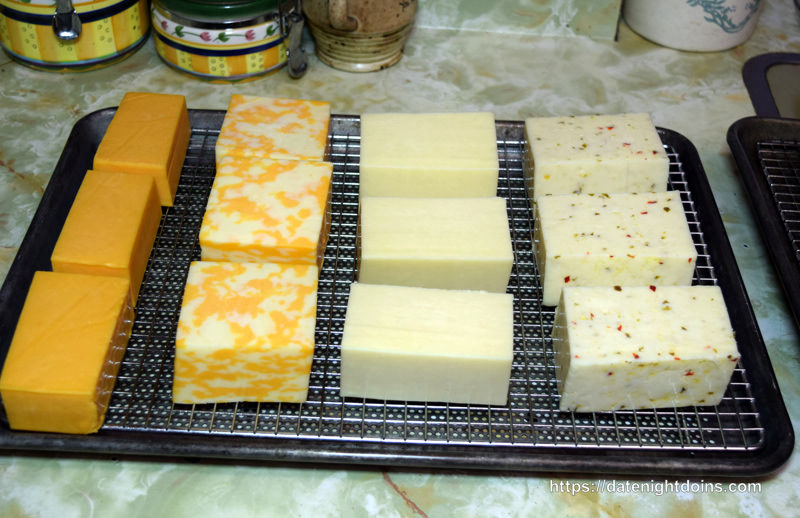 And Place it on your Bull Racks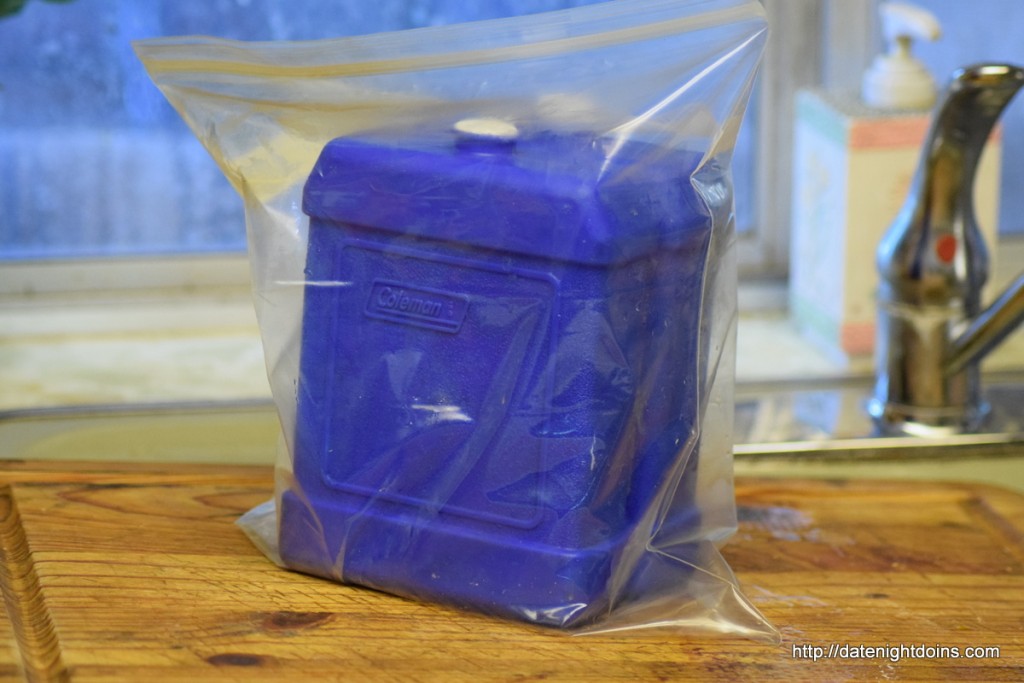 Ice Packs for Hot Weather Cold Smoking 
Cold Smoked Cheese
Smoking on Your Gasser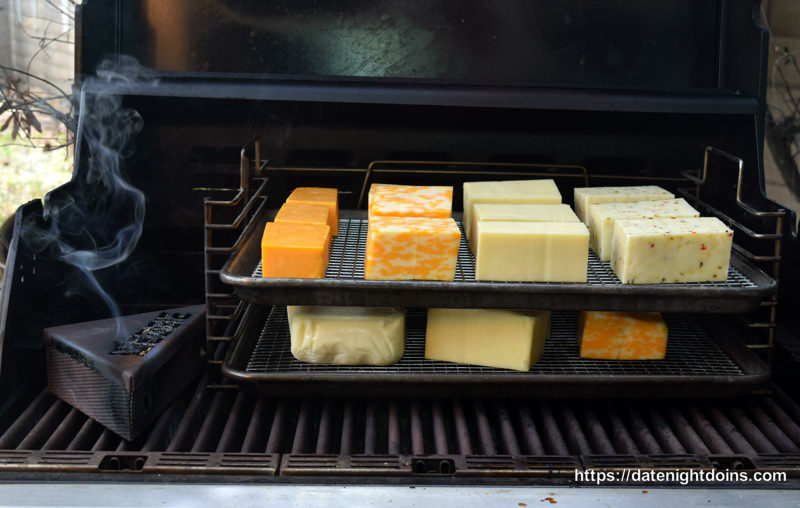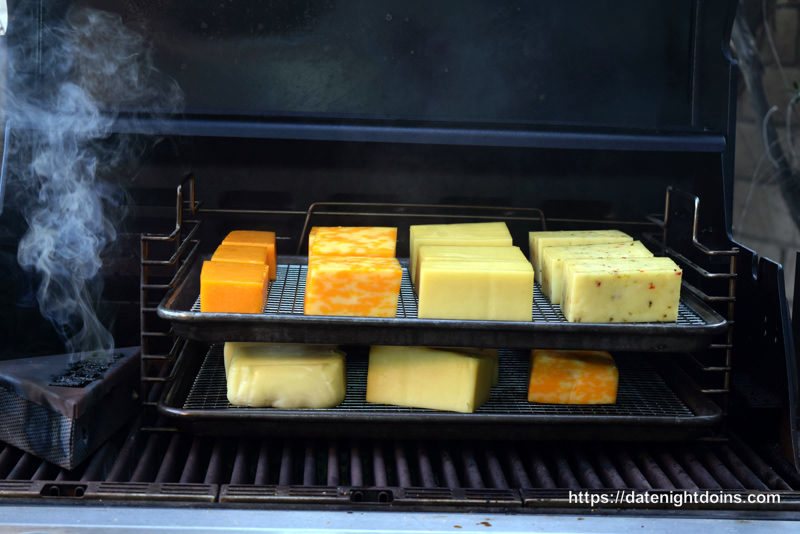 Lookin' Good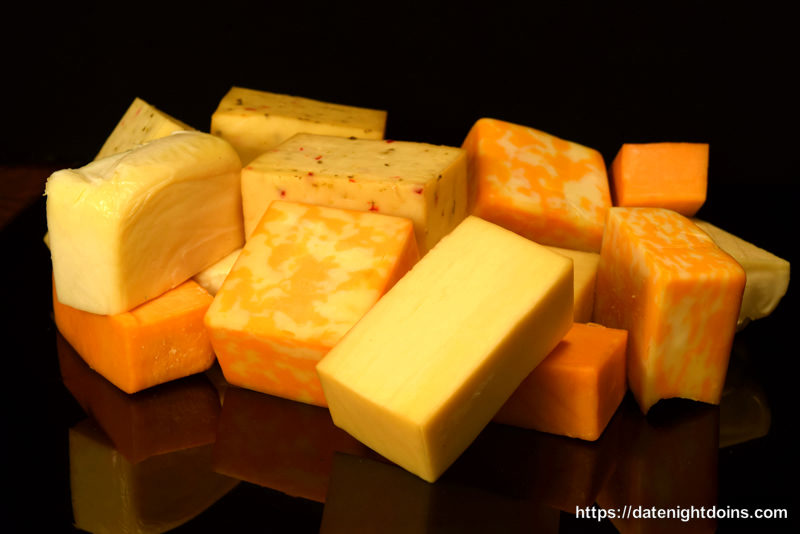 Let's Eat!!!
Cold Smoked Cheese
Smoking on Your Gasser 
About our Recipes
We do our recipes on our patio where we have a lineup of grills, including Green Mountain, Sawtooth, Louisiana, Royall, Memphis, Traeger pellet grills, Char Griller side box smoker, Saber, Charmglow, Char-Broil, The Big Easy, Pacific Living Outdoor Oven, Lodge Sportsman's, Brinkman and Weber. I call it our "Wall of Grill". Our grilling styles are healthy and low fat and will fit pelletheads, gas, natural wood and even charcoal purists. Almost any of our recipes can be done on any kind of good BBQ.
The important thing to keep in mind is TIME & TEMPERATURE. You can even do some of them in the oven or crock pot, but, then you lose all the flavors you get from cooking outdoors. But sometimes it does rain.
Remember that a recipe is simply an outline; it is not written in stone. Don't be afraid to make changes to suit your taste. Take it and run with it….
Live your Passion and Do What You Love,
Ken & Patti
If you enjoy our recipes you can help support us by Subscribing to us on YouTube.
Our Thanks To:
Our Cutlery Provided By: